Obama Approval at Record Low
47 percent of Americans disapprove of President Obama's performance.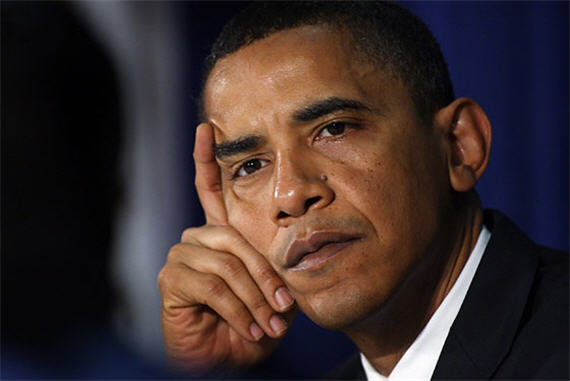 President Obama's approval numbers are at an all-time low according to a new CBS-NYT poll.
CBS ("Poll: Obama's approval rating sinks to new low"):
President Obama's approval rating has hit the lowest level ever in CBS News polling, according to the latest CBS News/New York Times survey. The drop may be partially attributable to rising gas prices.

Just 41 percent of Americans approve of the job Mr. Obama is doing as president, according to the poll, conducted from March 7 to 11. Another 47 percent disapprove of his performance, up from 41 percent last month.

Mr. Obama's approval rating was 50 percent last month.

The average U.S. price of a gallon of gasoline has jumped 12 cents over the past two weeks. The poll found that most Americans, 54 percent, believe gas prices are something a president can do a lot about.

Americans have historically felt that a president can control gas prices, though experts attribute changes to a variety of factors, many outside of a president's control. They also felt this way when gas prices spiked during the administration of former President George W. Bush.

[…]

Mr. Obama's job rating on the economy remains about the same as it was last month – 39 percent approve, while 54 percent disapprove.

The economy and jobs remains the most important problem facing the country today, according to 51 percent of Americans. Three in four Americans think the economy is at least somewhat bad, including 30 percent who say it is very bad.

More Americans, 30 percent, say the economy is getting better; 24 percent say it is getting worse. The public's economic outlook was slightly better last month, when 34 percent said the economy was getting better.

Just 20 percent of Americans feel their family's financial situation is better today than it was four years ago. Another 37 percent say it is worse, and 43 percent say it is about the same.

While his rating on the economy is about the same as last month, Mr. Obama's rating on foreign policy has dropped 10 points. Now, just 40 percent approve of his handling of foreign policy, while 41 percent disapprove. This is the first time since the killing of Osama bin Laden in May 2011 that more Americans disapprove than approve of the job Mr. Obama is doing handling foreign policy.

Amid speculation that Israel may consider attacking Iran to stop its nuclear ambitions, Americans are split on the president's handling of the situation in Iran: 42 percent approve, while nearly as many – 39 percent – disapprove. Nineteen percent don't know.
NYT ("Obama's Rating Falls as Poll Reflects Volatility"):
Despite improving job growth and an extended Republican primary fight dividing his would-be opponents, President Obama is heading into the general election season on treacherous political ground, according to the latest New York Times/CBS News poll.

At a time of rising gas prices, heightened talk of war with Iran and setbacks in Afghanistan, Mr. Obama's approval rating dropped substantially in recent weeks, the poll found, with 41 percent of respondents expressing approval of the job he is doing and 47 percent saying they disapprove — a dangerous position for any incumbent seeking re-election.

The poll provides a statistical reminder of how unsettled and unpredictable this year's political landscape remains. Just one month ago, Mr. Obama reached a critical benchmark by winning approval from 50 percent of Times/CBS News poll respondents, his re-election prospects lifting along with confidence that the nation was finally emerging from the aftermath of the Great Recession.
Given that we saw similar results in yesterday's WaPo-ABC poll, I'm confident that this is an accurate reflection of current public sentiment. Like Doug, I find the notion that the president has much control over gas prices silly, but it's just a fact of life that presidents get blamed for, well, pretty much everything.
Similarly, even as someone likely to vote for Mitt Romney in November, I'm amazed at the 47 percent disapproval number on foreign policy. While I predicted at the time that the post-OBL killing high wouldn't last, I presumed there would nonetheless be some residual credibility. For that matter, while I opposed the Libya intervention, the taking out of Gaddafi without a single American casualty would seem to be one in the president's column. Without follow-up questions, then, it's really hard to know what to make of the number here. Is the gas prices issue also influencing perception of foreign policy? The constant hammering on Israel? The Iran question? What?
Regardless, since Americans typically vote on pocketbook issues and not foreign policy, the volatility of the numbers is indeed the key takeaway here. I'm reminded of the precipitous fall of George H.W. Bush from his post-Gulf War victory high to November defeat. There, though, we had a faltering economy, a lackadaisical domestic policy (John  Sununu essentially tried to run out the clock), a charismatic Southern Democratic in opposition, and the Ross Perot wild card.
It's true that the economy remains mired in bad shape and that the public was skeptical from beginning about the stimulus package and other steps taken by the administration to right the ship. But the economy's not any worse than it was a month ago, when the president was over the 50 percent threshold. Nor have any major scandals broken since then. Is this really all over gas prices?
In terms of November, it of course remains a long way off. It's pretty clear that Mitt Romney will be the Republican nominee at this point. Despite some awkwardness and an insistence on signing corny songs on the stump, he'll be a formidable opponent.  Indeed, if the president doesn't get above 41 percent approval, he'll have a hard time holding on to his job.