Barack Obama, Kamala Harris, And The Limits Of Propriety
The reaction to President Obama's comments about Kamala Harris raise interesting questions about propriety in the modern world.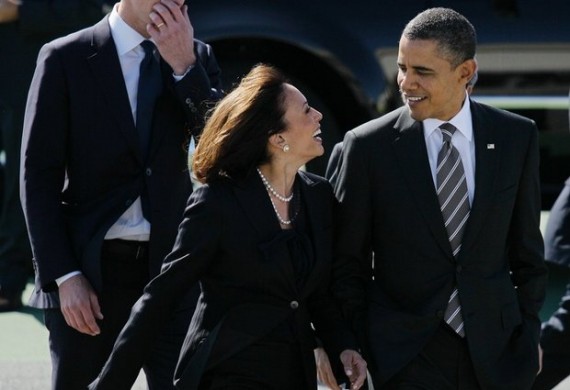 As James Joyner noted yesterday, President Obama generated some probably unwanted attention after a speech and a Democratic fundraiser in California during which he referred to California Attorney General Kamala Harris as "the best looking Attorney General" in the country.  In addition to some amusing commentary comparing the physical appearances of the nation's Attorneys General both male and female, the report also generated no small degree of controversy on what was, for the most part, a slow news day. Many commentators, most especially women, contended that Obama's off-the-cuff remark was offensive to women in general and Attorney General Harris in particular, although there was no indication in the statement she released yesterday that Harris, a long-term friend of Obama's, had been at all offended by the comment. Press Secretary Jay Carney fielded several questions about the incident at yesterday's Press Briefing and, by the end of the day, it was announced that the President had called Harris to apologize:
WASHINGTON — President Obama late Thursday night called Kamala Harris, the California attorney general, and apologized to her for telling a group of wealthy donors that she is the "best-looking attorney general in the country."
Mr. Obama made the comment on Thursday morning at a fund-raiser outside San Francisco. He praised Ms. Harris as being "brilliant," adding, "she is dedicated and she is tough" before commenting on her looks.
There was a quick reaction on social media sites, with some people accusing Mr. Obama of being sexist and others defending his comment as harmless.
But the president's aides apparently knew the potential for political damage. Soon after Air Force One returned Mr. Obama from his West Coast fund-raising trip, he called Ms. Harris and apologized, according to Jay Carney, the White House press secretary.
"You know, they are old friends and good friends," Mr. Carney said, "and he did not want in any way to diminish the attorney general's professional accomplishments and her capabilities."
Mr. Carney repeatedly remarked on Ms. Harris's abilities, calling her "a remarkably effective leader as attorney general" and "an excellent attorney general" who has "done great work." The president, Mr. Carney said, "fully recognizes the challenge women continue to face in the workplace and that they should not be judged based on appearance."
A spokesman for Ms. Harris, Gil Duran, said in a statement on Friday: "The attorney general and the president have been friends for many years. They had a great conversation yesterday, and she strongly supports him."
Notwithstanding Obama's apology to Harris, the criticism that was rendered against him, mostly by people who are generally supporters of the Obama Administration was remarkable both for how swiftly it came down and how severe it was given that we're talking about what struck me when I first heard about it as an innocuous off the cuff comment made at a partisan event about someone who happened to be a friend. Salon's Joan Walsh, for example, had this to say:
[M]ost women in public life have a complex relationship with their appearance, whether they're as attractive as Harris or not. Those of us who've fought to make sure that women are seen as more than ornamental – and that includes the president – should know better than to rely on flattering the looks of someone as formidable as Harris. Why not praise her Homeowners' Bill of Rights? Calling her "by far, the toughest attorney general" would have had a better ring. There is so much to say about Kamala Harris; the president had far better options than praising her looks.
Garance Franke-Ruta put it this way:
President Obama's remark mistook the setting. Just as it's perfectly appropriate to tell a colleague she looks gorgeous when she's dressed to the nines for some black tie work event, it would be inappropriate to refer to her as "gorgeous over there" during a work meeting. Doing so takes her out of the system of power and puts her into the system of beauty in a setting in which power is the value that's brought her to the table. And that, dear readers, is a gaffe.
The context in which a remark like this is made is, of course, exceedingly important. A comment like this that takes place in the workplace, say at a meeting in front of co-workers or clients, would most likely be inappropriate an unprofessional. Indeed, in some situations it might give rise to a sexual harassment investigation on the part of the HR Department. However, these comments didn't take place in a workplace situation, they took place at a private fundraiser at which Harris was the highest ranking California elected official in attendance. Add into that mix the fact that Obama and Harris have known each other for years on a personal level, and I'm really wondering where all the outrage over the President's comments is coming from. Since all we have of this speech is a transcript (this was a private fundraiser and there was no video) it's hard for me to judge the context of the comments, but on their face I just don't get the outrage. And I get even less the amount of attention the media has paid to this story.After all, if Harris wasn't offended, then why do we really need to listen to the perpetually offended pundits who were offended on her behalf?
It's also worth noting that Obama has made comments like this before, and not just about women:
Introducing HUD secretary Shaun Donovan last February, Obama declared, "There he is,the good-looking guy in the front here."

At a speech last March, Obama pointed out his secretary of the Interior, Ken Salazar, by calling him "a good-looking guy."

A couple of months ago, Obama gave a shout-out to the "outstanding Secretary of the Navy," Ray Mabus. "There he is right there — the good-looking guy over at the end.

Obama even extended his favorite compliment to the Stanley Cup champion Pittsburgh Penguins. "I have to say all of you look pretty good without your playoff beards," Obama said during a White House ceremony. "They're pretty good-looking guys without all that."

In short, Obama is an equal-opportunity flatterer, not a shallow, sexist pig. Calling people "good-looking" — men, women, Penguins — is just something he does. It's almost a tic at this point. He doesn't mean anything by it.
Call it silly, call it awkward, but it's fairly clear that remarks like this are just something Obama does as part of the friendly banter he often engages in during speeches at events like this California fundraiser. The idea that there was anything sexist behind it seems rather absurd to me.
Of course, all of this does raise wider questions of when it's appropriate for these kind of comments to be made. Reading Walsh and the others who have criticized the President, it seems like their position is that it's never appropriate for a man to make a comment like this in public (I assume they're fine with a husband telling his wife she's good looking). That strikes me as a silly position, as does the largely overblown reaction to the President's comments earlier this week. While keeping in mind the importance of not reducing women to merely their looks, it seems to me that there's nothing wrong with complimenting a woman on her appearance as long as it isn't being done in an unprofessional manner. The alternative, it seems to me, is a sterile world in which we're supposed to pretend that men don't notice attractive women and women don't notice handsome men.
Then again, maybe that's exactly the world some of these people want.