Barack Obama: The Comeback Kid?
After a fairly bad 2010, Barack Obama is starting off 2011 in a very good position.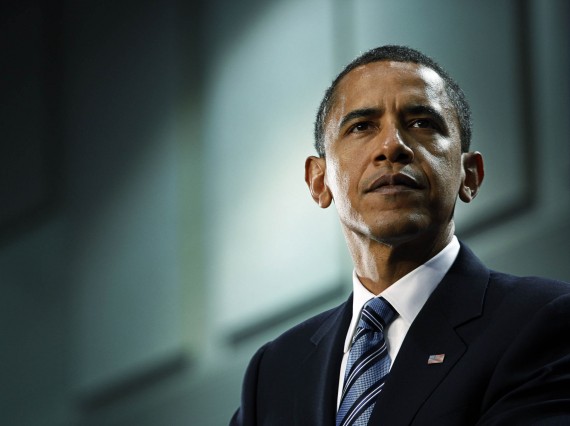 A new NBC News/Wall Street Journal poll seems to suggest that President Obama has turned a corner, and that the newly installed Republicans in Washington need to tread lightly as they try to enact their agenda:
President Barack Obama is riding a surge of public support into next week's State of the Union address, with more Americans approving of his performance and more seeing him as a political moderate, according to a new Wall Street Journal/NBC News poll.

(…)

In the survey, 53% said they approved of the job Mr. Obama is doing as president, up eight percentage points from December. Forty-one percent said they disapprove of the president's performance, down from 48% last month. The poll surveyed 1,000 adults from Jan. 13-17.

Among political independents, positive views of Mr. Obama's job performance surpassed negative views for the first time since August 2009. For the first time in a year, the president drew a positive reaction from white adults, when asked about their feelings toward Mr. Obama.

The poll was conducted days after a shooting rampage in Tucson, Ariz., in which six people died and 14 were injured, including Gabrielle Giffords, a Democratic congresswoman from the state.
These numbers seem to be corroborated by the RealClearPolitics average which shows a definite trend in the President's favor over the past several months: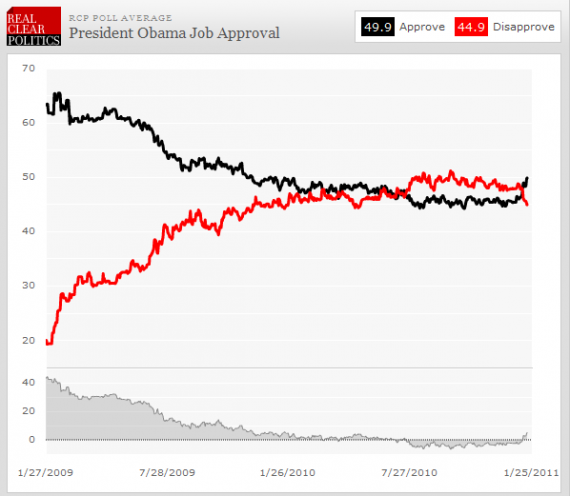 It seems apparent that we're seeing the result of several events here, all of which have given the President the opportunity to, well, be more Presidential. First, of course, there's the overwhelmingly positive public reaction to his response to the Arizona shootings. It may be crass to say that President's benefit from tragedies but, when the event allows a President to act as "national unifier" it almost ways inures to their benefit (just as George H.W. Bush during the Gulf War, Bill Clinton after Oklahoma City, or George W. Bush after 9/11). Gains of this nature can be fleeting, of course, (again, just against Presidents Bush 41/43 and Clinton) but the fact that this bounce is occurring just before the State of the Union Address suggests that it may be sustainable. Second, there's the rather surprising success of December's lame duck session, which was very well-received by the public, especially the tax cut extension deal which many voters seemed to welcome as a sign of bipartisanship. Finally, and perhaps more importantly, there is a level of optimism that we haven't seen in a while:
— 40 percent believe the U.S. economy will improve in the next 12 months, up eight points from December;

— 53 percent think the United States will be better off five years from now, which is up 16 points from last August;
Additionally, the NBC poll showed that the bellwether "right track/wrong track" poll question had shown a seven point drop from just last month, a change which is also reflected in the RealClearPolitics average: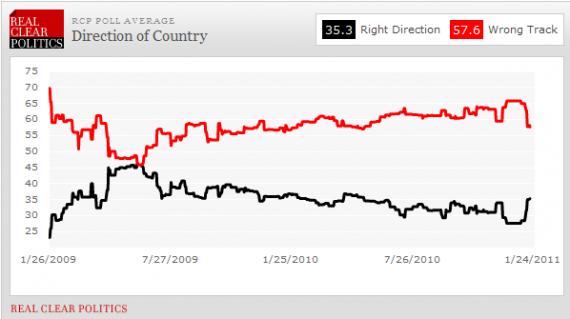 The public is feeling more optimistic, and that is helping raise the President's approval numbers. If that continues as we go through 2011 and into 2012, Barack Obama could be in a far better position on Election Day than anyone thought possible two months ago when his party suffered historic mid-term losses.
Which leads us to the final message of the poll, and potential warning signs for the new House Republican majority:
Just 25 percent say that the Republicans in Congress will bring "the right kind of change" to the country. That's compared with 42 percent who said that after Democrats took over the House in 2007, and 37 percent who said that after Republicans gained control in 1995.

In addition, a majority (55 percent) believe congressional Republicans will be too inflexible in dealing with President Obama, while an equal number (55 percent) say Obama will strike the right balance.

On House Republicans' goal to repeal Obama's health care law — an effort that cleared the chamber on Wednesday — 45 percent support eliminating the law and 46 percent oppose the GOP effort.

And attitudes about the Republican Party have declined, with 34 percent viewing the GOP positively and 40 percent negatively — down from its 38-37 percent favorable/unfavorable rating last month.

By comparison, the Democratic Party's fav/unfav in the current poll is 39-35 percent, up from its 37-41 percents score from last month.

"I think this has been a pretty short Republican honeymoon," McInturff says.
Perhaps, perhaps not. It has, after all, only been two weeks since the GOP took control of the House and one of those weeks House business was essentially on hold due to the shootings in Arizona. Nonetheless, poll numbers like this, which have been replicated elsewhere, suggest that the GOP will need to be careful in choosing between appealing to it's base and governing in a way that the general electorate is happy with. Whether it makes sense or not, the American people want a divided government to find a way to work together and, while that may not be possible in the current political climate, the party that is going to suffer if it doesn't is the one that appears to be more instransigent.
So, is Barack Obama a Comeback Kid as I ask in the post title ? It's too early to tell, but he seems well on the way. I'd watch the public reaction to the State of the Union very carefully.
UPDATE (James Joyner): For commenters looking for sampling bias, the MSNBC/WSJ poll isn't your best bet.  It's conducted jointly by two of the best survey research firms in the business, including the one my wife works for.  Bill McInturff is a Republican who's polled for top GOP candidates at every level, including John McCain's 2008 race.  Peter Hart is a Democrat of similar stature.  They know what they're doing and have zero incentive to bias the poll.