Beto O'Rourke Shoots Down 2020 Speculation
Some Democrats and political pundits are putting Texas Congressman Beto O'Rourke forward as a potential 2020 candidate, but he says no.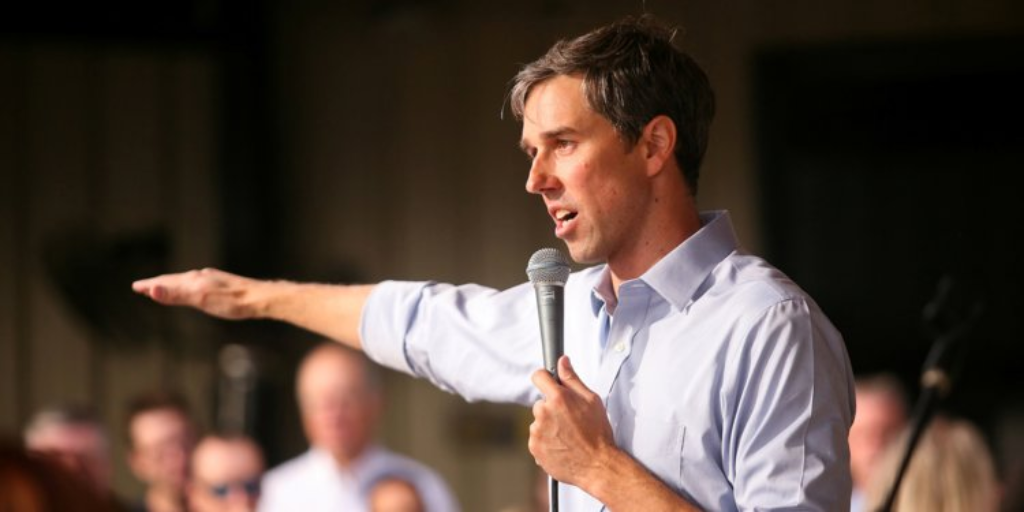 Texas Congressman Beto O'Rourke, currently running for the Senate in Texas against Senator Ted Cruz, is saying that he rules out suggestions that he could be a candidate for the Democratic nomination in 2020:
Rep. Beto O'Rourke (D-Texas) on Thursday ruled out a 2020 presidential run if he wins in November against incumbent Texas Sen. Ted Cruz (R).

The Texas Democrat, whose national prominence rose in recent months, did not however specifically rule out the possibility of running if he is defeated in November during a CNN town hall.

"The answer is no," he told an audience member who asked if he foresees himself running for president. "Our children are 11, they're 10, and they're 7 years old. We've told them we're going to take these almost two years out of our life to run this race, and then we're devoted and committed to being a family again."

"I mean, let me put it this way," he added when pressed by CNN's Dana Bash. "I promise to you, and most importantly, to the people of Texas, that I'll serve every single day of a six-year term in the United States Senate and I won't leave this state to go run for president."

O'Rourke added that he would be "back in El Paso" if he doesn't win, though not specifically saying if losing would affect his 2020 plans
On some level, the idea that O'Rourke, who has represented Texas's 16th Congressional District since first being elected just six years ago and before that served for six years on the El Paso City Council, would be considered a viable candidate for President, seems utterly silly. Even if he did manage to win election to the Senate last month, it seems fairly clear that he lacks the experience that one ought to expect from a candidate for President. Even Barack Obama had more experience in state and Federal Government before entering the race for the White House in 2007. However, this is the era of Donald Trump when experience apparently doesn't matter anymore so I suppose anything is possible. Additionally, the fact that he is challenging Cruz and performing better than expected in the polls has made him something of a national celebrity among Democrats hoping to grab control of Congress next month. The best evidence of this can be seen in the fact that O'Rourke has managed to raise a rather astounding $38 million in the third quarter, most of which he will not be able to spend in the closing weeks of the campaign, much of it from out-of-state sources. Combine that with the fact that he's a young and telegenic candidate, and the rather vapid speculation about him being a potential Presidential contender in two years was, I suppose, inevitable.
Before he can be considered a viable candidate for President, of course, O'Rourke would have to win his race against Cruz in just over two weeks, and the prospect of that isn't looking so good. For much of the year, of course, the race has received significant national attention largely due to the fact that polling has appeared to show the race being far closer than one would expect it to be for a state like Texas. The most recent polls of the race between O'Rourke and Cruz — from CNN, The New York Times, and Quinnipiac — have given Ted Cruz a lead of between seven and nine points. In the RealClearPolitics average, meanwhile, Cruz (50.8%) has a+7.0 point lead over O'Rourke (43.8%), and the chart shows that Cruz's lead has been growing in recent weeks: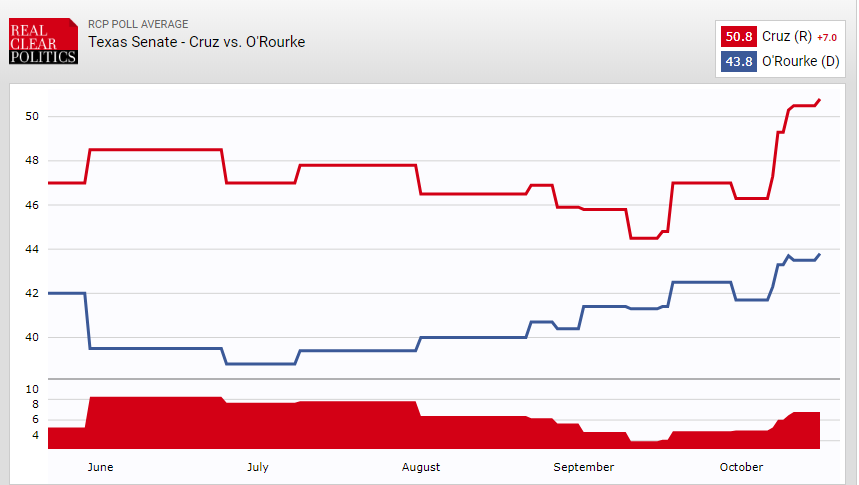 Absent some massive change in fortune, the odds of O'Rourke winning in November are fairly slim at this point and, without a win in November, the idea of O'Rourke being a national political figure are somewhere close to non-existent. That doesn't mean that O'Rourke's political future is dead if he loses to Cruz, of course. He could always come back and run for Congress again or prepare himself for another statewide run in 2022 when the electoral makeup of Texas might be more favorable to Democrats. At only 46 years of age, he's certainly young enough to stage a political comeback. As things stand now, all of this speculation about him becoming a national politician is just a bit premature.