Biden And Warren In Dead Heat In Latest Iowa Poll
The latest Des Moines Register poll puts Joe Biden and Elizabeth Warren at the top of the pack in the Hawkeye State.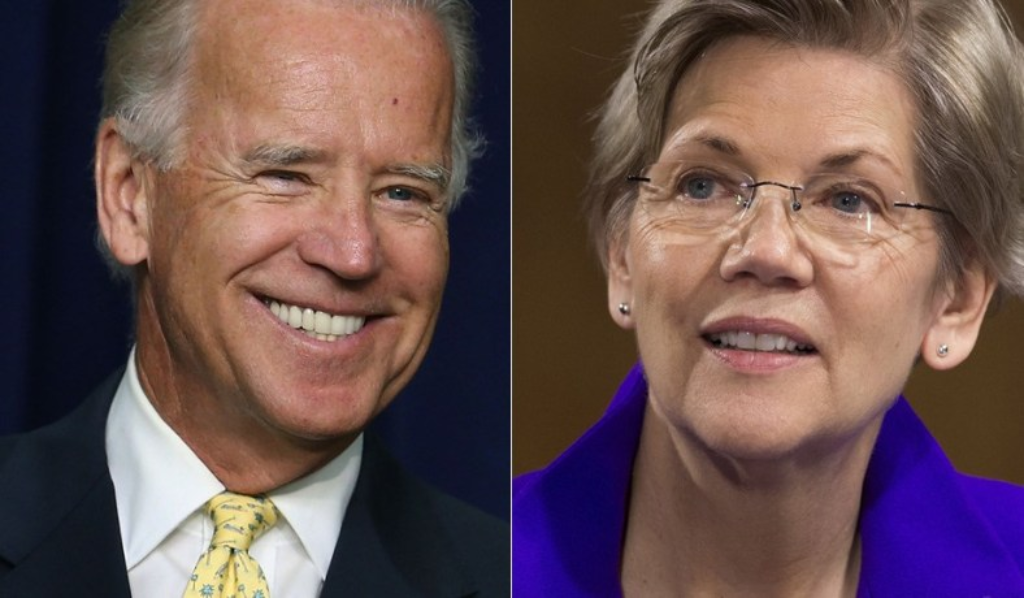 The newest poll from The Des Moines Register and CNN shows Elizabeth Warren surging in the Hawkeye State to the point where she is ahead of former Vice-President Biden, although the two candidates are within the margin of error of each other:
A surging Sen. Elizabeth Warren is challenging Joe Biden's dominance in the race for the Democratic nomination, standing at 22% to the former vice president's 20% in a new CNN/Des Moines Register/Mediacom poll of likely Iowa caucusgoers.

Although neither candidate holds a clear lead at this point, the new poll finds Warren and Biden well ahead of other contenders for the Democratic nomination. Sen. Bernie Sanders' support has dipped to 11% in this poll, with South Bend, Indiana, Mayor Pete Buttigieg at 9% and Sen. Kamala Harris at 6%. Sens. Cory Booker and Amy Klobuchar each land at 3%, while Rep. Tulsi Gabbard, former Rep. Beto O'Rourke, investor Tom Steyer and businessman Andrew Yang each have the backing of 2% of likely caucusgoers. The poll marks Gabbard's third qualifying poll for inclusion in October's Democratic debates. The rest of the field each notched 1% or less.

Warren's improved standing overall in the Iowa poll comes on the heels of a stronger showing in recent national polls and is bolstered by an increasing positive favorability rating (75% have a favorable view, the best in the field, and she is one of only four candidates who have improved their net favorability since the June CNN/DMR poll), as well as a growing percentage of likely caucusgoers who say she is either their first choice, second choice or someone they are actively considering. All told, 71% are at least considering Warren's candidacy, ahead of the next best candidate on that score by 11 points (Biden at 60%). Her supporters are also more enthusiastic than those behind Biden (32% of her backers are extremely enthusiastic vs. 22% for the former vice president).

The Massachusetts senator appears to be gaining ground primarily at the expense of Sanders. She holds the support of 32% of those who say they caucused for Sanders in 2016 (Sanders himself stands at 25% among that group), stands at 48% among those who consider themselves "very liberal," and for the first time in CNN/DMR polling on the race, has edged ahead of Sanders among those under age 35 (27% back Warren, 22% Sanders).

Biden's core backers remain behind him in largely the same way they were in the previous poll. Among seniors, he is the first choice of 35%, about the same as earlier this year. And he remains above 30% support with moderate and conservative likely caucusgoers.
And Warren's supporters are a bit less apt to be locked in than are those backing Biden (12% of Warren supporters say their mind is made up vs. 26% of Biden's supporters). Overall, though, just 20% of likely caucusgoers say their mind is made up now, suggesting there is plenty of room for these preferences to shift before February.
At the same time that Warren surges ahead of her fellow progressive Senator, though, the poll also finds that voters seem to be most concerned with the area where Biden seems to do better than his fellow candidates, namely the supposition that he can beat President Trump in the General Election:
Though views on the candidates have shifted, those likely to attend Iowa's Democratic caucuses remain more apt to prioritize nominating a candidate with a strong chance of beating Trump (63%) over one who shares their positions on major issues (31%). And most think that after Trump, American government could return to the way it was before his election (59%)

The poll sought to gain insight into what it is likely caucusgoers think an electable candidate would be. Nearly three-quarters said a candidate who can excite new voters (74%) is closer to their vision of electability than one who would excite the base (16%). And most preferred a candidate who would represent a new generation of leadership (57%) over one with a long history in government (28%), as well as one who would take the high road against Trump (54%) vs. getting in the mud as needed to take on the President (35%).

Roughly two-thirds felt the more electable candidate is one who seeks common ground with Republicans (63%) rather than moving the country to the left (28%). But in assessing six positions that have become signatures of the more liberal candidates in the Democratic field, the poll finds wide variation in likely caucusgoers' level of comfort with them.
More from The Des Moines Register:
Elizabeth Warren has surged in Iowa, narrowly overtaking Joe Biden and distancing herself from fellow progressive Bernie Sanders, the latest Des Moines Register/CNN/Mediacom Iowa Poll shows.  

Warren, the U.S. senator from Massachusetts, now holds a 2-percentage-point lead, with 22% of likely Democratic caucusgoers saying she is their first choice for president. It is the first time she has led in the Register's poll. 

Former Vice President Biden, who had led each of the Register's three previous 2020 cycle polls, follows her at 20%. Sanders, the U.S. senator from Vermont, has fallen to third place with 11%.  

No other candidate reaches double digits. 

"This is the first major shakeup" in what had been a fairly steady race, said J. Ann Selzer, president of Selzer & Co., which conducted the poll. "It's the first time we've had someone other than Joe Biden at the top of the leader board." 

South Bend, Indiana, Mayor Pete Buttigieg follows the three leaders as the favorite of 9% of poll respondents. U.S. Sen. Kamala Harris of California is at 6%. U.S. Sens. Amy Klobuchar of Minnesota and Cory Booker of New Jersey are at 3%.  

Polling at 2% are U.S. Rep. Tulsi Gabbard of Hawaii, former U.S. Rep. Beto O'Rourke of Texas, businessman Tom Steyer and entrepreneur Andrew Yang.  

Eight others are polling at 1% or less. 

But the race is far from settled: Just one in five likely Democratic caucusgoers say their minds are made up, while 63% say they could still be persuaded to support a different candidate.  

"The data in this poll seem to suggest the field is narrowing, but my sense is there's still opportunity aplenty," Selzer said. "The leaders aren't all that strong. The universe is not locked in."   
The numbers in this poll are consistent with other recent polls from the Hawkeye State:
The latest poll from Iowa State University, for example, actually showed Warren in first place by herself at 24%, with Biden and Sanders tied at 16%, Pete Buttigieg at 13%, Kamala Haris at 5%, Andrew Yang and Amy Klobuchar tied at 3%, Tom Steyer at Cory Booker at 2%, and the rest at the candidates at 1% or below;
A poll from FRA/Binder has Biden at 25%, Warren at 23%, Buttigieg at 12%, Sanders at 9%, Klobuchar at 8%, Harris at 5%, Steyer at 3%, Booker and Yang tied at 2%, and everyone else at 1% or lower;
Turning to the RealClearPolitics average for the state, it looks like this:
Joe Biden — 23.6%
Elizabeth Warren — 21.0%
Bernie Sanders — 14.2%
Pete Buttigieg — 9.8%
Kamala Harris — 6.6%
Amy Klobuchar — 3.8%
Tom Steyer — 2.4%
Cory Booker and Andrew Yang — 2.0%
Tulsi Gabbard — 1.8%
Beto O'Rourke — 1.4%
All other candidates at or below 1%.
This latest poll follows in the wake of other polling at the national and state level that has shown Warren overtaking Sanders and closing the gap with Biden at the national and state level. However, while that seems like it could end up being what the Democratic race comes down to, it's far too early to say for sure. For one thing, regardless of what the other candidates do it is unlikely that Sanders is going to drop out of the race early. As we saw in 2016 when he stayed in the race long after it was apparent that he was not going to win the nomination. For another, with 134 days left to go until the Iowa Caucuses, there's still a good possibility that the race could change significantly for one reason or another.
Finally, there is always the question of whether or not Warren, who has seen her numbers rise consistently over the course of the summer, might peak too early and how she will react when she becomes more of a target. To some extent, we already saw this emerging in the third debate as both Warren and Sanders came under fire not from Biden so much as from many of the lower-tier candidates who have argued that their plans are too far to the left, that they are dragging the party too far to the left, and that they have not adequately explained how they would get their plans through a potentially hostile Congress or how they would pay for them. That criticism is likely to increase. Additionally, every candidate faces moments in their campaign where they stumble. So far, Warren has not had one of those moments, but she will and if it comes closer to the start of voting it could have a real impact on the actual outcome. As things stand now, though, Warren continues to surge and Bernie continues to stumble. As long as that remains the case, this will come to look like a two-person race rather than a three-person one.