Biden Strikes Bipartisan Tone
The President used his first speech to Congress as an attempt to unite the country.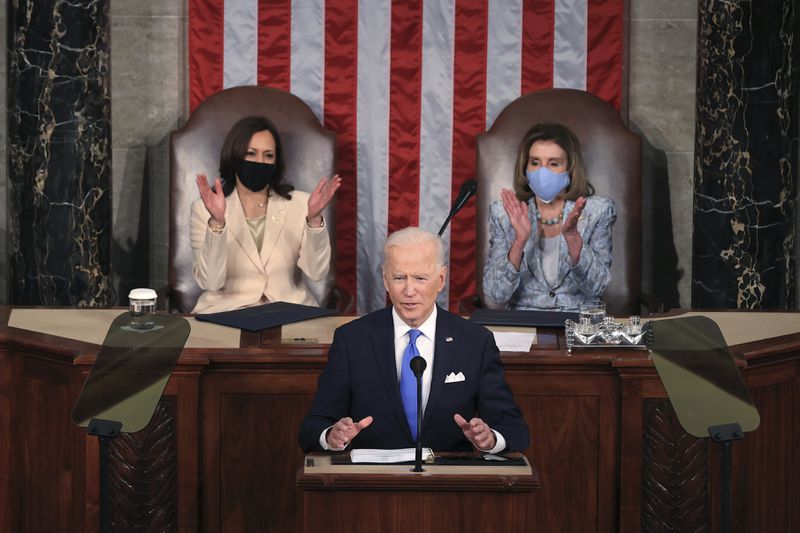 Befitting a professional politician whose administration had steadily rolled out his plan over a matter of weeks, there were no surprises in the prepared remarks of the speech President Biden delivered to a joint session of Congress last night. The policy proposals were big and bold and sure to be controversial but they were expected. The speech as delivered, though, were a strong attempt to restore bipartisan comity.
As WaPo's Aaron Blake notes,
Listening to parts of Biden's speech, you wouldn't necessarily know Congress is stuck in gridlock. While no Republicans supported Biden's coronavirus stimulus and the party is balking at the size of his infrastructure package — among many proposals — Biden spoke almost as if Congress had put up a united front.

Biden said that with "the overwhelming support of the American people — Democrats, independents and Republicans — we did act together. We passed the American Rescue Plan, one of the most consequential rescue packages in American history."

He added of the coronavirus vaccine response: "Senior deaths from covid-19 are down 80 percent since January — down 80 percent, because of all of you."

And: "We will have provided over 220 million covid shots in those [first] 100 days — thanks to all the help of all of you. We're marshaling — with your help, everyone's help — we're marshaling every federal resource."

It was an interesting rhetorical tactic. Beyond an appeal to Republicans to support various gun restrictions, Biden didn't dwell much on his opposition. And even when making that appeal, Biden seemed to almost apologize for his tone, ad-libbing from his prepared remarks: "Look, I don't want to become confrontational." (Neither of Biden's references to "all of you" appeared in his prepared remarks, either.)

Aspects of the coronavirus response have sometimes been more bipartisan, but that hasn't been the case during Biden's presidency. Biden almost seemed to be pretending it were, perhaps reaching out to Republicans by suggesting he would be more than happy to give them credit if they just played a little ball.
For the most part, these are extremely popular policies, even with Republican voters. But, rather than pointing out that zero Republicans voted for some of these packages to score points, he gave credit where it wasn't due.
It's possible, I suppose, that it was a cynical move. After all, reporters know the truth. So do most voters (or, at least, the sort who were going to watch or read about the speech) I'd think. So, maybe he was subtlety trying to shame Republicans in the room. More likely, though, he was inviting them to come on board and return to the days when Representatives and Senators voted for programs on the basis of how they effected their constituents rather than in lockstep party-line votes.
The biggest gesture along these lines, as CNN's Kate Sullivan notes, was this:
President Joe Biden went off-script during his first joint address to Congress on Wednesday to thank Senate Minority Leader Mitch McConnell for a tribute the Kentucky Republican made to Biden's late son, Beau, in 2016.

The year after Biden lost his 46-year-old son to brain cancer, McConnell called on the Senate to rename a bill aimed at accelerating cancer research after Beau Biden. Biden, who was vice president at the time, was presiding over the Senate session."I'll still never forget when we passed the cancer proposal in the last year I was vice president, almost $9 million going to NIH," Biden said Wednesday night, referring to the National Institutes of Health. "You'll excuse the point of personal privilege – I'll never forget you standing, Mitch, and saying, naming it after my deceased son. It meant a lot," Biden said, veering from prepared remarks the White House had previously shared.

In remarks from the Senate floor in 2016, then-Majority Leader McConnell asked that the bipartisan 21st Century Cures Act be renamed in honor of Biden's late son, saying, "I think it's fitting to dedicate this bill's critical cancer initiatives in honor of someone who would be proud of the presiding officer today — and that's his son, Beau."The President and McConnell have a long-standing relationship, having served alongside each other for decades in the Senate. They also worked together closely in the Obama administration, including to make a series of critical spending and tax agreements.

Before momentarily turning from his prepared remarks, Biden was calling for creating an agency within the National Institutes of Health to focus on preventing, detecting and treating diseases like Alzheimer's, diabetes and cancer — similar to the Pentagon's Defense Advanced Research Projects Agency, which works on developing national security breakthroughs."So many of us have deceased sons, daughters and relatives who died of cancer. I can think of no more worthy investment. I know of nothing that is more bipartisan," Biden said.

The President continued: "So let's end cancer as we know it. It's within our power. It's within our power to do it."
Again, this could have been cynical. While it wasn't in the prepared remarks, I can't imagine it was unplanned. But a reminder that Republicans and Democrats in the room are human beings who are allowed to care about one another as human beings is useful.
We have political parties for a reason. McConnell and company legitimately disagree with Biden and company on the size, scope, and direction of many of the proposals Biden has put on the table. They should oppose them. But, rather than simply stonewalling every initiative, they should be working to achieve shared goals through compromise.
Presumably, every Republican in both Houses would like to see cancer cured. Again, they may disagree on how much to spend on that effort. They may disagree with setting up a DARPA-type initiative rather than partnering directly with the private sector. But, again, simply voting No on every Democratic initiative gets us nowhere.
I'm not under the illusion that one speech is going to magically return us to an era where the two parties are less polarized. Joe Manchin and Susan Collins aside, there's simply less middle ground than there was thirty or forty years ago. But ratcheting down the rhetoric is at least a start.