Biden's Polls and Magical Thinking
The President's approval has plummeted, largely because of factors outside his control.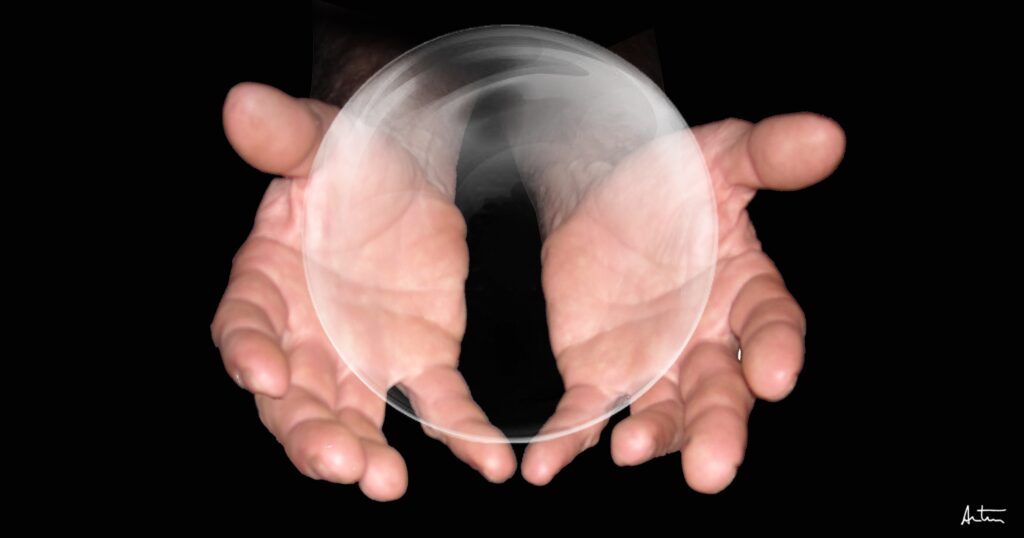 After a longish honeymoon with extremely high approval ratings for a polarized country, President Biden has now been underwater for several weeks running. Naturally, Democrats are panicking.
Here is the trend as shown in the RealClearPolitics aggregate: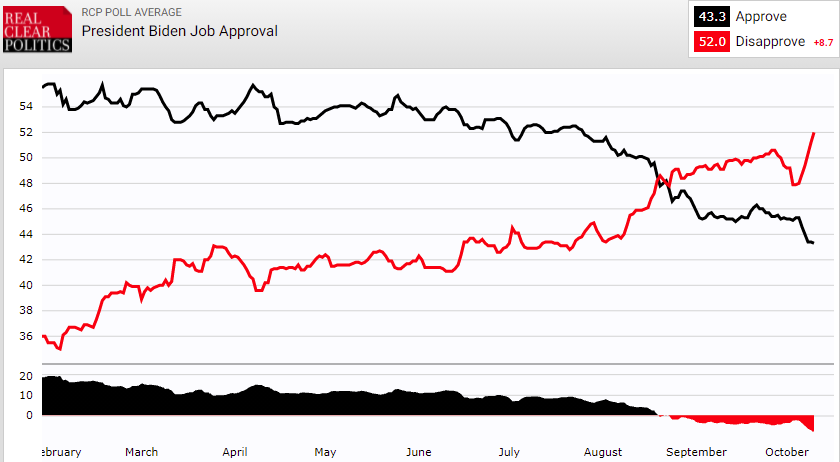 Here's longtime political commentator Al Hunt:
One quality Joe Biden brought to the presidency was competency, certainly compared to his predecessor, a low bar. More than a few Republicans concurred.

That's why the most alarming numbers in the Quinnipiac poll this past week were — by 55 percent to 42 percent — Biden's negative ratings on competency. This goes to the core of his presidency.

Unease also is reflected in background conversations with a few Democrats, strategists, donors and officeholders. This is not just the passions of the moment, they fear, but a deeper concern that this White House may not be up to daunting challenges.

The most current, hardly the only, concern of Democrats is over the multitrillion-dollar social spending measure. For Biden, and most congressional Democrats, this is do-or-die, certainly for next year's elections — and probably for 2024 too.

The White House has fumbled both the outside and inside role. Publicly it has permitted the agenda to be dominated by the initial size of the package — $3.5 trillion. This is a number Republicans — and a few Democrats — seized upon, ignoring that it's over 10 years. The dialogue instead should be over the specific proposals for child care, home health care assistance, education, health care and climate. They all are very popular.

The inside role also has been problematic. The White House hasn't always been on the same page as House Speaker Nancy Pelosi (D-Calif.), who will be the central figure in any success. The president made a pitch in person to the House Democratic Caucus more than a week ago to — at best — a mixed reaction.

The competence issue really flared with Afghanistan, not the U.S. withdrawal — the only sensible course — but the failure to anticipate the speed with which the American-backed government and military collapsed. Republicans, brushing aside that the withdrawal deal was first cut by Donald Trump and most of the many Afghanistan miscalculations were made by Republicans, have stayed on the attack here.

The president compounded his problems by declaring his military advisers never counseled him to retain a small force; in subsequent congressional testimony, the generals contradicted him. This enabled right-wingers to accuse the president of dishonesty and even to raise the specter of scandal. It was a self-inflicted wound for Biden.

A White House populated by experienced staffers has been too slow in making crucial appointments, with around 400 positions yet to be named. Biden never appointed an envoy to Afghanistan, and it took seven months before Nick Burns was nominated to be ambassador to China, a critical post. The situation gets worse as obstructionists such as Sen. Ted Cruz (R-Texas) block confirmations when they do get to the Senate.
A report in POLITICO this morning ("'The president's decline is alarming': Biden trapped in coronavirus malaise") is even more alarmist:
In a focus group last week, Pennsylvania Democrats one after another articulated the issue vexing top White House aides, party operatives in Virginia and voters in Georgia: Why isn't President Joe Biden's diminished job rating rebounding?

All nine participants from Tuesday's session gave Biden C- grades or lower. And their answers circled back to a similar point: The pandemic and the many ways it continues to hinder normal life is souring their views of Biden.

One woman said she wanted to buy a car but supply chain issues were delaying new shipments to the dealership. A man complained about understaffed restaurants.

"There is a malaise," said Sarah Longwell, a moderate Republican strategist who became a vocal supporter of Biden in 2020, and led the focus group of Democratic voters. "People don't feel like their lives have been improved. They did sort of feel that promises aren't being kept."

Nearly nine months into office, Biden and his team contend that the ravages of the pandemic are starting to recede due to his actions. They point to polling showing strong support for his legislative agenda, anchored by physical infrastructure and social and climate spending packages. They note how rare it's been for Democratic lawmakers to break ranks, even during this current, difficult period.

But Biden's standing with Americans has plummeted, with his average approval rating plunging by nearly 15 points since late June. He's seen a drop among Democrats and even more with Republicans, but the decline has been particularly steep among independent voters. In the same time period, the president has scrambled to salvage his domestic initiatives amid infighting among Democrats over their size and sequencing. He has presided over a chaotic and deadly withdrawal from Afghanistan and faced criticism for his response to the inhumane treatment of Haitian migrants at the U.S.-Mexico border.

But it's the pandemic that looms over it all, making it all the more difficult for the White House to turn back the slide.

Longwell said she was struck by how similar the concerns of Democrats sounded to Republicans, and also by how little Democrats in her surveys blame Republicans for standing in Biden's way. It's a point echoed by nearly a dozen strategists who have compiled or reviewed research into Biden's precipitous decline.

Biden and Democrats in Washington "are in a morass of fighting with each over bills that nobody knows what's in," Longwell added. "It just looks like a cluster."
So, the usual caveats apply here: While not enthusiastic about much of his agenda, I voted for Biden as a no-brainer alternative to Donald Trump. If he's the nominee in 2024, I'll almost certainly vote for him again even though I'll have very strong concerns about his health and mental acuity, given how unlikely the Republicans will nominate a plausible alternative.
Still, most of the hand-wringing here is simply magical thinking. Biden has made some mistakes but even the President can only do so much. He can't simply wish a different set of realities into existence.
Of the complaints above, I've been most critical of Biden's handling of the Afghanistan withdrawal and his lying about what military advisors told him. But, given that I and most of his Democratic Party critics approved of the ultimate decision to withdraw from that conflict, we must acknowledge that, even with better planning, it was going to be a cluster. And that, after the initial debacle, the operation was quickly salvaged and massive numbers of refugees were successfully evacuated to safety.
Similarly, while I think Biden, Pelosi, and company have bungled their messaging on the massive spending packages, sending up the popular pieces as stand-alone bills was simply not an option. Even if they could have somehow waved a magic wand and gotten Joe Manchin and Krysten Sinema on board, there is no magic powerful enough to overcome a Republican filibuster. So, the only hope was to ram them through the process via the reconciliation process, which allowed critics to attack otherwise popular measures based on the sheer massiveness of the spending.
I'm as frustrated as the next guy that we're again wearing masks and facing restrictions ten months into the vaccine era. Not to mention the fact that people are still dying in droves. But I'm at a loss as to how that's Joe Biden's fault. He's done everything imaginable to encourage people to get vaccinated and, after delaying too long for my tastes, ultimately ordered federal agencies and large businesses to require vaccinations as a condition of employment. But his predecessor so poisoned the well that a huge percentage of the population believes this is some sort of conspiracy.
And, look, Presidents get blamed for things out of their control, like gas prices, all the time. It goes with the territory and sometimes works in their favor. But what the hell Biden is supposed to do to unclog the ports, get people to go back to dangerous jobs in the midst of a pandemic, and the like is beyond me.
UPDATE: The first commenter below reminds me of Kevin Drum's assertion from last week that "Joe Biden's approval rating isn't really a big deal" because it's typical. As evidence, Drum produces this comparison using Gallup for consistency: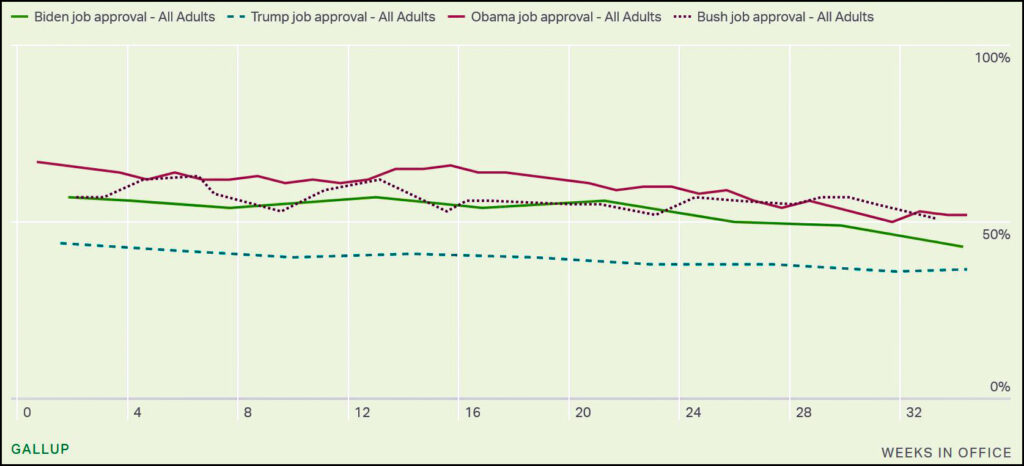 Certainly, the compressed scale makes it look quite consistent. I don't have a subscription to Gallup to manipulate the graphs but here are screencaps of the Inauguration Day through October 11 RealClearPolitics charts for the same folks (Biden's is already atop this post):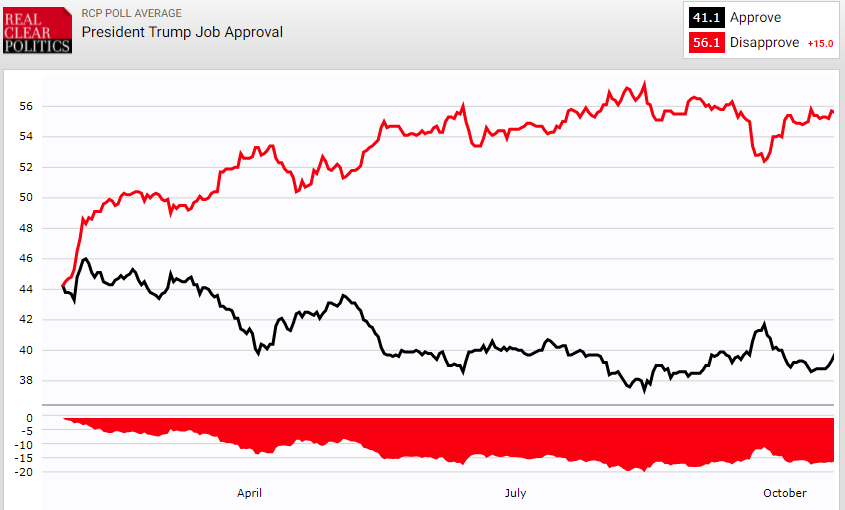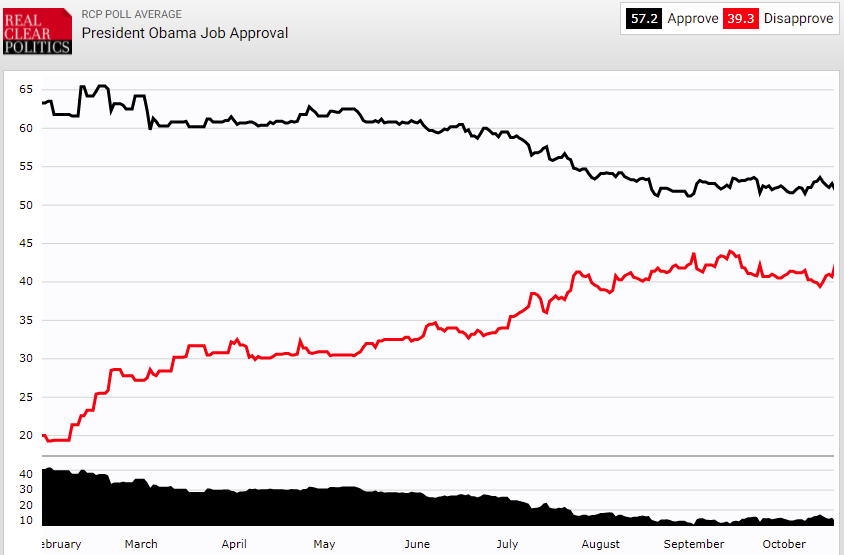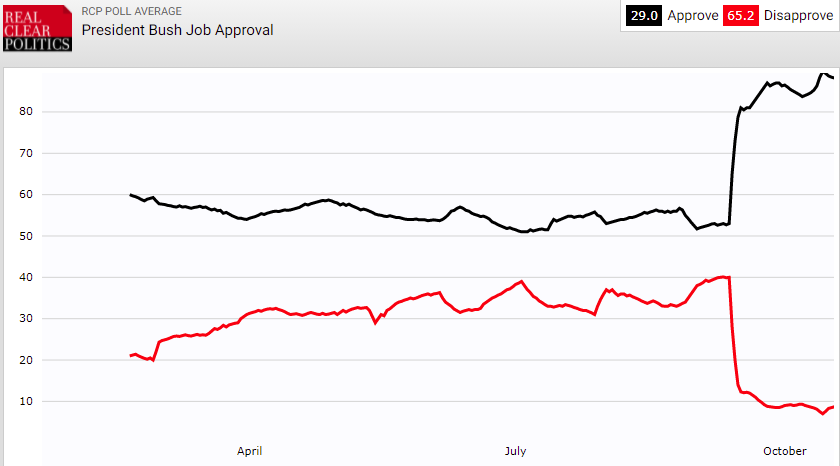 It's really hard to glean much from this exercise.
Trump essentially started underwater and dropped only four points in approval—but rose 11 or so in disapproval.
Obama went from the euphoria of The First Black President/Hope!/Change! to reality and a fairly sizeable drop—but stayed well above water.
Bush went from outrage over being the first popular-vote loser in modern times to win the presidency, stayed pretty stead, and then got a massive Rally Effect from the 9/11 attacks.
Biden's approval dropped a little more than Obama's and disapproval shot up even more than Trump's.