Biden's Reverse Midas Touch
His message isn't getting through. Is it the messenger?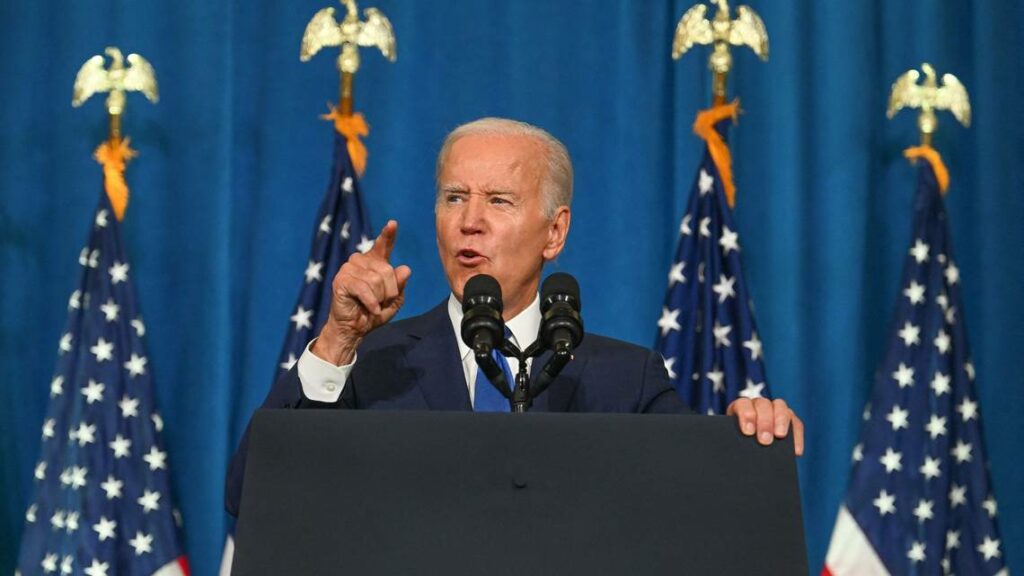 Axios' Josh Kraushaar laments "Biden's broken bully pulpit."
President Biden has been unable to capitalize on a flurry of positive news — from an improving economy to encouraging developments in Ukraine to his top political rival's legal troubles.

Why it matters: Biden's inability to use the presidential bully pulpit effectively — a byproduct of his advanced age — has become a serious handicap as he seeks a second term.

It's not the message, but the messenger. Biden, who was never a charismatic speaker in his political prime, is badly struggling to persuade the public of anything at age 80.
FDR had his fireside chats. Ronald Reagan was the Great Communicator. Barack Obama's ability to calmly drive home a message, under political pressure, earned him the moniker "No Drama Obama."
Biden lately has had the reverse Midas touch: The public feels worse about the direction of the country after hearing the president make his best pitch.
What's the evidence for any of this, you might ask?
The big picture: Biden's team has been trying to sell voters on Bidenomics, capitalizing on the fact that there's no recession and inflation looks under control. Despite the public relations blitz, his economic approval rating has stagnated — and is worse than his overall approval numbers.

By the numbers: A new Wall Street Journal poll shows that by a healthy 11-point margin (51%-40%), more voters view former President Trump as having a better record of accomplishments than Biden.

That's the clearest sign that Biden has badly lost the messaging war. Biden has spent the last several months traveling the country to pitch his economic record, but few are buying what he's selling.
That's not for a lack of a strong case: The American economy is significantly healthier than its European and Chinese counterparts. Wages are again growing faster than inflation.
But 58% of voters say the economy has gotten worse over the past two years, while only 28% say it has gotten better.
While I fully concede that Biden is a less-than-charismatic public speaker, none of this is evidence that Biden is a poor messenger. Mostly, I fear, this is simply a reflection of the receptiveness of the American public to information.
How much does the average American pay attention to the day-to-day happenings in Ukraine? I suspect not much.
How movable are folks on their opinions of MAGA? I suspect not much. I know my opinion hasn't moved much—certainly not since January 6, 2020, before Biden's inauguration.
Perceptions of "the economy" are naturally personal. That we're recovering faster than Europe, much less China, from the COVID crash is a rational metric but not one likely to resonate with many. The highest inflation in decades—even though it's receded considerably—is much more likely to leave a sour impression. And the austerity measures being imposed to wring it out of the economy hurt average folks a lot. There's not much even a more effective communicator could do about any of that.
The only metric here that I find interesting is the finding "that by a healthy 11-point margin (51%-40%), more voters view former President Trump as having a better record of accomplishments than Biden." I followed the link to the poll* for the precise question wording and found it along with other comparatives: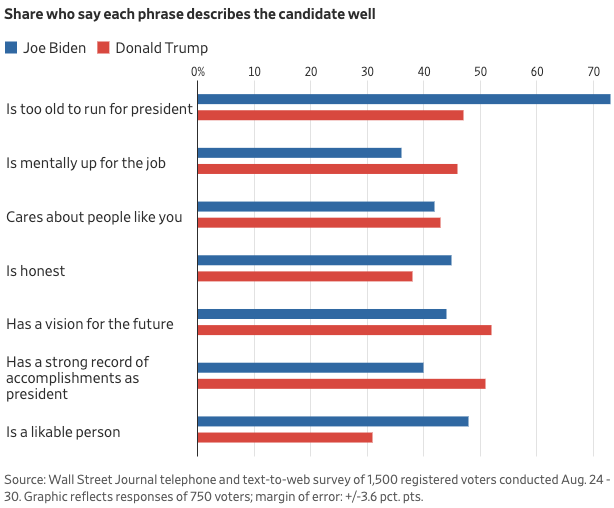 There was also this: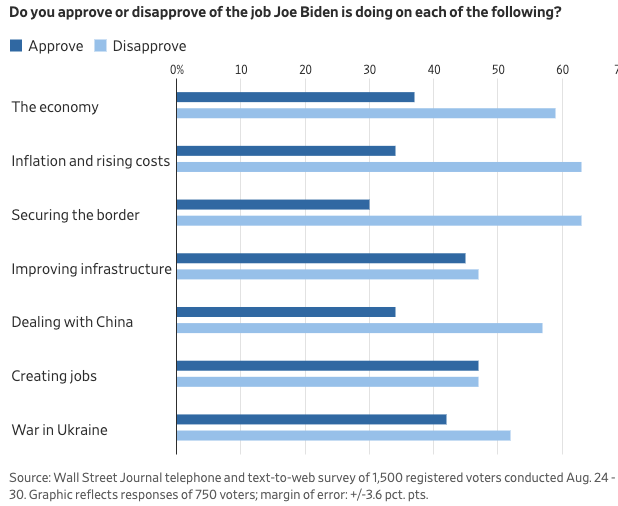 Biden is facing an uphill fight here. But, again, I'm skeptical that much of it is a function of his skills as a public speaker.
And this is some weak sauce:
Between the lines: Biden has also struggled to showcase his much-vaunted empathy, which helped get him elected president in the first place.

During his trip to Hawai'i last month to visit the fire-charred remains of Lahaina, Biden faced tough reviews from across the political spectrum — including from beyond conservative media.
During the trip, Biden compared the disaster of a wiped-out town to his experience 15 years ago dealing with a small fire in his home.

"When President Joe Biden interrupted yet another of his vacations to visit the devastated island of Maui, tone-deafness was front and center," Detroit Free Press columnist Mitch Albom wrote.
"The fire he referenced, nearly two decades ago, was contained within 20 minutes by the local fire department," Albom continued. "The only thing worse than misplaced empathy is false empathy, told over and over — with the same phony story."
I'm not sure why a sports columnist is writing about Biden's trip to a disaster zone but I must admit that comparing a minor house fire to an epic disaster is beyond lame. But this was the first I'd heard of the incident, so I can't imagine it had a significant impact on the public perception of Biden.
What they're saying: New York Times columnist Charles Blow, a reliable Biden defender, expressed frustration this week with the president's reticence to directly address Trump's legal woes.

"Biden adheres to a dignified silence approach, clinging almost religiously to the notion that voters will recognize and appreciate the difference between a restorer and a destroyer," Blow wrote.
At his Labor Day stop in Philadelphia that traditionally kicks off the campaign season, Biden didn't mention his leading rival's name at all.
Who is it that doesn't already have a pretty strong opinion on Trump's legal woes? And, frankly, if Biden were banging the drum on them, he would be accused of politicizing an ongoing Justice Department case.
Reality check: Biden allies say it's premature to judge the president's performance before the campaign has fully ramped up. The Biden campaign aired a new TV ad during last week's NFL season opener touting the president's economic achievements — part of a larger $25 million ad blitz.

The bottom line: Even the campaign's well-produced ads underscore Biden's limitations as a public speaker. Both of the campaign's latest spots — on the economy and his leadership in Ukraine — show visuals of the president but don't feature soundbites of him speaking.
I mean, if Biden isn't a great speaker, why would you advertise that fact?
Look, I'm worried that Biden doesn't have a lead over Trump in the polls at this point. And even more worried that voters seem to think Biden is too old, not mentally up for the job, and has no vision even as compared to his obviously incompetent (and corrupt!) opponent.
Would his being a more dynamic public speaker help ease some of that? Quite possibly.
Mostly, though, he's dealing with a pretty static political climate and a lagging realization that the economy is improving. I suspect that the latter, at least, will change before it really matters.
_______________
*Don't be thrown off by the fact that WSJ commissioned the poll. It's a combined effort by seasoned Democratic and Republican pollsters.