Bill Maher, Rush Limbaugh, and the Standards of Discourse
Sure, he routinely uses gender-specific slurs against conservative women. But he's not a misogynist!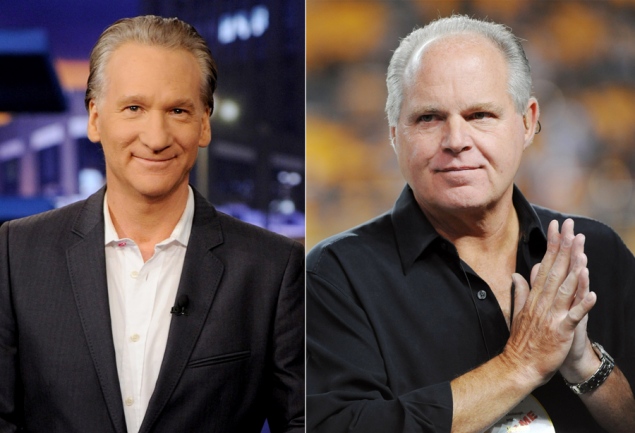 In an interview with Jake Tapper, comedian Bill Maher declares that "I'm a pottymouth, not a misogynist." While he's used the C-word in reference to Sarah Palin—as a recurring part of a standup act, he thinks it's far different than calling Sandra Fluke a slut on a radio show.
To compare that to Rush is ridiculous – he went after a civilian about very specific behavior, that was a lie, speaking for a party that has systematically gone after women's rights all year, on the public airwaves. I used a rude word about a public figure who gives as good as she gets, who's called people "terrorist" and "unAmerican." Sarah Barracuda. The First Amendment was specifically designed for citizens to insult politicians. Libel laws were written to protect law students speaking out on political issues from getting called whores by Oxycontin addicts.
I made essentially the same argument a while back in my post "Why Are People Mad At Rush Limbaugh When Liberals You've Never Heard of Are Jerks, Too?" and largely agree with Maher on the specific point. To the extent that name-calling is permissible in American politics, the standards are simply different for politicians and other major public figures than they are for "civilians." Yes, Fluke is probably a public figure under the standards of New York Times v. Sullivan and subsequent Supreme Court defamation cases; but she's simply not fair game in the way as Sarah Palin—a former half-term governor, vice presidential nominee, and presumptive presidential wannabee—is.
That said, as Melissa McEwan pointed out a while back, Maher has a history of using gender-specific slurs against women he disagrees with. [LANGUAGE WARNING]
Last week, I mentioned that Bill Maher had called Sarah Palin a "dumb twat" on his show. On the next episode, he called Palin and Rep. Michele Bachmann "bimbos." Then, Sunday night, during a comedy show in Dallas, he reportedlycalled Sarah Palin a "cunt," because "there's just no other word for her."

Except twat and bimbo, of course.

Now, it's no secret that I don't like Bill Maher, who relies on deeply misogynist,routinely homophobic, fat-hating, ableist, transphobic, xenophobic, Islamophobic, religion-hating jokes, and is a one-man rape joke machine, and then wonders why it is that marginalized people in the US tend to disagree with his assertion that we've got it so good here; what the fuck are we complaining about?
Indeed. Look, I get that Maher considers himself "edgy" and in the mold of George Carlin. But he's a 56-year-old man with an English degree from Cornell and an above-average IQ. Surely, he knows some other words to express his disdain for the likes of Palin and Bachmann.
If forced to rank the two on the scale of human decency, I suppose I'd say Limbaugh's transgressions were more foul than Maher's. But, surely, that's not the standard to which our public intellectuals ought aspire?