Billionaires in Space
Magical? Impressive? Or just too much money?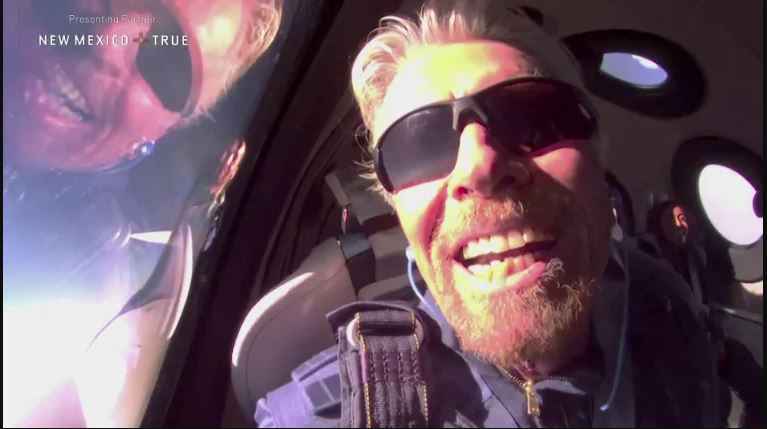 CNN ("Virgin Galactic founder Richard Branson successfully rockets to outer space"):
Richard Branson became the first person to ride into space aboard a rocket he helped fund. The supersonic space plane developed by his company, Virgin Galactic, roared into the sky over New Mexico early Sunday, carrying Branson and three fellow crewmembers.

Branson —- along with Virgin Galactic employees Beth Moses, Colin Bennett, and Sirisha Bandla and pilots Dave Mackay and Michael Masucci — boarded the SpaceShipTwo, a winged plane with a single rocket motor that the company has spent nearly two decades developing, before the crack of dawn. Attached beneath its massive, twin-fuselaged mothership, dubbed WhiteKnightTwo, the vehicle took to the skies at 8:30 am MT and climbed to about 50,000 feet in the air.

Just after 9:15 in the morning, the SpaceShipTwo detached from its mothership and dropped momentarily before its engine screamed to life and the vehicle swooped upward. On board, the passengers experienced up to three Gs of force from the burst of extreme acceleration and watched the blue sky fade into the star-speckled darkness of outer space. At the top of the flight path, more than 50 miles high, the vehicle was suspended in weightlessness for a few minutes, allowing the passengers to enjoy panoramic views of the Earth and space as SpaceShipTwo flipped onto its belly. It then deployed its feathering system, which curls the plane's wings upward, mimicking the shape of a badminton shuttlecock, to turn the spaceship rightward as it flew back into the Earth's thick atmosphere and glided back down to a runway landing.

[…]

Branson's flight — which came just nine days before Amazon bilionaire Jeff Bezos is slated to rocket into suborbital space aboard his own company's spacecraft — is a landmark moment for the commercial space industry. The up-and-coming sector has for years been seeking to make suborbital space tourism (a relatively simple straight-up-and-down flight, as opposed to orbiting the Earth for longer periods) a viable business with the aim of allowing thousands of people to experience the adrenaline rush and sweeping views of our home planet that such flights can offer.


Branson and Bezos are situated to become direct competitors in that industry, each offering tickets to wealthy customers for brief rides to the upper atmosphere aboard supersonic, rocket-powered spacecraft.

Virgin Galactic plans to conduct just one more test flight before it will begin flying paying customers. More than 600 people have reserved tickets priced at $200,000 to $250,000 so far. The company is expected to reopen ticket sales soon, though at a higher price point.
NYT ("Branson Completes Virgin Galactic Flight, Aiming to Open Up Space Tourism") adds:
Soaring more than 50 miles into the hot, glaringly bright skies above New Mexico, Richard Branson at last fulfilled a dream that took decades to realize: He can now call himself an astronaut.

[…]

More than an hour later, Mr. Branson took the stage to celebrate. "The whole thing was magical," he said.

Later, during a news conference, Mr. Branson was still giddy, saying "I don't know what's going to come out of my mouth because I feel I'm still in space."

Mr. Branson's flight reinforces the hopes of space enthusiasts that routine travel to the final frontier may soon be available to private citizens, not just the professional astronauts of NASA and other space agencies. Another billionaire with his own rocket company — Jeff Bezos, the founder of Amazon — has plans to make a similar jaunt to the edge of space in nine days.

In each case, billionaire entrepreneurs are risking injury or death to fulfill their childhood aspirations — and advance the goal of making human spaceflight unexceptional.

"They're putting their money where their mouth is, and they're putting their body where their money is," said Eric Anderson, chairman of Space Adventures Limited, a company that charters launches to orbit. "That's impressive, frankly."
My friend and co-blogger, Steven Taylor, is less impressed, commenting yesterday morning,
I also have to wonder, on a tangential matter, how Bezos spending what he is spending on a suborbital flight is a net good for society (and not a symbol of him having too much power in the form of wealth). Perhaps he ought to be paying his employees more (or paying higher taxes).
I am, perhaps not surprisingly, somewhere between those poles.
On the one hand, I didn't watch the launch or care that much about it. A private individual replicating what Alan Shepard achieved 60 years and change earlier isn't that exciting. Still, it's at least interesting that those with a lot of money to spend will be able to fly into space just for the hell of it. And luxury goods typically go down-market pretty quickly.
On the other, I don't know that the mere fact that Branson and Bezos are filthy, stinking rich is prima facie evidence that they're underpaying their employees or shirking their responsibility as taxpayers. Offhand, Virgin seems like a pretty good company to work for and Amazon decidedly less so. I haven't the foggiest how much Branson, a British citizen, pays in taxes. Bezos should almost certainly pay more—not so much because he has too much money but because we're spending money way faster than we're taking it in and somebody has to make up the deficit. (Unless Modern Monetary Theory is taken to its extreme; in which case taxes are simply unnecessary.)