Virgin Galactic's SpaceShipTwo Crashes During Test Flight
Another setback for commercial space ventures, the second this week and this time with tragic consequences.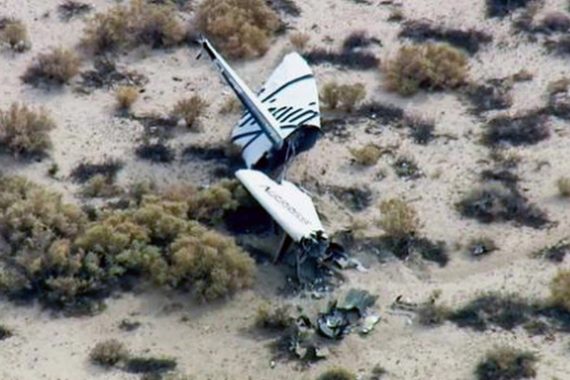 SpaceShipTwo, the craft that British billionaire Richard Branson's Virgin Galactic hoped to be the basis for passenger air travel into Earth orbit, crashed today in California's Mojave Desert during a test flight:
SpaceShipTwo, a rocket plane that is to carry tourists on a short ride to space, crashed in the Mojave Desert on Friday during a test flight, killing one of the two pilots.

The other pilot, who was able to eject from the space plane, was taken to a nearby hospital with "moderate to major injuries," said Ray Pruitt, the public information officer for the Kern County Sheriff's Office.

Virgin Galactic, the space tourism company created by Richard Branson, acknowledged the accident on Twitter.

"During the test, the vehicle suffered a serious anomaly resulting in the loss of SpaceShipTwo," the company reported.

The test flight, the plane's first under its own power since January and the first since a switch to a new motor, was conducted by Scaled Composites, the designer and builder of SpaceShipTwo.
More from the Associated Press:
Ken Brown, a photographer who witnessed the crash, told The Associated Press that SpaceShipTwo exploded after a plane designed to take it to a higher altitude released it and the craft ignited its rocket motor.

Brown said the wreckage fell in the desert north of Mojave Air and Space Port, where the test flight originated. The area is about 120 miles north of downtown Los Angeles.

There is one fatality and one major injury, California Highway Patrol Officer Jesse Borne said. One person parachuted out, he said.

SpaceShipTwo, which is typically flown by two pilots, was designed to provide a suborbital thrill ride into space before it returns to Earth as a glider.

(…)

Virgin Galactic, once it finished developing its rocket ship, was going to launch space tourism flights from the quarter-billion-dollar Spaceport America in southern New Mexico.

Christine Anderson, executive director of the New Mexico Spaceport Authority, did not want to comment on the events unfolding Friday in the California desert or what effect they might have on Spaceport America and the future of commercial space travel.

Virgin Galactic is in line to be the main tenant at the spaceport that was built specifically to launch paying customers into space, a dream of Branson. His company has repeated pushed back the timetable for when the $250,000 flights were to begin, pointing to delays in development and testing of the rocket ship.
Here's an artists conception of what the space plane would look if it did get into orbit: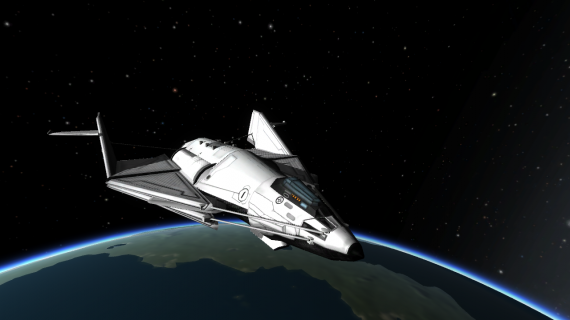 As Wired notes, this was the 55th time that SpaceShip Two had flown, and the 35th time it had flown on its own. However, it was only the fourth time that the ship was supposed to fly under its own power and the first test flight since a major change had been made in the fuel being used in the ship's engine involving a change from a rubber-based fuel to a plastic-based fuel, although it is unknown at this time obviously if that change had anything to do with what happened. During the live coverage of the crash this afternoon on CNN, Joel Glenn Brenner, a former Washington Post reporter who had gotten quite extensive inside access to the project as part of a planned writing project, said that the ship's engines had fired, stalled, and then the ship exploded immediately after the engine had been reignited, so that obviously is going to be a focus of the investigation going forward that will, of course, will involve not only Virgin but also the Federal Aviation Administration, the National Transportation Safety Board, and possibly also NASA given that this was intended at some point to be a space vehicle.
In addition to her comments about what happened today, Brenner had some provocative and accusatory comments about what happened, and her observations about the Virgin Galactic program based on her observation, including her opinion that the engine design never would have succeeded in getting anyone into space never mind a spacecraft filled with paying customers.
Here's one video of the comments she made on CNN this afternoon, captured by Hot Air's Noah Rothman:
And here's more from the same interview via CNN:
Obviously, Brenner was close to the pilots involved in this crash and you can clearly hear the emotion in her voice in both videos, so she may not be entirely dispassionate and objective. That being said, if what she's relating is true than this could be a major headache for Virgin and Branson, and could be the end of this particular business venture of his. To be honest, though, I have always been skeptical of this program. From the beginning, it seemed like another one of Sir Richard Branson's vanity projects except that, this time, he was proposing to take others along with him on his adventure, and adventure that, as we have learned throughout the long history of manned spaceflight, can be uniquely dangerous given everything that could potentially go wrong at any given moment. The idea that this would become a viable business of some kind seems to me to be as much of a pipe dream give current technology as the idea that Christa McAuliffe being the first teacher in space would be the beginning of a real "civilians in space" program, and we all know how that particular venture turned out. In any case, there will be investigations for some time to come and, at the very least, this will be a major setback for a venture that, most recently, Branson had said would lead to the craft's very first trip into orbit by the beginning of 2015. At this point, after all, Virgin Galactic does not have a replacement craft for the one that was destroyed today. There is apparently a second craft under construction, but nothing will happen with that space plane until the investigation of this crash is completed and the cause diagnosed. For her part, Brenner says that she thinks that this is the end of Virgin Galactic. Branson, however, is likely to continue to insist that things will continue moving forward, but whether that happens will be due largely to factors beyond his control.
Photo via KABC-TV