Bloomberg's Billions Buying Ground Game
An unprecedented spending blitz is upending the campaign.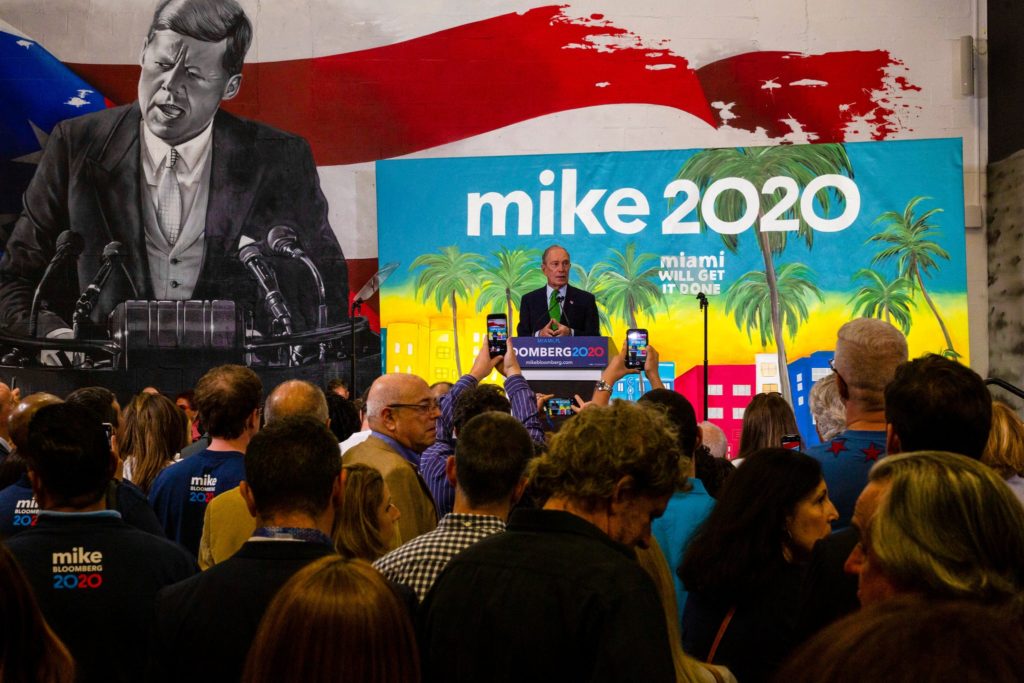 It's been widely reported that Mike Bloomberg has spent an enormous sum on television advertising, including an $11 million spot during the Super Bowl. But something else is happening behind the scenes that's arguably more revolutionary.
Rebecca R. Ruiz reports for NYT that the billionaire's "waterfall of cash" is transforming the staffing process.
He has deployed his corporation in service of his campaign, reassigning employees from the various arms of his empire and recruiting new ones with powerful financial incentives, including full benefits and salaries well above national campaign norms.

Entry-level field organizing work for Mr. Bloomberg, for example, pays $72,000 annually — nearly twice what other campaigns have offered. In under 12 weeks, Mr. Bloomberg's operation has grown to a staff of thousands, with more than 125 offices around the country and a roster of slick events featuring swag, drinks and canapés.
He's renting furnished apartments in luxury high-rise apartments in Manhattan for key staffers. Offering $10,000 to $12,000 a month for key staffers down at the state level. And essentially guaranteeing that money through the general election to work for the Democratic nominee even if he's not on the ticket. Plus lavish provision for meals, snacks, and similar perks.
Oh, and the various buttons, apparel, and other paraphernalia that most campaigns sell to raise funds? He's giving those away. And attendees at his rallies are fed decent food for their effort.
Day-to-day, some Bloomberg campaign workers with prior political experience, who requested anonymity because they were not authorized to speak about their work for Mr. Bloomberg, described what they saw as an unfathomable luxury: the ability to brainstorm and act on their ideas without concern for costs. The campaign has, for instance, hired 70 staff members in Florida and opened field offices in Puerto Rico and the United States Virgin Islands.

But being forced to think about how to stretch dollars in politics can have its advantages, [veteran Democratic campaign organizer Joe] Trippi said, recalling that in 2004 — when he worked for Howard Dean's campaign, which broke the record at that time for Democratic presidential fund-raising — "a lot of the things we pioneered were exactly because we had to be that creative."

Nonetheless, he added, laughing: "Picking between the advantage of being a little bit more creative with your money, versus having the money to do whatever you want to do — most campaigns would pick having more money."
This is an enormous advantage that nobody in recent memory—or perhaps ever—has had. Not only does this likely attract talented people who couldn't otherwise afford to work full-time for a campaign, given them unlimited resources to pursue good ideas, but it allows a complete focus on getting out their message and getting supporters to the polls rather than on trying to drum up donations.
But there is a rather sizable downside. The Intercept's Ryan Grim reports "MIKE BLOOMBERG IS HIRING SO MANY OPERATIVES, LOCAL AND STATE CAMPAIGNS ARE STARVING FOR HELP."
Bloomberg's spending is having a shockingly disruptive effect on Democratic politics throughout the country: He is hiring armies of staffers and canvassers in nearly every state in the country at eye-popping salaries, poaching talent from other campaigns and progressive organizations that are now struggling to fill jobs.

[…]

Progressive groups, local campaigns, and presidential operations are either losing staff to the Bloomberg campaign, or are struggling to hire people because the former mayor has picked so many political operatives and canvassers up, according to interviews, emails, and messages from dozens of people involved in hiring. Several of them spoke to The Intercept on condition of anonymity, either not to offend the biggest spender in political history, or not to expose publicly that they are having a hard time finding staff, which the public could perceive as suggestive of weakness.
The report is almost entirely anecdotal and in some cases sounds like sour grapes. But it stands to reason that someone who would like to be on the ground floor of beating Donald Trump would rather do it for a decent salary and lots of perks than for a lousy salary and no perks.