Bloomberg's Campaign Costing Taxpayers?
A law professor makes a bad argument in favor of a pet policy.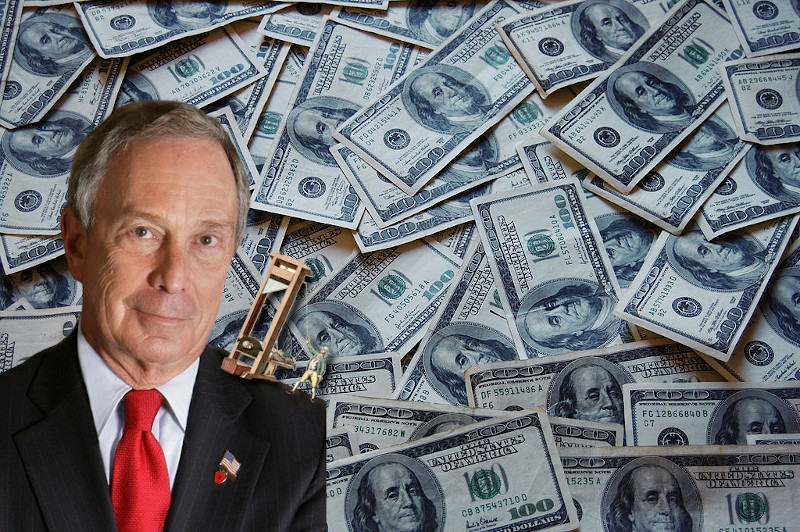 CNN has given Edward J. McCaffery, the Robert C. Packard trustee chair in law and a professor of law, economics and political science at the University of Southern California, op-ed space to argue that "Mike Bloomberg's presidential run could cost taxpayers billions."
The headline is interesting. The argument, however, is absurd.
The public is effectively picking up at least 40% of the tab for Bloomberg's massively financed run. The reason is the existence of the US estate or "death" tax. The simple fact of the matter is that, as an aging billionaire many times over, Mayor Bloomberg sees the clock ticking on his ability to play Estate Planning 101: the simple advice to spend it all and die broke.

Let me explain.

If Bloomberg were to meet his maker still holding onto his full $62 billion, the federal government would take 40% of that sum, nearly $25 billion, in the estate tax — even after the tax's dramatic weakening in the 2017 Trump tax cut.

[…]

A presidential run can be one heck of a binge. If Bloomberg ends up putting in $5 billion, for example — a number not unrealistic given his spending to date — that could potentially save the Bloomberg estate $2 billion in estate taxes. In effect, we would all ultimately be paying in part for the mayor's ride.
Oh . . . kay.
So, the argument is that, by spending his own damn money, Mike Bloomberg is depriving the Treasury money that he would owe them if he died. By that reasoning, Bloomberg owes it to society to hurry up and die. Unless, I suppose, he's earning money faster than he can spend it.
Our tax system is complicated and any set of decisions has tax implications. So, in a real sense, the US taxpayer is subsidizing my house because the mortgage interest deduction allows me to pay significantly less in federal income taxes than I would if I were spending the same amount renting.
McCaffery continues,
Now, in fact, Mayor Bloomberg has signed a giving pledge, promising to give the vast bulk of his wealth "to support organizations that will make a better world." And he has been a generous donor to many charities.

If you imagine that the alternative to Bloomberg spending $5 billion on his campaign would be for him to give it away, the fact that he's splurging on his campaign is costing the charities dearly.

The charities will never see any of the spent money. So when Bloomberg spends $5 billion to run for president, we the people lose either $2 billion in tax revenues or $5 billion in public charity.
One can argue whether the world would be a better place if Bloomberg gave the money to charity rather than television networks and campaign staffers. But we could make the same argument about just about any other thing Bloomberg chose to do with his billions.
But, really, McCaffery just uses all of that as setup to make a smaller point:
This is in no way a condemnation of Mayor Bloomberg, who has presumably earned his money legally, and can spend it however he wants, again perfectly legally. (And, to be fair to the mayor, running for President against Trump might indeed be a public-regarding act).

It is, rather, a condemnation of a tax system that both allows some billionaires to amass wealth and to spend it, tax free and with no questions asked. The current tax system encourages and rewards exactly the kind of high-end consumption binging that we see among the rich, including, but not limited to, Bloomberg's campaign spending and Bezos' rockets.

Contrast this with a progressive spending tax, a tax system touted by Gates, among many others. Under a spending tax with marginal rates of 90%, say, as the income tax had for decades, Mayor Bloomberg could still spend $5 billion running for President. But he would have to pay $45 billion in taxes — 90% of $50 billion, leaving $5 billion to spend — for the privilege of doing so. This is why I have argued in more formal academic work that a progressive spending tax might indeed be the last best hope for campaign finance reform.

Our current tax system encourages our growing number of billionaires to spend it all, now, on any whim or fancy. That's crazy. Maybe it's time to get a tax system that lets billionaires be billionaires, but that charges them an appropriately hefty fee when they binge on personal spending. If we don't, we can expect many more "self-financed" campaigns of all sorts, not just Mike's.
Honestly, I wish he'd just started here rather than muddying the waters with several paragraphs of nonsense first. Indeed, I've long favored a tax on consumption (with some serious carve-outs for essential) rather than income.
McCaffrey outlines his vision for such a tax in more readable form here. I don't have the time or energy to dive into it in detail at the moment—although I'm skeptical of the wisdom of a rate so high as 90%.