Bob Saget, 1956-2022
The beloved comedian and actor is gone at 65.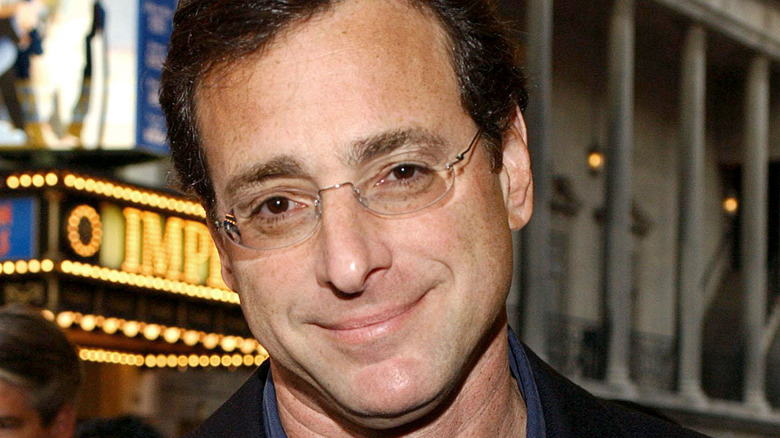 Washington Post ("Actor and comedian Bob Saget dies at 65"):
Bob Saget, the comedian and actor best known for his starring role in "Full House" and hosting the original "America's Funniest Home Videos" in the 1980s and '90s, died Sunday at age 65. According to the sheriff's office in Orange County, Fla., he was found in a hotel room in Orlando.

"Earlier today, deputies were called to the Ritz-Carlton Orlando, Grande Lakes for a call about an unresponsive man in a hotel room," the sheriff's office account posted on Twitter. "The man was identified as Robert Saget & pronounced deceased on scene. Detectives found no signs of foul play or drug use in this case."

TMZ first reported that Saget was found in his room by hotel security on Sunday afternoon. The comedian had recently launched a stand-up tour with the first two dates in Florida over the weekend, and performed in Ponte Vedra Beach on Saturday night. "Loved tonight's show," he tweeted after his set. "Appreciative audience."

As soon as the news broke, there was a flood of tributes from fellow actors and comedians. Longtime friend and former "Full House" co-star John Stamos tweeted, "I am broken. I am gutted. I am in complete and utter shock. I will never ever have another friend like him. I love you so much Bobby." Candace Cameron Bure, who starred as one of his daughters on the show, wrote, "I have no words. Bob was one of the best humans beings I've ever known in my life. I loved him so much." Co-star Dave Coulier called Saget his "forever brother" and tweeted, "My heart is broken. I love you, Bob."

Mary-Kate and Ashley Olsen, who both played the role of Saget's youngest daughter, released a statement through People magazine: "Bob was the most loving, compassionate and generous man. We are deeply saddened that he is no longer with us but know that he will continue to be by our side to guide us as gracefully as he always has. We are thinking of his daughters, wife and family and are sending our condolences."

Norman Lear, who said he was "close friends" with Saget, wrote that "Saget was as lovely a human as he was funny. And to my mind, he was hilarious … I could not have loved him more."

"I'll miss Bob Saget so much. He was as kind as he was funny," Nikki Glaser tweeted.

"Oh god. Bob Saget!!! The loveliest man," wrote Kat Dennings. "I was his TV daughter for one season and he was always so kind and protective. So so sorry for his family."

"Beloved by millions as America's Dad, he was a regular presence in our living rooms, bringing to us the funniest videos and countless belly laughs," George Takei tweeted. "Gone too soon, like so many of the brightest souls."

Saget, originally from Philadelphia, got his big break in Hollywood in 1987 when he was cast in the ABC sitcom "Full House" as Danny Tanner, a local TV news personality and recently widowed dad to three young daughters (Bure, Jodie Sweetin and the Olsens). The show was a hit, and millions tuned in every week to see him dispense kindhearted fatherly wisdom and get into wacky situations with his brother-in-law, Jesse (Stamos), and good friend Joey (Coulier) who moved in to help him raise his kids.

He segued that role into a gig as host on the popular "America's Funniest Home Videos" in 1989, spending nearly a decade narrating goofy home movies and handing out prize money.

To the amusement of many fans, Saget's G-rated "Full House" and AFHV persona was in stark contrast to his incredibly raunchy stand-up act in real life, not to mention his famously dirty "Aristocrats" joke and stint directing "Dirty Work." (His explicit jokes didn't stop him from getting a Grammy nomination for best comedy album in 2014.)

Saget, who toured the comedy circuit for years, was one of those celebrities who was always in on the joke: He had no problem being roasted on Comedy Central, and he seemed to take great delight in playing a parody of himself on "Entourage." In November 2020, he showed up to compete on "The Masked Singer" as a character known as "the Squiggly Monster."

While he loved stand-up comedy, he also continued to show up on network television, including more patriarch roles in "Raising Dad" in 2001 and "Surviving Suburbia" in 2009. He narrated the voice-over for the entirety of CBS's "How I Met Your Mother," playing the older version of the title character. And, of course, he returned with many of his cast mates to "Fuller House," the Netflix revival of the sitcom that debuted in 2016.

Saget is the father of three daughters — Aubrey, Lara and Jennifer — with his first wife, Sherri Kramer, whom he divorced in 1987. He married TV host Kelly Rizzo in 2018.

Just over a week ago, Saget penned an emotional tribute to Betty White, who died at age 99 on New Year's Eve.

"She always said the love of her life was her husband, Allen Ludden, who she lost in 1981. Well, if things work out by Betty's design — in the afterlife, they are reunited," Saget wrote. "I don't know what happens when we die, but if Betty says you get to be with the love of your life, then I happily defer to Betty on this."
New York Times ("Bob Saget, Comic Who Portrayed Danny Tanner on 'Full House,' Dies at 65"):
Bob Saget, the standup comic and actor known as Danny Tanner on "Full House," the host of "America's Funniest Home Videos," and for his deadpan, ribald routines, was found dead on Sunday in Florida. He was 65.

[…]

Mr. Saget, who was on tour, had performed on Saturday night at Ponte Vedra Concert Hall in Ponte Vedra Beach, Fla., southeast of Jacksonville.

In a tweet early on Sunday, Mr. Saget thanked the "appreciative audience."

"I had no idea I did a 2 hr set tonight," he said. "I'm happily addicted again to this."

[…]

At Temple, he studied film, and the year of his graduation he received a student Academy Award for documentary merit for his film "Through Adam's Eyes," about a nephew of his who had undergone facial reconstructive surgery.

But even then, he was already pursuing comedy. He told The Philadelphia Inquirer in 2016 that, at 17, he won a local radio contest by singing a song about bondage, and that while he spent most of his time at Temple shooting film, he would also go to the University of Pennsylvania's campus to do improv.

After graduating, Mr. Saget moved to Los Angeles and quickly made himself a constant presence at the Comedy Store. "I lived in that room for seven years," he said on the comedian Marc Maron's podcast in 2010.

"I did jokes and some stories but most of them were just silly, dirty silly," he remembered. He said he was drawn to jokes with foul language and anatomy because he wasn't supposed to talk that way in his youth. "I stayed like a kid who just talked silly," he said.

He added, deadpan and possibly sincere, "I don't curse for the sake of cursing — that's the actual truth."

A handful of breaks quickly changed Mr. Saget's career. After a brief stint on a CBS show, "The Morning Program," Mr. Saget appeared in a 1987 Richard Pryor film, "Critical Condition." He then was offered the part on "Full House." He later joked with Mr. Maron, "My joke is, 'Ask me my favorite episode.'"

"What's your favorite episode?" Mr. Maron played along.

"The last one," Mr. Saget said. Almost immediately, he added, "I'm the luckiest guy."
Associated Press ("Bob Saget, beloved TV dad of 'Full House,' dead at 65"):
Bob Saget, the actor-comedian known for his role as beloved single dad Danny Tanner on the sitcom "Full House" and as the wisecracking host of "America's Funniest Home Videos," died while on a stand-up tour. He was 65.

Deputies in Orange County, Florida, were called Sunday about an "unresponsive man" in a hotel room at the Ritz-Carlton in Orlando and found Saget dead, according to a sheriff's statement on Twitter. Detectives found "no signs of foul play or drug use in this case."

Saget was in Florida as part of his "I Don't Do Negative Comedy Tour." After warm audience receptions to his gigs Friday in Orlando and Saturday in the Ponte Vedra Beach resort area, he celebrated online.

"I'm back in comedy like I was when I was 26. I guess I'm finding my new voice and loving every moment of it," he posted Saturday on Instagram.

[…]

"In often a ruthless business he was historically not just hilarious but more importantly one of the kindest human beings I ever met in my career," actor Richard Lewis wrote on Twitter.

[…]

In early 2020, Saget was preparing for the start of his comedy tour when the pandemic put it on hold. He turned his energies to a podcast, "Bob Saget's Here For You," which gave fans an open mic to comment and ask him questions.
"Full House" debuted while I was in college and I watched quite a lot of it with my folks. I was in the Army by the time "America's Funniest Home Videos" debuted and my parents were big fans of that and various imitators. I watched it with them many times when I was visiting over the years.
Like many, it seems, I was bemused and a bit shocked to see the raunchy version of Saget when I turned on to his standup routines. Even though I was an adult and knew better, we instinctively form impressions of celebrities based on the characters they play onscreen. That's true even of non-actors; the public personae are usually meticulously crafted to make them seem like better people than they really are.
I've gathered over the years that Saget was actually a pretty good dude.
Amusingly, my kids got into the "Fuller House" reboot a couple years back and went bananas when Saget appeared on "Masked Singer."