Boston's Hospitals Have Done An Amazing Job
The events in Boston on Monday were tragic, but there was one shining success.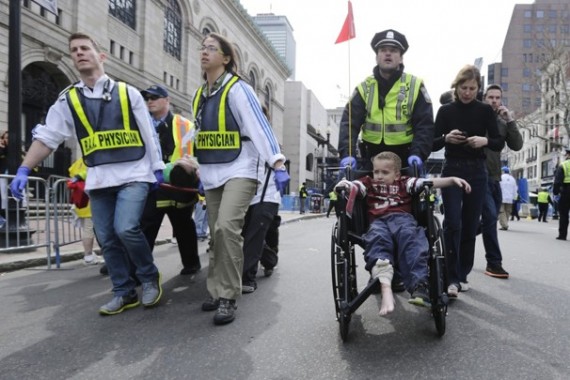 Only two days after Monday's bombing attack, the casualty figures stand at the same level they were when the bust settled on Monday evening with 3 dead and more than 170 injured. What's extraordinary, is that all of the injured have survived and that many of them have already been released:
BOSTON (AP) — Officials at three Boston hospitals that treated some of the most seriously injured from Monday's bombing at the Boston Marathon said Wednesday they expect all of their patients to survive.

The trauma surgery chief at Boston Medical Center says a 5-year-old boy is among the 19 patients still being treated there for injuries received during the marathon bombings.

Dr. Peter Burke said Wednesday morning that the hospital treated 23 people following the blasts. He said two patients, including the 5-year-old, remain critical, but that all patients are making progress.

"We have a lot of lower extremity injuries, so I think the damage was low to the ground and wasn't up," he said. "The patients who do have head injuries were blown into things or were hit by fragments that went up."

At least 10 Boston area hospitals treated more than 170 patients following the bombings, and at least 14 were still in critical condition Wednesday. Dozens of patients have been released.
One reason for this amazing success rate under conditions where many patients were brought in with limbs blown off and losing a tremendous amount of blood would seem to be a purely logistical one. Located right near the site of the explosions was the medical tent for the Boston Marathon. While this was by no means prepared to take on the serious injuries seen Monday afternoon, it did provide a group of trained medical professionals who were literally able to step right in and apply first aid and triage while waiting for first responders to arrive. Additionally, the downtown location of the attack put it within relatively close distance of several hospitals, which means that the most critical cases could be taken to a fully equipped Emergency Room much quicker than might be the case under other circumstances.
There's another factor that arguably contributed, though, and experience that many of those on staff had from treating combat injuries in Iraq and Afghanistan:
Improvised explosive devices caused carnage on the street of an American city this week, but after more than a decade of grim experience treating U.S. troops maimed by such weapons in Iraq and Afghanistan, many of the emergency workers and volunteers along Boston's Boylston Street knew how to react.

They included nurses and medics who had served as National Guardsmen trained in front-line first aid, and a peace activist, Carlos Arredondo, who had lost his Marine son, Alexander, in Iraq in 2004.

"You can see (the bomb) was like an IED," he said, sweeping his arm low to the ground where the shrapnel flew as he spoke to reporters soon after helping to evacuate a man with two severed legs to an ambulance.

Civilian trauma experts say the insights gained from keeping severely wounded troops alive have quickly taken hold in civilian emergency departments and ambulances across the U.S.

Many of them are convinced that lessons from military medicine are a major reason why more civilians are surviving gunshot injuries in the U.S., even as the total number of shootings has been increasing, according to figures kept by the federal Centers for Disease Control and Prevention.
Additionally, as the Chief of Emergency Services at Massachusetts General Hospital explains in this interview, there was some help from the Israelis:
Visit NBCNews.com for breaking news, world news, and news about the economy
This just goes to show you what a well-trained trauma team can do under the right circumstances.
Photo via The Washington Post