Both-sidesing COVID
Being too cautious and careless are not equal sins.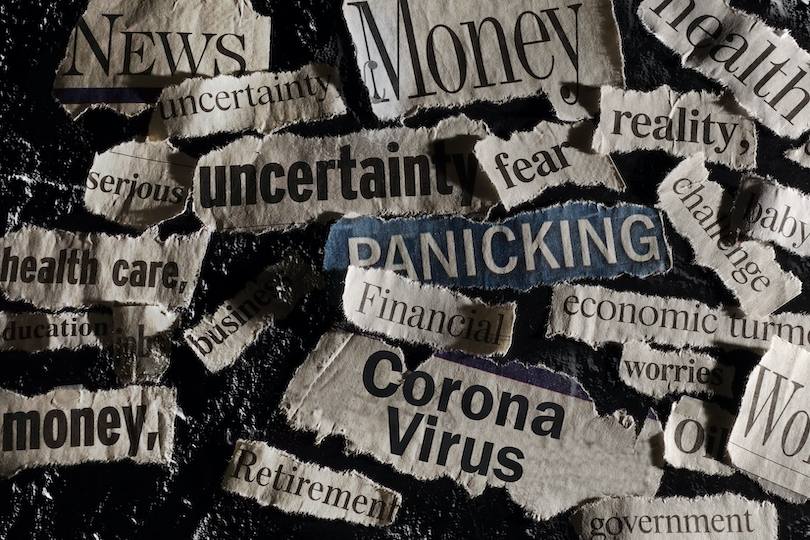 On Wednesday, the NYT's The Daily podcast featured the first episode of what was purportedly a two-part series featuring David Leonhardt, "We Need to Talk About Covid." I had planned to write about it after the second part but it has yet to drop. Thursday's episode, understandably, dealt with the breaking development of Justice Bryer's retirement and the resulting opportunity for President Biden to replace an octogenarian white man with a decades-younger Black woman. Friday's episode, though, deals with the regulation of the beef industry. I don't know if the second part is still forthcoming or why it was delayed.
The New Republic's Melody Schreiber didn't wait to comment and her views overlap mine, although not exactly. Her piece is titled "The Big-Name Journalists Who Are Trying to 'Both Sides' Covid." She identifies the same core issue I had with Leonhardt's analysis but sees it as much more problematic than I do.
Let's back up. The episode in question dealt with a NYT survey of American attitudes about the pandemic. Essentially, as I've noted previously, Leonhardt thinks there's very good reason to think that the high transmissibility and relatively low intensity of the Omicron variant means COVID could soon become endemic. And he was surprised by how the poll broke down.
David Leonhardt
I think this is really remarkable. We found a striking degree of similarity among older and younger people about how worried they were about getting sick from Covid. So 17% of people aged 65 and above said they were very worried about getting sick from Covid, and 23% of people 18 to 34 said they were very worried.

[…]

So younger people were slightly more likely to say that they were very worried about getting sick from Covid than older people. Now, when you look across the whole poll — I don't want to make too much of small differences — what I would say is that the degree of worry is quite similar among younger people and older people. And the reason that's so surprising is that we know scientifically the risk is not similar. It's extremely different.

[…]

It's much higher for older people. It's so much higher that 3/4 of all deaths in the U.S. have been among people age 65 and older.

[…]

Covid is overwhelmingly mild for younger people. And yet, older people and younger people essentially look at the risks and give extremely similar answers, even though the reality is that the risks are very different.

Michael Barbaro
Well, given all that, what would drive young people to be as anxious as older people about Covid, because the data shows that's just not in line with the scientific risk. How do you start to explain that?

David Leonhardt
I start to explain it by saying political ideology has to be a big part of this. And we see that repeatedly in the poll. So across most demographic groups, Covid attitudes really aren't that different. Men and women don't have very different Covid attitudes. Different racial groups don't have very different Covid attitudes. The rich, the middle class, and the poor don't have very different Covid attitudes. Who does have very different Covid attitudes? Democrats and Republicans.

[…]

Radically different Covid attitudes. And I think the most fascinating way to see this is to look at the poll by both partisanship and by age. It's really remarkable. So if you look across either Republicans or Democrats, there's almost no difference in how people assess their own personal risk by age. So old Republicans are roughly as worried as young Republicans. Old Democrats are roughly as worried as young Democrats. And as we've talked about, that's just not scientifically rational.

But when you separate out Democrats and Republicans, the gap is enormous. It is so big that older Republicans are significantly less worried about getting sick than younger Democrats. Only 47% of Republicans who are 65 and older say they are worried about getting sick from Covid. 70% of Democrats between the ages of 18 and 34 are worried about it. So when you look at all this, what you end up seeing is that people's attitudes toward risk doesn't seem to be driven by rational thought or scientific evidence, so much as it seems to be driven by political belief.

Michael Barbaro
David, it's interesting you used the word rational. It sounds like you're saying that there's a politically-infused irrationality to these divergent views of the old and the young when it comes to the risk of Covid.

David Leonhardt
Yes, I am. And I think there is. I think you see it with Republicans who are refusing to get vaccinated. And I think you see it with Democrats who are really struggling to imagine a future in which Covid isn't a dominant part of our life.

I always tell people don't put too much stock into any one poll. But it's not just our poll that's finding this. It's poll after poll. As the folks at Gallup said, "Republicans are consistently underestimating Covid risks and Democrats are consistently overestimating Covid risks."
The omitted portions are simply Barbaro interrupting with "Mmm" and the like.
There's a lot more but that's the basic setup. And I agree with Leonhardt that the poll is indeed evidence of irrationality across the board. Indeed, the poll finds that healthy, youngish, fully vaccinated people—who are at virtually zero risk of dying from the virus—are actually more afraid of doing so than older, unvaccinated people. And I agree with Leonhardt that this is absurd in both directions.
Where I absolutely agree with Schreiber, though, as these irrationalities are by no means equal. The damage done to society by the careless unvaccinated is, quite obviously, much higher than that done by the overly-cautious boosted. The latter are mostly doing damage to themselves (and perhaps their children) by under-living their lives.
But Schreiber goes further, still.
In pieces like these, there is typically little or no discussion of the actual reasons people may be concerned about getting sick. Not everyone is worried about their personal demise. They may instead be worried about spreading the virus to elderly or immunocompromised people or to children who aren't eligible or allowed to get vaccinated, or they may be concerned about overwhelming hospitals, developing a "mild" course of Covid that nevertheless leads to long-term illness or disability, missing work while sick, losing childcare after they or their kids test positive, or falling behind in school. The choice isn't a binary between being afraid for one's own personal safety or carrying on. Mass death isn't inevitable; being concerned about the vulnerable or the course of the pandemic as whole isn't pathological.
That's true! The poll should probably have done more to distinguish the reasons why people are afraid.*
While worrying about getting others sick is "admirable," Leonhardt said, "those other people have also had the opportunity to get vaccinated." He worries that pandemic restrictions are the reason behind a rise in violent crime and overdoses, even though the United States hasn't seen anything approaching lockdowns since spring 2020 and many places saw no restrictions at all.

Leonhardt is working from two data pools here—his poll and the extremely limited statistics on deaths from Covid in vaccinated and boosted populations. But his interpretation of the data misses a few key points. Not everyone who is at risk even after their initial vaccination knows that they need a booster shot, and there is a strong correlation between vaccination status and income and health insurance status. A "mild" illness still has repercussions beyond hospitalization and death. And even when you're vaccinated, you may still pass the virus on to others.

"By drawing on this (incorrect) personal responsibility argument, he makes the deaths and suffering of those affected seem acceptable," Dr. Cecília Tomori, director of global public health and community health at the Johns Hopkins School of Nursing, wrote to me when I asked her about the podcast. "Disturbingly, at one point he highlighted that really only the immunocompromised and elderly are not fully protected after vaccination—as if the impacts on these people were acceptable. That is a eugenic argument."
This strikes me as unfair in the extreme. He isn't arguing that killing off the old and infirm is an acceptable price to pay to get on with our lives. Rather, he's arguing that it's the old and infirm who should be exercising the greatest precautions whereas others should update their priors based on the effectiveness of the vaccines and the relative mildness of the current dominant strain.
Now, as noted a few days back when I accused Leonhardt of COVID triumphalism, while I share his hopefulness regarding current trends,
Daily new cases and daily new deaths in the US are still are near-peak highs. Hospitals are still having trouble meeting the demand for new COVID patients. And, while Omicron certainly seems far less deadly than Delta and other previous incarnations, "natural immunity," much like the "immunity" conferred by vaccination, is far from total or permanent. [For new readers: I'm vaxxed and boosted as are my family members and strongly advocate people get their shots. But the reality is that breakthrough cases exist and immunity, even from boosters, seems to decline relatively quickly.]

There's room for hope that this is the beginning of the end. But it would be foolish, indeed, to condition our public health policy or our personal behavior based on these hopes. Indeed, doing so might well lead to a self-negating prophecy. It's certainly no time to let up on masking—indeed, we should all be in K/N95s now—and boosting.

Nor is there any guarantee that whatever variant follows Omicron will be as mild or milder. And, while the developed world is vaccinated and boosted at disappointing levels, it's light years beyond where most of the Global South is. New strains will continue coming.
Leonhardt may well prove right and I don't mind him having a big platform to spread his message. But, considering that he's telling so many of us what we want to hear, there's definitely danger in his drowning out more cautious—and expert—voices.
*UPDATE: Here's a link to Leonhardt's 25 Jan. report "Two Covid Americas," which was presumably the basis for the podcast invitation. And to the raw poll results themselves.
The poll actually does break down fear of getting sick oneself and fear of one's children, parents, or friends getting sick. It does not ask communal-level questions, though.