Boy Allowed to Wear 'My Little Pony' Backpack to School
After national attention, a North Carolina school has rescinded its ban on a 9-year-old boy's wearing of a "girl's" backpack.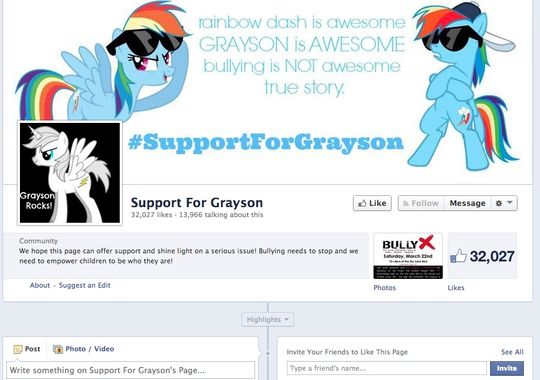 After national attention, a North Carolina school has rescinded its ban on a 9-year-old boy's wearing of a "My Little Pony" backpack.
USA Today ("School will allow boy to bring My Little Pony backpack"):
Grayson Bruce's My Little Pony backpack will return, and with it may come new initiatives to prevent bullying in local schools.

Buncombe County Schools administrators met Thursday with the mother of Grayson Bruce, the 9-year-old boy who was propelled into the national spotlight this week after saying he was prevented from carrying his "My Little Pony" backpack to school because administrators told him it "triggered bullying."

Noreen Bruce also said Thursday that she would work with the school system to send Grayson back to Candler Elementary, after pulling him out last week following the incident.

"We are considering all options for getting Grayson back in school," Bruce said after the meeting. "We are pleased the school system is working closely with us. All of the options include Grayson taking his My Little Pony bag to school."

The story has gone viral over the past several days, attracting the attention of national news outlets and more than 65,000 Facebook supporters rallying behind the #SupportforGrayson hashtag.

[…]

Bruce has made several national media appearances in the last 48 hours, including the Glenn Beck show in Dallas and an interview with "Good Morning America."

Noreen Bruce and two friends set up a Facebook page to support her son Grayson.

Thousands of followers from around the world posted photos of My Little Pony memorabilia and supportive comments under the #SupportforGrayson hashtag on Facebook and Twitter. One of the television show's creators, Lauren Faust, even weighed in on Twitter Tuesday, saying, "#standwithgrayson 'nuff said."

Buncombe County Schools administrators released a joint statement Thursday, saying they would work with Bruce to make "a safety transition plan and an allowance for Grayson to bring the bookbag to school."

"We have appreciated the opportunity to meet with the Bruce family and discuss the issues. We sincerely regret that the issue of being told to leave the bookbag at home was perceived as blaming Grayson. While that was not the intent, the perception became reality. We support Grayson bringing the bookbag to school." the statement said.

"Every situation with young children is a teachable moment and we will use this example in our efforts to address a wider issue of bullying. We ask for everyone's patience and understanding as we continue to work collaboratively with the family toward a resolution that is best for Grayson and his classmates at Candler Elementary School."
School officials look silly here but their response was hardly unreasonable.
Yes, it's wrong to bully a little boy for wearing a backpack marketed to little girls. (My five-year-old daughter loves My Little Pony, especially Rainbow Dash.) And, yes, the ban was effectively blaming the victim. But the fact of the matter is that kids of that age can be vicious, bullying and mob behavior here was quite predictable, and it's impossible for teachers to be everywhere at once. It was just easier to tell Grayson to leave the backpack at home, removing the immediate catalyst.
Schools do this sort of thing all the time and have forever. For decades now, schools have banned clothing with potentially inflammatory messages or even banned wearing hats and other clothing in colors locally associated with various street gangs. The fact that people ought not react viciously to other people's free expression is outweighed, especially with children, by the probability that they will.
Nowadays, it's just easier to create a national incident out of it.