Brad Pitt To Play General Stanley McChrystal In Afghan War Movie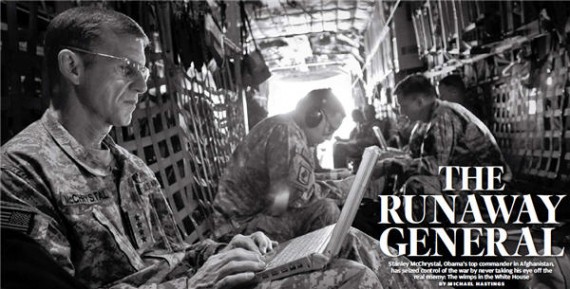 The book that the late Michael Hastings wrote based on the time he spent following former Afghan War Commander General Stanley McChrystal is set to become a movie starring Brad Pitt in the role of the General who ultimately was forced to resigned due to his comments about civilian and military superiors:
There are few modern military characters as outsized as Gen. Stanley McChrystal, the former commanding general of international and U.S. forces in Afghanistan.

You might recall Michael Hastings' incendiary 2010 Rolling Stone profile of McChrystal that exposed the general and his staff's disdain for their superiors, including National Security Advisor James L. Jones, Vice President Biden and President Obama, and ultimately prompted McChrystal to resign.

Now McChrystal will get a movie treatment worthy of that reputation.

Australian director David Michod, who was behind the colorful indie gangster pic "Animal Kingdom" a few years back, will write and direct the McChrystal military drama "The Operators," producers announced Monday. Starring in the film? None other than Brad Pitt.

Pitt's production company, Plan B, will produce the film with New Regency and Brett Ratner's RatPac Entertainment.

The movie is based on Hastings' 2011 book "The Operators," which expanded on his Rolling Stone article, "The Runaway General." (Hastings died last June in a car crash in Los Angeles.)
I didn't read Hasting's book so I can't speak on whether or not it will make good movie material. It will be interesting to see what they come up with, though, especially since we really haven't seen any movies based on the Afghan War to date.
No word on whether they'll be seeking a sponsorship from Bud Light Lime.