Burger King Should Not Be Condemned If It Moves To Canada For Tax Purposes
The announcement of a potential merger between Burger King and Tim Horton's has led to much moral preening from the usual suspects.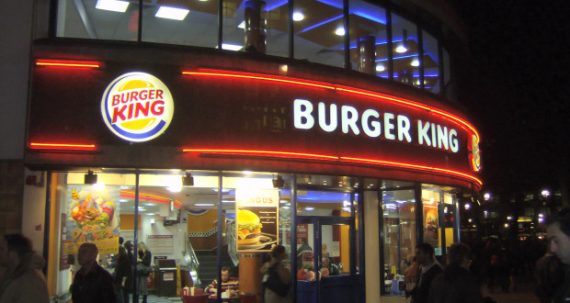 The business and political worlds collided this morning when The Wall Street Journal reported that Burger King is apparently in talks to buy iconic Canadian coffee and doughnut chain and that the purchase as contemplated at least in part to avoid U.S. corporate taxes:
Burger King Worldwide Inc.  is in talks to buy Canadian coffee-and-doughnut chain Tim Hortons Inc., a deal that would be structured as a so-called tax inversion and move the hamburger seller's base to Canada.

The two sides are working on a deal that would create a new company, they said in a statement, confirming a report on the talks by The Wall Street Journal. The takeover would create the third-largest quick-service restaurant provider in the world, they said.

Inversion deals have been on the rise lately, and are facing stiff opposition in Washington given that they threaten to deplete U.S. government coffers. A move by Burger King to seal one is sure to intensify criticism of them, since it is such a well-known and distinctly American brand.

A person familiar with the matter said a deal between the two companies could be struck soon, though additional details on timing couldn't be learned. Tim Hortons has a market value of about $8.4 billion, while Burger King's is about $9.6 billion, so together the restaurant companies are currently worth about $18 billion.

By moving to a lower-tax jurisdiction, inversion deals enable companies to save money on foreign earnings and cash stowed abroad, and in some cases lower their overall corporate rate. Even though many of the headline-grabbing inversion deals of late have involved European companies, Canada has also been the focal point for a number of them, given its proximity and similarity to the U.S. Canada's federal corporate tax rate was lowered to 15% in 2012.
It's worth noting that there are potential benefits to this deal to the new company that go beyond the tax advantages. Breakfast has become the fastest growing part of the fast food market in the United States, as evidenced most recently by Taco Bell's entry into that line of business. Tim Horton's has an excellent reputation in Canada and those parts of the United States where it has expanded for its coffee, donuts, and other products. Bringing that expertise into a fast growing market, and using Burger King's much bigger franchise base to expand it, would seem to be a pretty smart business move.
However, it is the tax issue that is getting the most attention today.
As the Journal goes on to note, if this deal goes forward it would be the latest in a series of similar deals between American and Canadian companies that have been reached over the two years that the new Canadian tax rate has been in effect and, while its unclear exactly how much a move like this would lower Burger King's tax liability in the United States it would most certainly put it somewhere below the effective 27% rate that it has been paying in recent years. One analyst estimates the potential tax savings for the new company as high as 13%.  On paper, the corporate tax rate is 35%, however due to subsidies, credits, and the manner in which taxable income is calculated few populations pay that as the effective rate on the entirety of the corporate income. Notwithstanding that, it is clear that most corporations pay an effective rate in the United States well above the rates that corporations in other parts of the world pay. This has resulted not only in the type of deal that Burger King and Tim Horton's are contemplating, but also in the phenomenon of American corporations "parking" large amounts of profits earned overseas in foreign banks to avoid American taxes. Apple alone has $138 billion in overseas cash, and Microsoft is believed to have roughly $39 billion, while the entire amount of overseas cash held by American corporations is estimated to be nearly $2 trillion. This has led many analysts and politicians, mostly Republicans but also many Democrats, to suggest that the United States should consider reforming its corporate tax system to one with lower rates and fewer exemptions, deductions, and credits so as to attract foreign business and encourage American companies to bring some of that overseas cash home.
Not surprisingly, the reaction to the news of the Burger King from the usual suspect has been more about political demagogurey than a rational discussion of tax policy. Business Insider's Joe Weisenthal, for example, called the proposed deal a direct challenge to the White House:
Tax inversions have been a big theme of 2014, as several companies (largely in the pharmaceutical space) have acquired foreign rivals to move their tax base elsewhere.

These deals have infuriated some in Washington, and the loss of an iconic brand only adds fuel to the fire. There has been talk of legislation to limit tax inversions, but in this political climate, the idea of anything actually passing both houses of Congress seems very slim. So earlier this month, the White House said it may use an executive order to limit tax inversions, though it remains unclear how much teeth any executive order would have.
Either way, this warning (or threat) apparently is not much of a deterrent to deals being commenced.

Greg Valliere of Potomac Research says that Burger King's actions are a direct statement to the White House and the Treasury, basically daring them to back up their warning with action

(…)

Meanwhile, the news gives Democrats another talking point. The potential departure of an iconic American company because of "corporate greed" will be trotted out on the campaign trail.
Additionally, as Professor Bainbridge notes, there has been the expected reaction on Twitter from the usual suspects:
Burger King "moving" to Canada to avoid taxes? One whopper of a load of BS: http://t.co/gAhM7gwF8X

— Left Action (@LeftAction) August 25, 2014
Hopefully big Corporations like @BurgerKing@Walgreens are paying attention We will boycott any that do no pay their taxes.

— Linda Collins (@LindaCollins11) August 25, 2014
All of these responses, and more like them, are tinged more with moral resentment than any rational considerations of public policy. If companies like Burger King are considering inversion deals to save money, and others are parking trillions in cash overseas for the same reason, then the rational thing would be to look at our corporate tax laws and determine how we can change them to discourage this type of behavior. Many analyses have shown that reforms that lower rates while simultaneously cutting back on loopholes that are based more in political favoritism and crony capitalism than sound tax policy would actually increase tax revenues over time, just as gross tax revenues increased when rates were cut during the Reagan Era. Obviously, this would deprive the President and the Democratic Party of the political whipping boy that going after so-called "evil" corporations gives them, but if they really want to do what's right for the country, which is why they were elected in the first place, then they'd put partistanship aside for once.
As for the ethics of what Burger King is planning here, that too is mostly nonsense. A corporation's primary duty is to represent the best interests of its shareholders, within the bounds of the law. That is exactly what the corporation's board is doing in this case. Reducing the company's overall tax burden, while at the same time opening up potential new markets as noted above, is clearly in the company's best interests and, indeed, the board would be acting irresponsibly if they rejected this deal because of social pressure from a bunch of morally preening people on Twitter who wouldn't know how to operate a business if their life depended upon it.
Update: This tweet was deleted from the original post when the author pointed out that it was meant to be sarcastic, which I should have recognized.