What Voter Suppression?
Do Voter ID laws really suppress voter turnout? The evidence from at least one state doesn't prove it.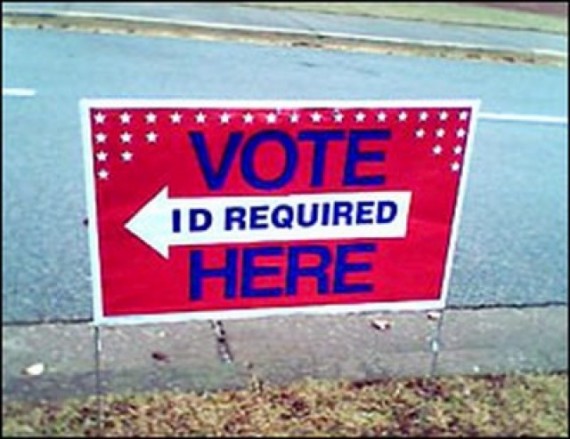 The arguments against Voter ID laws tend to fall into two categories. The first argument, which admittedly does have merit, is that history reveals that there is very little evidence of people voting who aren't authorized to vote, or of people going to the polls claiming to be someone other than who they actually are. As true as this may be, though, it strikes me as being a fairly weak argument. The fact that such voter fraud doesn't occur regularly, as far as we know, is not, by itself, an argument against the validity of laws that would require people to present some form of identification, although it may perhaps be an argument against the urgency of passing such legislation. In either case, though, as with any piece of legislation, whether or not it is urgently needed is not, in and of itself, an argument against it. If the case were otherwise, then many laws currently on the books would be suspect. Therefore, an argument from necessity isn't really a good argument against any law, including a law that does little more than require someone to provide some form of proof of their identity before being allowed to vote.
The second argument against voter ID laws, of course, is that, either by design or intent, they tend to suppress voter turnout among certain voting demographics, principally minorities and older voters. This argument is principally made by Democrats who contend that the largely GOP-controlled legislatures that have drafted such laws are doing so in an effort to give their party an advantage at the polls. Indeed, this has been the principal legal argument that opponents of Voter ID laws have made to Judges in their efforts to strike the laws down. In some cases, such as Pennsylvania, those efforts have been at least partially successful. In others, they have not and the laws have gone into effect. In those states, rather obviously, we ought to be able to find at least some evidence of suppression if these arguments actually have any validity, then one would think that we'd find some evidence of suppression. Based on the numbers out of Texas, though, where a Voter ID law went into effect just this year, the evidence of suppression seems to be completely missing:
The 2013 election in Texas was an off-year, constitutional amendment election. Texas holds constitutional amendment elections every two years, after its legislative sessions, to give Texans the opportunity to approve or reject items that the legislature has approved for a vote. The Texas secretary of state administers elections and posts totals going back to 1992.

According to the Texas secretary of state's office, 10 amendments were up for vote in 2011, the last constitutional amendment election before the voter ID law passed. Some issues received more votes than others. The one most voted on received 690,052 votes, for and against. Overall, an average of about 672,874 Texans voted on these 10 constitutional amendments.

If voter ID suppressed votes, we should see a drop in turnout, right? Well, according to the Texas secretary of state's office, nine amendments went up for vote in 2013. The amendment that attracted the most votes, Proposition One, attracted 1,144,844. The average number of votes cast in 2013 was 1,099,670.

So, in terms of raw votes, turnout in 2013 increased by about 63% over turnout in 2011 in comparable elections. But that's statewide. How about in areas the anti-voter ID side predicted should see "suppression"?

Turnout for the 2011 election was 5.37% of registered voters; for 2013 it was about 8%.
Looking at specific areas of the state where minorities are heavily represented, there also appears to be little evidence that the Voter ID law prevented people from getting to the polls:
Hidalgo County sits on the Texas-Mexico border and is 90% Hispanic. In 2011, an average of just over 4,000 voted in the constitutional amendment election. In 2013, an average of over 16,000 voted.

If voter ID was intended to suppress votes, it is failing as spectacularly as HealthCare.gov.

Look at Cameron County, which is about 85% Hispanic. Turnout increased from an average of 4,700 votes in 2011 to 5,100 in 2013.

So in its first real-world test, Texas' voter ID law — which 66% of Texans support, according to a 2012 University of Texas poll – had no impact on suppressing the vote.
One can make the argument that an off-year election in which only Constitutional Amendments were on the ballot may not be the best test of the impact of a Voter ID law, and I'll admit that there is some validity to this argument. Voters tend to sit these elections out, as the low overall voter turnout number demonstrates. For that reason, it will be interesting to see how, if at all, the Voter ID law in Texas impacts turnout in next year's midterm elections. Based on these numbers, though, it doesn't appear that the requirement that people show identification at the polls had any real impact on the ability to vote in Texas notwithstanding the predictions of opponents of the law that it would.
Jazz Shaw sums it up nicely:
[I]f the intent of Texas Republicans was to hold down the vote, they are failing in spectacular fashion. In reality, the one factor which holds down the vote in this country is nothing more or less than voter apathy and lack of information / interest. If you want to fix a problem, you first must identify what the wrong is that you're seeking to right. Low voter education and turnout is a problem which needs to be addressed, but trying to blame a well regulated system of ensuring proper, legal voter registration and identification at the polls is clearly not part of the solution.
Virginia also had an election this year with a Voter ID law on the books, and while its requirements are somewhat less rigorous than those in Texas that didn't stop opponents from predicting prior to the election that it would cause voter turnout to be suppressed, especially among minority voters that would tend to favor Democratic candidate Terry McAuliffe. As it turned out, though, voter turnout for the 2013 election was higher than it has been for any Gubernatorial Election in Virginia history. Looking further into the data, we find from the Exit Polls from 2013 and 2009 that African-Americans accounted for a higher percentage of the vote in 2013 than they did four years ago. Additionally, looking at specific areas of the state where minority voters are a high percentage of the population, such as the cities of Norfolk, Newport News, and Richmond, we find that voter turnout in all three jurisdictions was substantially higher than it had been in the 2009 election. (SBOE results for 2013 can be found here, and results for 2009 can be found here). It is worth noting that a more stringent Voter ID law will be going into effect in Virginia starting with the 2014 elections, so it will be worthwhile to revisit this state again next year to see what, if any, impact the new requirements have on turnout compared to previous midterm elections.
Perhaps there is some evidence out there that Voter ID laws lead to suppression, but in at least these two states, the evidence doesn't seem to suggest it at all.