Voter Turnout In 2014 Midterms Hit Lowest Point Since 1942
Voter Turnout was lower this year than in any midterm since the one held eleven months after the attack on Pearl Harbor.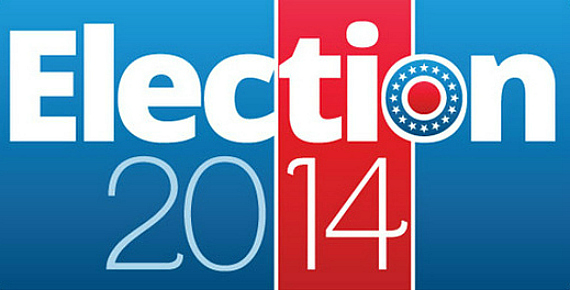 As we headed into the midterm elections, there were some signs that voter turnout, which has historically been lower in midterm elections than in Presidential election years, would be lower this year than it had been in some time. Polling indicated, for example, that a large segment of the American public was not engaged in following the elections very closely, and that many Americans didn't really care who controlled Congress in the end. Additionally, several pundits observed that turnout in the primaries leading up to the General Election was down despite the fact that there had been several well publicized and closely fought battles in states like North Carolina, Georgia, Kentucky, and Mississippi. To some degree, those predictions of lower turnout seemed like they might not turn out to be accurate when early voting numbers from states like Iowa and Colorado seemed to indicate an uptick in participation. In the end, though, the predictions seem to have panned out, with early numbers indicating that voter turnout this year was the lowest it has been since World War II;
General election voter turnout for the 2014 midterms was the lowest it's been in any election cycle since World War II, according to early projections by the United States Election Project.

Just 36.4 percent of the voting-eligible population cast ballots as of last Tuesday, continuing a steady decline in midterm voter participation that has spanned several decades. The results are dismal, but not surprising — participation has been dropping since the 1964 election, when voter turnout was at nearly 49 percent.

The last time voter turnout was so low during a midterm cycle was in 1942, when only 33.9 percent of eligible voters cast ballots.

Voter turnout during presidential elections is, as a rule, significantly higher. More than 58 percent of eligible voters submitted ballots in 2012 and nearly 62 percent did so in 2008. By contrast, only 41 percent of eligible voters voted in 2010 and 40.4 percent in 2006.
PBS's Morning Line passes along this chart showing how voter turnout has gone since that 1942 midterm, which of course occurred less than a year after the attack on Pearl Harbor and U.S. entry into the Second World War: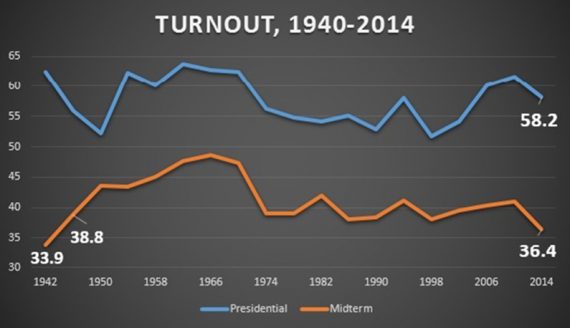 There are a few caveats worth taking note of when you look at this overall number, though, and they can be seen most apparently in the list of states where data indicates turnout saw its biggest increases and biggest declines:
Turnout increased in 14 states: Turnout actually increased in 14 states, plus D.C., from 2010-2014. In 10 of the 14, there were competitive to potentially competitive Senate races. In nine of the 14, there were governors' races. Here's where turnout increased, ranked by biggest increase:

1. Louisiana: +12.9% (38.9%-43.9%)
2. Nebraska: +10.1% (37.5%-41.3%)
3. Arkansas: +9.9% (37.5%-41.2%)
4. Wisconsin: +9.4% (52.0%-56.9%)
5. Maine: +7.4% (55.2%-59.3%)
6. New Hampshire: +6.8% (45.7%-48.8%)
7. Alaska: +6.6% (51.9%-55.3%)
8. Washington, D.C.: +4.8% (28.9%-30.3%)
9. Colorado: +4.7% (50.6%-53.0%)
10. Kentucky: +4.2% (42.4%-44.2%)
11. North Carolina: +3.8% (39.2%-40.7%)
12. Florida: +3.4% (41.7%-43.1%)
13. Kansas: +2.6% (41.7%-42.8%)
14. Iowa: +1.4% (49.9%-50.6%)
15. Oregon: +0.2% (52.6%-52.7%)

It was down, though — and by a lot in many places — in 36 others. Here are the top 10 biggest decreases:

1. Missouri: -27.4% (44.5%-32.3%)
2. Washington state: -27.3% (53.1%-38.6%)
3. Delaware: -27% (47.5%- 34.5%)
4. California: -25.5% (44%-32.8%)
5. Indiana: -24.5% (37.1%-28.0%)
6. Oklahoma: -23.2 (38.8%-29.8%)
7. Nevada: -23% (41.3%-31.8%)
8. Alabama: -22.1% (43%-33.5%)
9. Utah: -20.7% (36.3%-28.8%)
10. Mississippi: -19.7% (37%-29.7%)
There's one thing that distinguishes most of the states on the first list from nearly all the states on the second list. Namely, in one sense or the other, each of the fifteen states where turnout increased had at least one highly contested race on the ballot. In most cases, it was a Senate race that was the subject of both local and national attention due to the impact it could potentially have on the battle for control of the Senate. In each of these states, voters were subjected to months of television and radio advertisements exhorting them to support one candidate or the other, or attacking one candidate or the other, as well as mountains of campaign mail pieces showing up on their mail boxes and, in many cases, phone calls and knocks on the door as part of Get Out The Vote efforts. In fact, almost none of the states where the battle for Senate control, or a Governor's office, was closely fought, are missing from this first list of states where turnout increased. Even Washington D.C. qualifies in this regard since the city was the site of both a highly contested race for Mayor and a campaign to legalize marijuana that were both the subject of much media attention leading up to Election Day. It's also worth noting that two of these states, Oregon and Colorado, have mail-in ballot programs that make voting much easier than even an aggressive early voting program does. Given all of that, it's not surprising at all that these states would see an increase in turnout.
By contrast, pretty much all the states on the list of the ten states with the biggest drop off in turnout had what fairly could be considered a high profile, highly contested statewide race of any kind. There was no doubt about the outcome of any of the statewide races in California, for example, and the same was true in states like Idaho, Oklahoma, and Mississippi. In many of the other states, the highest profile races were all at the House level, most of which were not strongly contested to begin with and few of those that were occurred in high population districts that would bring large numbers of people to the polls. In Alabama, for example, the one statewide race was a race for Senate in which state Democrats declined to even put up a candidate against Senator Jeff Sessions. Similarly, the Senate race in Delaware was not nearly as prominent in the national media as it had been four years ago when Christine O'Donnell's bizarre campaign drew national attention, and there was never really any doubt that Senator Thad Cochran would easily dispatch his Democratic opponent in Mississippi even though there had been threats from some supporters of Chris McDaniel that they would back Cochran's opponent in the General Election. As with the states in the first list, is it really that much of a surprise that races that were not hotly contested, to the extent they were contested at all, didn't see high turnout? Whether you were a supporter or opponent of Governor Jerry Brown, for example, it was obvious that it really didn't matter whether or not you showed up to vote on Tuesday. None of this is to say that lower voter turnout isn't something worth being concerned about, of course, but when you look at these numbers in the context of the election itself, they aren't terribly surprising.
One thing that these numbers do say, though, is that Republicans ought to be careful about drawing any deep conclusions about what the 2014 elections mean, or asserting that the outcome as a whole gives them some kind of national mandate to enact their agenda. It is true, of course, that turnout was up in states when Republicans did well such as Colorado, Iowa, and Arkansas, but even in those states where turnout was up it was, for the most part, still just barely above 50% or, in most cases, below that level and most assuredly below the turnout level that you'd see from a Presidential election. Given that, it seems difficult to accept the assertion that the outcome of these races, although assuredly an important political development that will have consequences going forward at the state and national levels, is indicative of a sea change of any kind, or that it represents some kind of wholesale acceptance of Republican ideas by the American public. More likely than not, the voters who did come to the polls on Tuesday were motivated as much by frustration at the status quo, at President Obama, and at gridlock in Washington as they were by the intention of endorsing whatever it is Republicans intend to do over the next two years. Just as we saw when voters went to the polls just two years after giving Republicans an historic win in the 2010 House elections, the GOP could very well find that they get a very different reception when 2016 comes around and, presumably, turnout ends up being much higher than it was this year.