Most Americans Don't Care Very Much About Who Controls Congress
A majority of Americans don't care very much who controls Congress.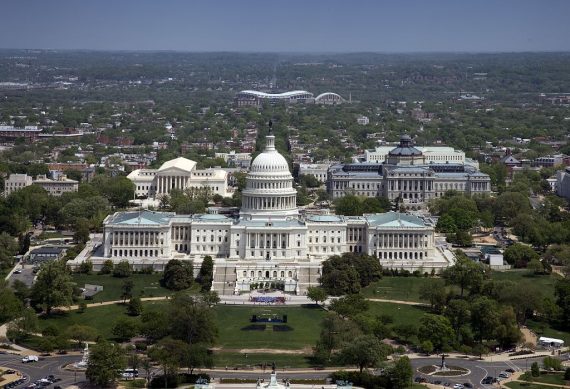 A new Gallup poll seems to indicate that a significant number of Americans don't care very much about who controls Congress:
PRINCETON, NJ — Two months ahead of the midterm elections that may very well change the balance of power in Congress, four in 10 Americans say the specific party that controls Congress matters a great deal to them, while 29% say it matters a moderate amount and another 30% say it generally doesn't matter to them.

The 40% of national adults now highly concerned about control of Capitol Hill equals what Gallup found a month before the 2002 midterms, but is lower than the 49% seen in late October 2010.

While the views of Democrats (including independents who lean Democratic) on this question have been steady across the three midterms — roughly 45% each year have said the party in control mattered a great deal to them — Republicans' concern has varied. Currently, 43% of Republicans (including Republican leaners) say party control matters a great deal. It was a whopping 61% in 2010, but that was up from 42% in 2002.

The 2002 and 2010 elections were favorable to Republicans, as the GOP retained majority control of the U.S. House of Representatives and regained control of the Senate in 2002, and recaptured control of the House in 2010 with an enormous seat gain. Thus, while rank-and-file Republicans' concern about party control is not nearly as high today as it was in 2010, when Democrats controlled both houses, it is comparable to 2002 — which could suggest that conditions are still favorable for the GOP. Missing from this midterm trend, however, is 2006, which was a strong Democratic year. Therefore, it is not entirely clear how levels of concern on this question relate to each party's performance.
As this chart shows, these numbers generally have not changed much in the past several election cycles, although there has been a significant drop among Republican voters from the levels they were at in 2010: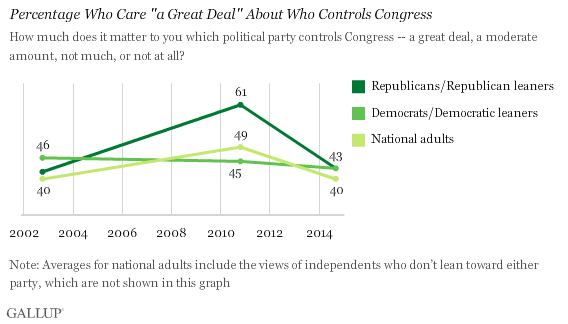 The fact that Republican voters are saying that they don't nearly as  much as they did in 2010 about who ends up controlling Congress is, obviously, the most interesting in the poll. To some extent, I suppose, you could say that it is due to the fact that the GOP already has control of the House and is in no danger at all of losing that chamber this year. Beyond that, though, I'd speculate that after 2010 Republican voters, which includes much more than just the Tea Party base that has been the most vocal over the past four years, discovered that the enthusiasm of 2010 was somewhat misplaced. Notwithstanding the GOP's huge victory that year, the party has largely failed to get its agenda adopted on a national level thanks to the fact that there's a Democrat in the White House and that Democrats still control the Senate. Winning the Senate in November would give the GOP some additional leverage over legislation, but in the end their ability to accomplish much of anything will be limited by the fact that there is a Democrat in the White House at least until 2017, which means that there will have to be compromises made and deals struck in order to accomplish even the most basic tasks that Congress is responsible for, such as budgeting.
This means, of course, that 2016 is likely to be another closely fought ideological battle inside the GOP among Republicans on both sides of the "establishment v. Tea Party" divide  for the Republican nomination. Indeed, given the fact that the GOP has lost four out of the last six Presidential elections, and lost the popular vote in five out of the last six, it's likely that all parties of interest in the GOP are going to be highly interested in trying to win the White House back after eight years in the wilderness. As far as 2014 goes, though, Republicans don't seem to be any more concerned about who controls Congress, and that suggests that while we're likely to see Republican gains this year they will probably fall short of the wave we saw in 2010.
As for Americans as a whole, it's not all that hard to understand why the partisan battle over Congressional control doesn't grab the attention of the general public very much. Poll after poll over the past several years has shown that Congress has some of the lowest job approval numbers in its history. Going back to the Bush Administration, the institution has excelled at little more than partisan vitriol and gridlock, and that's been with both parties controlling one or both chambers. It's no surprise that they'd believe that it really doesn't matter whose in charge in the current political climate, and in at least some sense they're absolutely right.