Bush's Apologia Should Not Be Accepted
Former Congressman Bob Barr argues that the right should not be so eager to rehabilitate George W. Bush. He's right.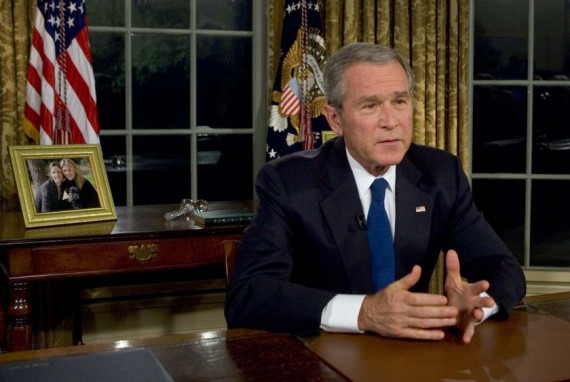 Former Congressman, and 2008 Libertarian Party nominee for President, Bob Barr isn't very impressed with George Bush's new book or the hagiography that the 43rd President has been receiving from conservatives since it was released:
If you have been keeping up with the news lately, then no doubt you have noticed George W. Bush has come out of his self-imposed exile to promote his new memoir. While I understand the ex-President's publisher has to make money off its investment, this self-serving apologia provides nothing more than an excuse for supporters of the ex-President to reaffirm their support and to blast his successor.  In terms of substance or historic insight, the book is pretty thin gruel.

In his promotional interviews, Bush claims the low point of his presidency was not when his administration used cherry-picked evidence to convince the Congress to invade Iraq, or when he deliberately gutted constitutionally-protected liberties of American citizens.  According to the new Mr. Bush, the nadir of his tenure in office was when a rapper accused him of being a racist on national television during a benefit for victims of Hurricane Katrina. Bush can perhaps now sleep well at night, serene in the knowledge that the rapper, who has a history of uttering statements that make himself look like an idiot, now says he regrets making that particular comment about the former president.

(…)

Many Republicans and conservative talk-show pundits are swooning over Bush's re-emergence into public life; but it is difficult to grasp why any of them would have nostalgic feelings toward man who largely is responsible for his party's electoral defeats in 2006 and 2008. What's more, Bush's demonstrated contempt for free markets, individual liberty, and the Constitution are counter to what the Republican Party supposedly believes in.
Indeed, judging  it purely by the standards of the Tea Party, the Bush Presidency was a massive disaster:
Increased federal domestic discretionary spending (even before the bailout) faster than any president since Lyndon Johnson.
Enacted the largest new entitlement program since the creation of Medicare and Medicaid, an unfunded Medicare prescription drug benefit that could add as much as $11.2 trillion to the program's unfunded liabilities;
Dramatically increased federal control over local schools while increasing federal education spending by nearly 61 percent;
Signed a campaign finance bill that greatly restricts freedom of speech, despite saying he believed it was unconstitutional;
Authorized warrantless wiretapping and given vast new powers to law enforcement;
Federalized airport security and created a new cabinet-level Department of Homeland Security;
Added roughly 7,000 pages of new federal regulations, bringing the cost of federal regulations to the economy to more than $1.1 trillion;
Enacted a $1.5 billion program to promote marriage;
Proposed a $1.7 billion initiative to develop a hydrogen-powered car;
Abandoned traditional conservative support for free trade by imposing tariffs and other import restrictions on steel and lumber;
Expanded President Clinton's national service program;
Increased farm subsidies;
Launched an array of new regulations on corporate governance and accounting; and
Generally did more to centralize government power in the executive branch than any administration since Richard Nixon.
So why the reflexive desire on the right to continue defending the record of a man who governed in a manner completely opposite from many of the principles that they claim to believe in ?
Part of it, I think, is simply the natural tendency of people to defend someone who is being attacked by their opponents. During his time in office, George W. Bush was the target of much unhinged criticism from the left, especially over the Iraq War. Many on the right most likely saw it as their obligation to not only defend Bush from those attacks, but remain quiet about their own disagreements with policy. In fact, it wasn't until the TARP bailout that conservative disgust with the Bush White House, which had surfaced somewhat over issues like Harriet Miers' Supreme Court appointment and the Dubai World ports deal, finally came to the fore. Now that he's out of office, the defensiveness is back.
Barr has a point, though. If they were true to their principles conservatives would largely reject the Presidency of George W. Bush.