But His Documents!
Former President Trump routinely broke the law with respect to protecting public records.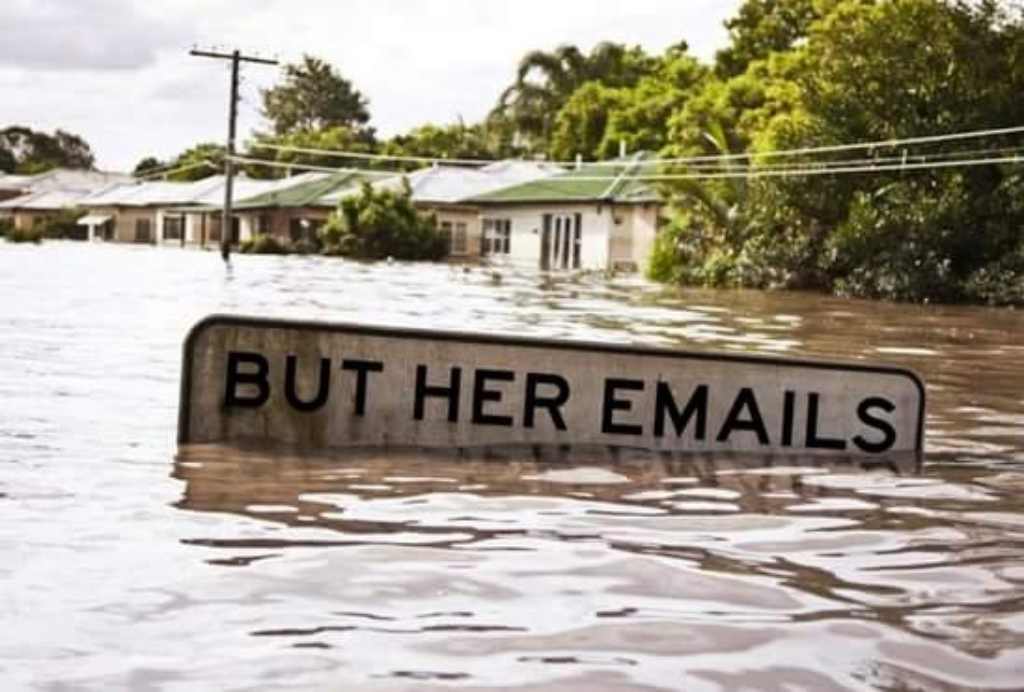 A recurring lament of those who supported Hillary Clinton's 2016 presidential bid is the outsized—and inconveniently timed—attention given to her use of a private email server and other violations of classified handling procedures during her tenure as Secretary of State. When her clearly unfit opponent won the election and proceeded to violate the Constitution, laws of the land, and basic norms on a near-daily basis, the rueful response was "But her emails!"
In recent days, it has become quite clear how flagrant President Trump himself was in disregarding the laws that applied to handling of government information and property.
National Security Archive/George Washington University ("President Trump May Have Violated Laws Protecting Government Property When He Destroyed, Removed Records, NGOs Assert"):
The National Security Archive and Citizens for Responsibility and Ethics in Washington (CREW) have formally requested that the Justice Department and FBI investigate former President Donald Trump's mutilation and destruction of presidential records as possible violations of federal criminal law. The groups argue that Trump's widely reported tearing up, disposal, and removal of highest-level documentation not only flouted his obligations under the law, but have deprived the public of its rightful ownership of those materials under the Presidential Records Act (PRA) and undermined congressional efforts to hold his administration accountable for events such as the January 6 insurrection.

A conviction in such a case would set a powerful precedent for accountability in preserving the historical record – something the PRA has failed to do – and could have important additional consequences, for example preventing the former president from ever holding public office again.

Former President Trump's destruction and removal of records may violate 18 U.S.C. § 1361, which makes it a crime to willfully injure or commit any depredation against United States property in excess of $1,000. Another statute, 18 U.S.C. § 2071, which makes it a crime to willfully destroy or mutilate federal records, arguably goes further. The statute states, "Whoever, having the custody of any such record, proceeding, map, book, document, paper, or other thing, willfully and unlawfully conceals, removes, mutilates, obliterates, falsifies, or destroys the same, shall be fined under this title or imprisoned not more than three years, or both; and shall forfeit his office and be disqualified from holding any office under the United States." (emphasis added)
NYT ("Archives Found Possible Classified Material in Boxes Returned by Trump"):
The National Archives and Records Administration discovered what it believed was classified information in documents Donald J. Trump had taken with him from the White House as he left office, according to a person briefed on the matter.

The discovery, which occurred after Mr. Trump returned 15 boxes of documents to the government last month, prompted the National Archives to reach out to the Justice Department for guidance, the person said. The department told the National Archives to have its inspector general examine the matter, the person said.

It is unclear what the inspector general has done since then, in particular, whether the inspector general has referred the matter to the Justice Department.

An inspector general is required to alert the Justice Department to the discovery of any classified materials that were found outside authorized government channels.

Making a referral to the Justice Department would put senior officials in the position of having to decide whether to open an investigation, a scenario that would thrust the department into a highly contentious political matter.

The Washington Post reported on Wednesday that the National Archives had asked the Justice Department to examine Mr. Trump's handling of White House records.
Axios' Mike Allen ("Haberman book: Flushed papers found clogging Trump WH toilet"):
While President Trump was in office, staff in the White House residence periodically discovered wads of printed paper clogging a toilet — and believed the president had flushed pieces of paper, Maggie Haberman scoops in her forthcoming book, "Confidence Man."

Why it matters: The revelation by Haberman, whose coverage as a New York Times White House correspondent was followed obsessively by Trump, adds a vivid new dimension to his lapses in preserving government documents. Axios was provided an exclusive first look at some of her reporting.

Haberman reports Trump has told people that since leaving office, he has remained in contact with North Korean leader Kim Jong-un — whose "love letters," as Trump once called them, were among documents the National Archives retrieved from Mar-a-Lago.

Zoom out: The news of White House toilet-flushing comes as the National Archives has reportedly asked the Biden Justice Department to examine Trump's handling of White House records, amid the congressional investigation into the Jan. 6 assault on the Capitol.
Although I never supported Trump and ultimately endorsed and voted for Clinton, I thought the attention paid to her emails was justified. Not only did she potentially leave classified information vulnerable to hacking by our enemies but her brazenness in flouting the law was further evidence of the arrogance she and her husband have displayed throughout their public careers. The rules simply don't apply to them. While I thought FBI Director James Comey was right not to charge her with a crime, I understood why he felt the need to explain himself to the public. Still, the episode was ultimately a bad look for him and the Justice Department. In bending over backward to show he wasn't bowing to political pressure from the Obama administration, he appeared to be attempting to influence an ongoing political campaign. Twice.
Trump's actions here are, I believe, orders of magnitude worse than Clinton's. As the Chief Executive, he had the highest duty to faithfully execute the laws of the land and to be above reproach. Instead, he did the opposite, flagrantly disregarding his duty despite, I am quite sure, repeatedly being told he was breaking the law.
It's too soon to know whether he was attempting to hide documents from the public or was simply manifesting the qualities that led Dan Drezner to dub him the Toddler-in-Chief. I suspect it's mostly the latter.
Regardless, while he doubtless broke the law here repeatedly and flagrantly—just as he did the Emoluments Clause and various ethics laws—I highly doubt he'll be charged by the Justice Department. We simply don't go after the highest-level officials in our government when they break the law. While I fully understand the reluctance to appear to be politicizing the law or to begin an inevitable game of tit for tat, it's nonetheless depressing.