Cain, Paul, Gingrich, And Romney In Four-Way Tie In Iowa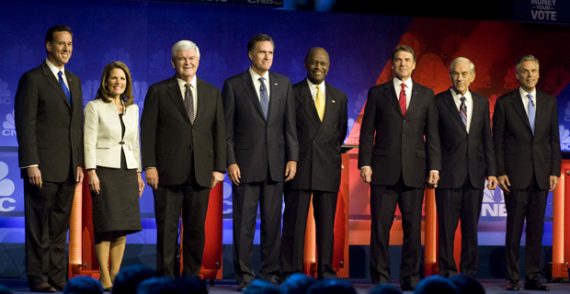 A new Bloomberg poll of likely Iowa caucus-goers has four candidates bunched at the top, but also shows the potential for a lot of fluidity over the next six weeks:
Herman Cain, Ron Paul, Mitt Romney and Newt Gingrich are in a dead heat as the top choices for Iowans likely to attend the Jan. 3 Republican presidential caucuses.

A Bloomberg News poll shows Cain at 20 percent, Paul at 19 percent, Romney at 18 percent and Gingrich at 17 percent among the likely attendees with the caucuses that start the nominating contests seven weeks away.

Economic issues such as jobs, taxes and government spending are driving voter sentiment, rather than such social issues as abortion and gay marriage, the poll finds. Only about a quarter of likely caucus-goers say social or constitutional issues are more important to them, compared with 71 percent who say fiscal concerns.

The poll reflects the race's fluidity, with 60 percent of respondents saying they still could be persuaded to back someone other than their top choice, and 10 percent undecided. Paul's support is more solidified than his rivals, while Cain's is softer. All of the major contenders have issue challenges to address.

"In Iowa, it's long been a two-person race between Romney and someone else," said J. Ann Selzer, president of Selzer & Co., which conducted the poll for Bloomberg. "It is now a four- person race between Romney and three someone elses."
You know who that likely helps? Mitt Romney. The longer the anti-Romney vote is divided up among a number of candidates the better off Romney is and, if it continues through to the caucuses themselves, it creates the possibility that he could pull off a narrow victory, but a victory nonetheless. Combine that with his expected victory in New Hampshire and Romney could have some tremendous wind at his back going into South Carolina and Florida later in January. Ron Paul's numbers are surprising, but he's managed to poll quite well in several recent Iowa polls. I still don't think he's likely to pull off a win but stranger things have happened in Iowa, and even a strong second place finish would generate a lot of coverage for what has always seemed like a quixotic campaign. Cain's support has dropped a little, while Gingrich's has risen, which mirrors what we've been seeing in the national polls recently.
As for the rest of the candidates, well they're non-factors at this point:
Texas Governor Rick Perry and Minnesota Representative Michele Bachmann, who both once were strong contenders in polls of the Republican race, have seen support plummet. Perry, who is running ads in Iowa, gets 7 percent support in the Bloomberg survey; Bachmann, who won the Iowa Straw Poll in August, is backed by 5 percent.

Former U.S. Senator Rick Santorum of Pennsylvania, who has spent the most time campaigning in Iowa, is at 3 percent. Former Utah Governor Jon Huntsman Jr., who isn't competing in Iowa, is backed by 1 percent.
Of course, it's worth noting that polling a caucus is a little different than polling for a primary. The one factor that a poll doesn't measure very well is who intense a respondent's support is and that's important in a caucus, you need supporters who are going to be willing to go out in the evening of January 3rd, possibly during a snow storm, to the location where their local caucus is being held and stay there for a couple hours at least. The other factor missing from the polls is organization. A well organized campaign will be able to stay in touch with supporters and even make arrangements for them to and from the caucus location if necessary. By all reports, neither Herman Cain nor Newt Gingrich are very well organized in Iowa, and Mitt Romney seems to be mostly ignoring the state. It may turn out that some of these people in the Top Four will be unable to capitalize on their poll numbers.
This Bloomberg poll is consistent with a poll released yesterday:
For months, Iowa Republicans faced with a plethora of choices couldn't make up their minds. Now, it looks like the first caucus state is headed toward a decidedly split decision.

A new survey, conducted by the Republican firm the polling company, shows five candidates in double digits, with no one really running away from the pack. Businessman Herman Cain leads with 20 percent, statistically tied with former House Speaker Newt Gingrich, at 19 percent.

Former Massachusetts Gov. Mitt Romney, at 14 percent, is certainly within striking distance. Reps. Michele Bachmann and Ron Paul are both at 10 percent. Four other candidates scored at 5 percent or less, and only 13 percent of Iowa Republicans are undecided.

Cain's lead, according to pollster Kellyanne Conway, is based on what she calls the "Palin vote." The embattled businessman, fighting charges of sexual harrassment during his time at the National Restaurant Association in the late 1990s, is getting support from "those hard-core Republicans who coalesce around a candidate they seem as unfairly treated by the media or establishment," she said.
That means the allegations, perhaps counter to conventional wisdom, are actually good for Cain's campaign. They're providing a temporary boost that will likely fade once the issue recedes from the headlines, especially if another Republican candidate finds him or herself at the center of the media scrum.

The poll, conducted Nov. 11-13, surveyed 501 likely Republican caucus-goers in Iowa, leaving a margin of error of plus or minus 4.4 percent. It's the second survey in a row, after the Des Moines Register poll released late last month, that shows Cain leading, and it's the first state-specific poll that has Gingrich surging too.
More polling to come, I'm sure, but as I said, the more instability there is among the anti-Romney vote, the better off Mitt Romney is. Stay tuned.