Cairo Embassy Statement Work of Rogue PAO
A PAO named Larry Schwartz issued yesterday's infamous statement against the explicit orders of his superiors.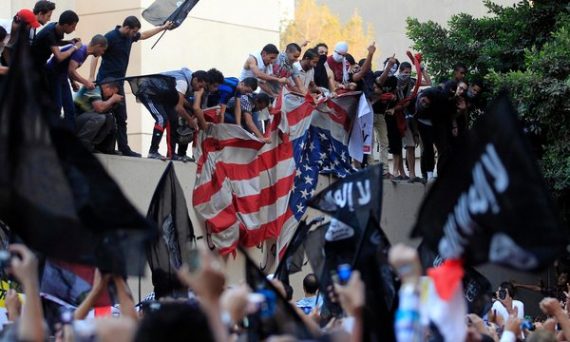 Foreign Policy's Josh Rogin provides his typical outstanding reporting on the already-infamous statements that came out of the US Embassy in Cairo yesterday:
One staffer at the U.S. Embassy in Cairo was responsible for the statement and tweets Tuesday that have become grist for the presidential campaign, and that staffer ignored explicit State Department instructions not to issue the statement, one U.S. officials close to the issue told The Cable.

[…]

President Obama commented on the controversy in an interview to be aired Wednesday evening on 60 Minutes.

"In an effort to cool the situation down, it didn't come from me, it didn't come from Secretary Clinton. It came from people on the ground who are potentially in danger," Obama said. "And my tendency is to cut folks a little bit of slack when they're in that circumstance, rather than try to question their judgment from the comfort of a campaign office."

But Obama's remarks belie the enormous frustration of top officials at the State Department and White House with the actions of the man behind the statement, Cairo senior public affairs officerLarry Schwartz, who wrote the release and oversees the embassy's Twitter feed, according to a detailed account of the Tuesday's events.
As I've previously outlined in great detail, I found the statement outrageous as an expression of US Government policy, even if there's little I object to in substance. But part of my outrage was that, as events unfolded yesterday afternoon, the impression was that the statement followed the attack on the sovereign soil of our Embassy when, in fact, it was a desperate if misguided attempt to ward off such an attack.
While I continue to deplore the notion that American citizens should stifle their speech in order to avoid inflaming violent extremists around the world, I nonetheless second President Obama's sentiment here. Schwartz needs a refresher course in the First Amendment and closer supervision for a while before he should be allowed to issue statements in the name of my government. But, yeah, the circumstances ought afford him a little slack.
UPDATE: John Burgess, a retired Foreign Affairs Officer who also spent his career specializing in Middle East public affairs, weighs in here.