Capitol Riot: One Year Later
A roundup of reflection on a somber anniversary.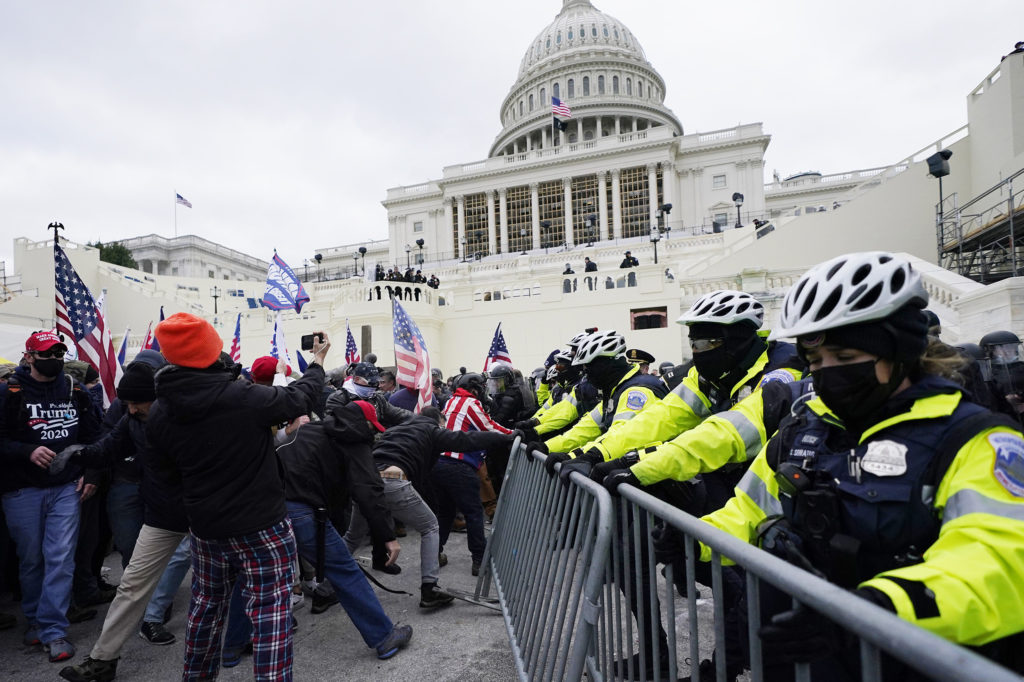 On the first anniversary of the event, the nation remains divided on what it was, who was responsible for it, and how bid a deal it was.
None other than Karl Rove takes to the pages of the Wall Street Journal to proclaim "Republicans' Jan. 6 Responsibility."
We're in an acrimonious period of partisan tribalism and have been for some time. Both parties are guilty of overwrought denunciations of their political opponents. My criticisms are often aimed at Democrats; on the anniversary of Jan. 6, I'm addressing squarely those Republicans who for a year have excused the actions of the rioters who stormed the Capitol, disrupted Congress as it received the Electoral College's results, and violently attempted to overturn the election.

These apologists say those who stormed the Capitol were innocent patriots, tourists visiting the seat of the national government to petition their elected representatives peacefully. We're told that these harmless, ordinary Americans are being persecuted as political prisoners.

Let's stipulate that while the thousands who went to the Capitol a year ago were wrong to insist the election was stolen, most weren't violent as they exercised their First Amendment rights to gather peacefully on the Mall—just as I had seen liberals gather to protest both inaugurations of President George W. Bush.

But last year there were several thousand protesters willing to use force to disrupt Congress in its constitutional duty to receive and certify the electoral vote. Some went to Washington with that purpose in mind. Others were swept up in the moment's savagery, led astray by stronger wills with dangerous motives.

The leaders of this group were intent on committing violence, some having planned to do so for weeks. Many wore tactical gear. Some came armed with chemical agents, flagpoles, batons and sticks. They broke through barricades and assaulted approximately 140 police officers, in some cases with an officer's own shield or gear. They smashed doors and windows, illegally entered the Capitol, ransacked offices and searched for leaders of Congress, and made dire threats about what would happen if they found them.

More than 725 people have been charged so far, and law enforcement is searching for hundreds more suspects who appear on video or social media, some recorded attacking police officers. At least 163 people have pleaded guilty, and 71 have been sentenced. Only one defendant's charges have been dismissed. Many of the most serious trials have yet to be held, as lawyers prepare defenses or negotiate plea deals.

So, on this anniversary, here's a simple thought experiment: What if the other side had done it? What if in early January 2017, Democrats similarly attired and armed had stormed the Capitol and attempted to keep Congress from receiving the Electoral College results for the 2016 presidential election?

[…]

If Democrats had done what some Trump supporters did on that violent Jan. 6, Republicans would have criticized them mercilessly and been right to do so. Republicans would have torched any high official who encouraged violence or stood mute while it was waged and been right to do so. Republicans would have demanded an investigation to find who was responsible for the violence and been right to do so.

To move beyond Jan. 6, 2021, we must put country ahead of party. For Democrats, that means resisting their leadership's petty habit of aggravating partisan fault lines by indiscriminately condemning all who came to Washington that day.

We Republicans have a heavier burden. I've been a Republican my entire life, and believe in what the Republican Party, at its best, has represented for decades. There can be no soft-pedaling what happened and no absolution for those who planned, encouraged and aided the attempt to overthrow our democracy. Love of country demands nothing less. That's true patriotism.
Yes, there's a touch of both-sides in the essay but it is, after all, aimed at his fellow Republicans.
Less surprisingly, former President Jimmy Carter takes to the New York Times to explain why "I Fear for Our Democracy."
One year ago, a violent mob, guided by unscrupulous politicians, stormed the Capitol and almost succeeded in preventing the democratic transfer of power. All four of us former presidents condemned their actions and affirmed the legitimacy of the 2020 election. There followed a brief hope that the insurrection would shock the nation into addressing the toxic polarization that threatens our democracy.

However, one year on, promoters of the lie that the election was stolen have taken over one political party and stoked distrust in our electoral systems. These forces exert power and influence through relentless disinformation, which continues to turn Americans against Americans. According to the Survey Center on American Life, 36 percent of Americans — almost 100 million adults across the political spectrum — agree that "the traditional American way of life is disappearing so fast that we may have to use force to save it." The Washington Post recently reported that roughly 40 percent of Republicans believe that violent action against the government is sometimes justified.

Politicians in my home state of Georgia, as well as in others, such as Texas and Florida, have leveraged the distrust they have created to enact laws that empower partisan legislatures to intervene in election processes. They seek to win by any means, and many Americans are being persuaded to think and act likewise, threatening to collapse the foundations of our security and democracy with breathtaking speed. I now fear that what we have fought so hard to achieve globally — the right to free, fair elections, unhindered by strongman politicians who seek nothing more than to grow their own power — has become dangerously fragile at home.

[…]

After I left the White House and founded the Carter Center, we worked to promote free, fair and orderly elections across the globe. I led dozens of election observation missions in Africa, Latin America and Asia, starting with Panama in 1989, where I put a simple question to administrators: "Are you honest officials or thieves?" At each election, my wife, Rosalynn, and I were moved by the courage and commitment of thousands of citizens walking miles and waiting in line from dusk to dawn to cast their first ballots in free elections, renewing hope for themselves and their nations and taking their first steps to self-governance. But I have also seen how new democratic systems — and sometimes even established ones — can fall to military juntas or power-hungry despots. Sudan and Myanmar are two recent examples.

For American democracy to endure, we must demand that our leaders and candidates uphold the ideals of freedom and adhere to high standards of conduct.

First, while citizens can disagree on policies, people of all political stripes must agree on fundamental constitutional principles and norms of fairness, civility and respect for the rule of law. Citizens should be able to participate easily in transparent, safe and secure electoral processes. Claims of election irregularities should be submitted in good faith for adjudication by the courts, with all participants agreeing to accept the findings. And the election process should be conducted peacefully, free of intimidation and violence.

Second, we must push for reforms that ensure the security and accessibility of our elections and ensure public confidence in the accuracy of results. Phony claims of illegal voting and pointless multiple audits only detract from democratic ideals.

Third, we must resist the polarization that is reshaping our identities around politics. We must focus on a few core truths: that we are all human, we are all Americans and we have common hopes for our communities and our country to thrive. We must find ways to re-engage across the divide, respectfully and constructively, by holding civil conversations with family, friends and co-workers and standing up collectively to the forces dividing us.

Fourth, violence has no place in our politics, and we must act urgently to pass or strengthen laws to reverse the trends of character assassination, intimidation and the presence of armed militias at events. We must protect our election officials — who are trusted friends and neighbors of many of us — from threats to their safety. Law enforcement must have the power to address these issues and engage in a national effort to come to terms with the past and present of racial injustice.

Lastly, the spread of disinformation, especially on social media, must be addressed. We must reform these platforms and get in the habit of seeking out accurate information. Corporate America and religious communities should encourage respect for democratic norms, participation in elections and efforts to counter disinformation.

Our great nation now teeters on the brink of a widening abyss. Without immediate action, we are at genuine risk of civil conflict and losing our precious democracy. Americans must set aside differences and work together before it is too late.
Francis Fukuyama extends Carter's foreign affairs analogy in "One Single Day. That's All It Took for the World to Look Away From Us."
The Jan. 6 attack on Congress by a mob inspired by former President Donald Trump marked an ominous precedent for U.S. politics. Not since the Civil War had the country failed to effect a peaceful transfer of power, and no previous candidate purposefully contested an election's results in the face of broad evidence that it was free and fair.

The event continues to reverberate in American politics — but its impact is not just domestic. It has also had a large impact internationally and signals a significant decline in American global power and influence.

Jan. 6 needs to be seen against the backdrop of the broader global crisis of liberal democracy. According to Freedom House's 2021 Freedom in the World report, democracy has been in decline for 15 straight years, with some of the largest setbacks coming in the world's two largest democracies, the United States and India. Since that report was issued, coups took place in Myanmar, Tunisia and Sudan, countries that had previously taken promising steps toward democracy.

[…]

The American model has been decaying for some time. Since the mid-1990s, the country's politics have become increasingly polarized and subject to continuing gridlock, which has prevented it from performing basic government functions like passing budgets. There were clear problems with American institutions — the influence of money in politics, the effects of a voting system increasingly unaligned with democratic choice — yet the country seemed to be unable to reform itself. Earlier periods of crisis like the Civil War and the Great Depression produced farsighted, institution-building leaders; not so in the first decades of the 21st century, which saw American policymakers presiding over two catastrophes — the Iraq war and the subprime financial crisis — and then witnessed the emergence of a shortsighted demagogue egging on an angry populist movement.

Up until Jan. 6, one might have seen these developments through the lens of ordinary American politics, with its disagreements on issues like trade, immigration and abortion. But the uprising marked the moment when a significant minority of Americans showed themselves willing to turn against American democracy itself and to use violence to achieve their ends. What has made Jan. 6 a particularly alarming stain (and strain) on U.S. democracy is the fact that the Republican Party, far from repudiating those who initiated and participated in the uprising, has sought to normalize it and purge from its own ranks those who were willing to tell the truth about the 2020 election as it looks ahead to 2024, when Mr. Trump might seek a restoration.

[…]

If momentum had built in the Republican Party to renounce the events of Jan. 6 the way it ultimately abandoned Richard Nixon in 1974, we might have hoped that the country might move on from the Trump era. But this has not happened, and foreign adversaries like Russia and China are watching this situation with unconstrained glee. If issues like vaccinations and mask-wearing have become politicized and divisive, consider how a future decision to extend military support — or to deny such support — to either Ukraine or Taiwan would be greeted. Mr. Trump undermined the bipartisan consensus that existed since the late 1940s over America's strong support for a liberal international role, and President Biden has not yet been able to re-establish it.

The single greatest weakness of the United States today lies in its internal divisions. Conservative pundits have traveled to illiberal Hungary to seek an alternative model, and a dismaying number of Republicans see the Democrats as a greater threat than Russia.

The United States retains a huge amount of economic and military power, but that power is not usable in the absence of domestic political consensus over the country's international role. If Americans cease to believe in an open, tolerant and liberal society, our capacity to innovate and lead as the world's foremost economic power will also diminish. Jan. 6 sealed and deepened the country's divisions, and for that reason it will have consequences echoing across the globe in the years to come.
FiveThirtyEight's Amelia Thomson-DeVeaux explains "Why Many Americans Might Be Increasingly Accepting Of Political Violence."
To some researchers who study political violence, the events of Jan. 6 were disturbingly predictable. In a series of surveys conducted between 2017 and 2020, political scientists Lilliana Mason and Nathan Kalmoe found that a small but significant chunk of Americans — around 15 percent — believed that violence against people of the opposing party was at least a little bit justified. The political science project Bright Line Watch also conducted a survey on the eve of the 2020 election and found that a shocking 40 percent of Americans thought violence would be at least a little bit justified if the other party used violence first.

So where do things stand a year later? "I think the broader threat is greater than it was last year," Kalmoe told me in an interview this past December. In a survey conducted in June 2021, Kalmoe and Mason found that 24 percent of Republicans and 19 percent of Democrats said that violence against the other party was at least a little okay. Among Republicans who falsely believe that Democrats cheated during the 2020 election, support for violence was 10 percentage points higher. And a Washington Post/University of Maryland poll conducted in mid-December found that 34 percent of Americans said it was at least sometimes justified for citizens to take violent action against the government, up from 23 percent when the question was last asked in 2015.

[…]

Not all political scientists agree on the scope of the problem, though. In a working paper released last September, a team of researchers argued that other political scientists had overestimated Americans' support for political violence, perhaps quite dramatically. One issue, they said, was that it wasn't clear what "violence" meant in previous surveys — leaving respondents to fill in the blank themselves. Their research found that people who were not paying very close attention to the survey were more likely to overstate their support for political violence. They also found that most respondents supported legal consequences for people who commit acts of severe political violence, like murder. "Actions of political violence are very rare among the electorate," said Sean Westwood, a professor of government at Dartmouth College and one of the study's authors. His findings, he said, match that reality.
POLITICO's Playbook notes the one thing that all agree on:
Jan. 6 is about DONALD TRUMP.

For those who always despised him, feel betrayed by him, or fear his return to power, today is about remembering — never forgetting — his lowest point as president: the day he incited a mob to attack Congress while it affirmed JOE BIDEN's clear victory, the final desperate move in a plot to overthrow an American presidential election.

For those who love him, merely tolerate him, or crave his return to the White House, today is a media stunt: a contrived anniversary of an insignificant event boosted by Democrats and the press to punish Republicans and cynically advance Biden's legislative priorities.