Caption Contest Winners
The Coffee Party Edition OTB Caption ContestTM is now over.
The Coffee Party Edition OTB Caption ContestTM is now over.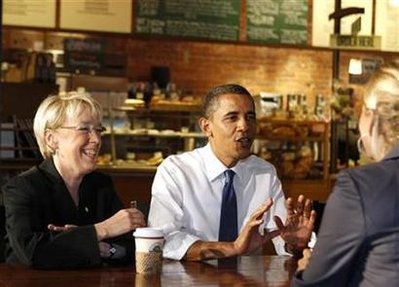 ✰ THE WINNERS ✰
First: Paul – "I'm telling you right now….people will pay $8.00 for a Barrackaccino. I can sell…people have been buying my crap for years!"

Second: Maggie Mama – Hey, Axelrod told me to "stay up for the full night"; how does an election pajama party sound to you girls?

Third(tie): FormerHostage – Obama rehearses for his next appearance on The View.
HONORABLE MENTION
Doug Mataconis – So I had this dream last night where people actually elected me President of the United States……

charles austin – "Kobe, I'm open."

Robert W. Armijo – "So McCain calls to concede the election, right. And I say to him: 'Swoosh, baby. Nothing but net.' Yeah, those were the days."

Michael Hamm – I assure you, our new Food Czar Michelle would never shut you down for serving fattening, delicious, decadent, sugary delights.
ℛODNEY'S BOTTOM OF THE BARREL
"Once I got in touch with my feminine side, I couldn't stop touching it."

"I would've so walked right off with Whoopi and Joy…"

"How 'bout your coffee is free if you buy a doughnut — Cash for Dunkers. That's so funny I think I just peed a little."
The Monday Contest has already finished a shovel ready project.