Caption Contest Winners
The Festivus For The Rest Of Us Edition OTB Caption ContestTM is now over.
The Festivus For The Rest Of Us Edition OTB Caption ContestTM is now over.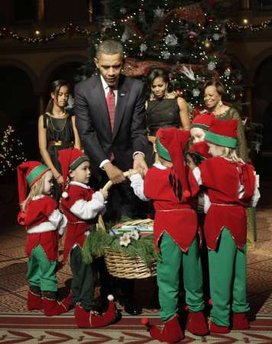 ✰ THE WINNERS ✰
First: Doug Mataconis – While Bill Clinton handled things in the White House Press Room, Barack Obama attended to important matters of state.

Second: charles austin – I'm Mister Stimulus, I'm Mister Won.
I'm Mister A-Lister, I am the Chosen One.
They call me Hope Miser. Whatever I touch
Turns to dust in my clutch, I'm too much.

Third: Robert W. Armijo – "And the Liberal Spin says: Behold! The Promised One delivered from a mere basket containing a Lame Duck Congress, feeding the masses, which could not be brought forth before when he was in control of 2 out of the 3 branches of government, for it was not the appointed time."
HONORABLE MENTION
John Burgess – "Come on, you little buggers, chip in… it's your health care plan, too!"

John425 – Obama: "Look, I know you kids don't understand redistribution, so just gimme the damn basket!"

mannning – No dammit, it's my basket! Back off!

Matt – The Gift of the Midgets

anjin-san – When Republicans attack…

Doug Mataconis – Yeeks, you never know what you might find in the waters off Palin's Alaska.
ℛODNEY'S BOTTOM OF THE BARREL
We took up a collection and got you a clue, Mr. President

(Geico Commercial)
Is it a bad idea for a Tax and Spend Democrat to play Santa Claus?.

Not just another HallmarkEarmark Holiday?

"No, no, don't pull the basket down, that dang G.A.Phillips will think I'm bowing."
The Thursday Contest is having a blast.