Carterization of Obama
Barack Obama is no Jimmy Carter.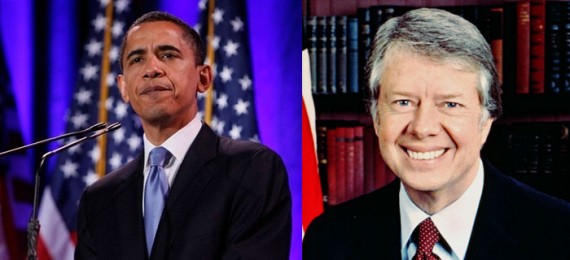 The notion that Barack Obama is a latter-day Jimmy Carter has been floated in conservative circles for years, persisting despite his election to a second term. WSJ's Daniel Henninger takes his turn at the meme:
As of this week, it's official. Vladimir Putin has turned Barack Obama totally into Jimmy Carter.

We may quibble over the timeline. Some might say it began when Mr. Obama whispered to then-Russian president Dmitry Medvedev he'd have "more flexibility" after the 2012 election; others that it set in when the U.S. president took Mr. Putin's offer to let Bashar Assad escape the bombing of his airfields for using WMD against his own people.

Carterization" has a specific meaning in American politics. In 1980, Ronald Reagan delivered an August speech to the Veterans of Foreign Wars convention in Chicago, just as he was starting his campaign to unseat Jimmy Carter, trapped then in the Iranian hostage crisis.

"The response from the administration in Washington" to foreign threats, said Reagan, "has been one of weakness, inconsistency, vacillation and bluff."

"Our allies are losing confidence in us, and our adversaries no longer respect us," he said. Our partners "are confused by the lack of a coherent, principled policy from the Carter administration."

The characterization stuck, helped by Mr. Carter's foreign adventures after his presidency. And in truth, Mr. Carter's team included sterner ballast in Defense Secretary Harold Brown and National Security Adviser Zbigniew Brzezinski. Nothing similar exists today in the Obama administration.
The Obama foreign policy has been almost the polar opposite of Carter's.  Jimmy Carter had a very strong foreign policy vision, rooted in a deep ideological commitment to peace and human rights.  It was largely wrongheaded, in my immature judgment then and my more professional judgment now, but it was predictable. Barack Obama, by contrast, is a pragmatist with no discernible over-arching plan. It's highly unlikely that he'll have anything like the stunning success of the Camp David Accords that brokered a peace between Israel and Egypt that lasts to this day. And I very much hope he doesn't have anything like the horrendous low of the Iran Hostage Crisis.
It's true that there's no Zbigniew Brzezinski in this administration. Save for Brent Scowcroft's second turn at the post under Bush The Elder, we haven't had that caliber of National Security Advisor since the glory days of 1970s when Henry Kissinger, Scowcroft, and Brzezinski held the office in succession. And it's nice to see Harold Brown get a shout-out; he's hardly ever given proper credit for putting into motion what we think of as the Reagan defense buildup. His offset strategy (for which Bill Perry, who briefly held the post in the Clinton administration also deserves credit) started us on the road to the high tech force that made us the hyperpower we are today.
But it's not as if the Obama hasn't had some strong voices. Bob Gates, a holdover from the second administration of Bush The Younger, was my favorite. Jim Jones was a sound appointment as National Security Advisor, if perhaps not heeded as much as the Chicago gang. And I like Chuck Hagel a lot; it remains to be seen what sort of imprint he'll leave on the Pentagon.
The crux of Henninger's case:
The consequences of Mr. Obama's Carterization overseas are coming so fast it's hard to keep track. Ukraine, though important, is the tip of the iceberg. Here's what else happened in the week Mr. Putin captured Crimea.

Israel on Wednesday intercepted in the Red Sea an Iranian shipment to Gaza of dozens of Syrian-made surface-to-surface rockets. These are our new Iranian negotiating partners.

North Korea last Thursday test-fired four short-range ballistic missiles and another this Monday. Then on Tuesday it deployed a new multiple-rocket launcher that fired four missiles with enough range to hit American and South Korean military bases near Seoul.

In Moscow last Wednesday,Defense Minister Sergei Shoigu said Russia plans to use military bases in Cuba, Venezuela and Nicaragua for its navy and to refuel strategic bombers. Three months ago, Secretary Kerry ostentatiously announced in a Washington speech, "The era of the Monroe Doctrine is over." Naturally the Russians took this as a green light to return to one of the Soviet Union's favorite playpens. The next day, a Russian spy ship, the Viktor Leonov SSV-175, slipped unannounced into Havana Harbor.

Then this Wednesday, a news bulletin: "China announces 12.2% increase in military budget." That boost comes within 24 hours of the Obama budget proposing a decline in U.S. defense spending.

This is all in one week!
With the exception of Syria, these are all longstanding trends. The Iranian and North Korean nuclear buildup took place under the watch of Obama's predecessor who, advised that he had no good options, reasonably chose the least bad one. China has been expanding its military for decades and its recent push, again, started under the last administration. That the states of Latin America are sovereign, not American supplicants, is a relatively new policy but not that new.
And it takes some chutzpah, indeed, to blame Obama for submitting a budget in compliance with sequestration forced on the country by Republican budget hawks.
I've been a pretty staunch critic of this administration generally and of its foreign policy in particular. The Afghan Surge was a predictable debacle undertaken for what I believe were the most cynical reasons. And the fecklessness of our Syria policy, which involves speaking loudly and carrying a small stick, has been embarrassing.  There was no obvious plan to deal with the Arab Spring. Whether it was a lost opportunity depends on whether any American policy would have made a difference; I'm not so sure it would.
That said, I prefer a rudderless, day-by-day approach to blind ideology. With the exception of doubling down on a lost cause in Afghanistan, Obama has avoided embroiling us in bloody wars. While I disapproved of intervention in Libya, and think even in hindsight that it was a mistake, it was at least carried out with little risk. As embarrassing as drawing red lines and not backing them up may be, it beats blundering into a foolish war out of pride.
And, yes, we got bin Laden. We may or may not have movement with Iran. We may or may not be removing chemical weapons from Syria. And there are three more years to go.