Cemetery Removes Iraq War Vets' Spongebob Squarepants Gravestone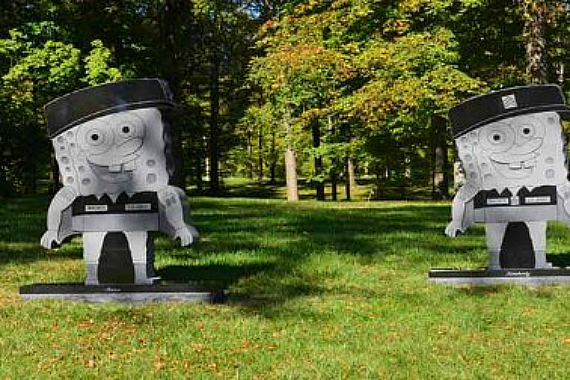 An Ohio cemetery has removed a gravestone at the grave of an Iraq War veteran that was, well, rather unique:
CINCINNATI (AP) — Officials at a cemetery that removed a slain Iraq war veteran's towering SpongeBob SquarePants headstone from her final resting place after they deemed it inappropriate for their traditional grounds were planning to meet with the soldier's family to explore possible solutions.

The headstone of Kimberly Walker, 28, was made in the likeness of her favorite cartoon character and erected at Spring Grove Cemetery on Oct. 10, almost eight months after she was found slain in a Colorado hotel room.

Despite getting the cemetery's prior approval of the headstone's design — a smiling SpongeBob in an Army uniform, with Walker's name and rank — her family said Monday that cemetery staff called them the day after it was installed to say it would have to come down.

The 7-foot headstone, along with a near-exact duplicate erected for Walker's living twin sister, have been removed and will not be allowed back up, cemetery President Gary Freytag said Monday.

"We've decided that they aren't appropriate for our historic cemetery and they can't be displayed here," Freytag said, adding that the employee who approved the headstones made an inexplicable error in judgment, given the cemetery's traditional, stately appearance.

He acknowledged that the cemetery is at fault and that staff members would be meeting with Walker's family on Tuesday to try to find a solution, which could include a more traditional gravestone bearing small likeness of the character.

Freytag also said Spring Grove is prepared to reimburse the family for each headstone, which cost a combined $26,000, and pay for new ones.

"I feel terrible that it got to this point but I'm hoping we can come out at the other end of the tunnel with a solution," he said.
Much like Josh Marshall, I'm not sure what to say.