Cheering For Death At The Reagan Library Debate
There was a somewhat disturbing moment during last night's GOP Debate.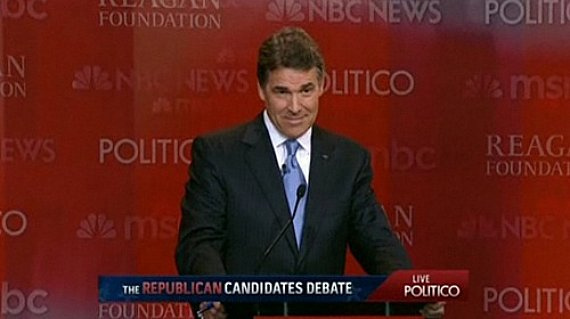 One of the odder moments of last night's debate at the Reagan Library came near the end, when Rick Perry was asked about his state's record level of executions and questions about whether the system is adequately protecting the rights of the accused:
WILLIAMS: Governor Perry, a question about Texas. Your state has executed 234 death row inmates, more than any other governor in modern times. Have you…

(APPLAUSE)

Have you struggled to sleep at night with the idea that any one of those might have been innocent?

PERRY: No, sir. I've never struggled with that at all. The state of Texas has a very thoughtful, a very clear process in place of which — when someone commits the most heinous of crimes against our citizens, they get a fair hearing, they go through an appellate process, they go up to the Supreme Court of the United States, if that's required.

But in the state of Texas, if you come into our state and you kill one of our children, you kill a police officer, you're involved with another crime and you kill one of our citizens, you will face the ultimate justice in the state of Texas, and that is, you will be executed.

WILLIAMS: What do you make of…

(APPLAUSE)

What do you make of that dynamic that just happened here, the mention of the execution of 234 people drew applause?

PERRY: I think Americans understand justice. I think Americans are clearly, in the vast majority of — of cases, supportive of capital punishment. When you have committed heinous crimes against our citizens — and it's a state-by-state issue, but in the state of Texas, our citizens have made that decision, and they made it clear, and they don't want you to commit those crimes against our citizens. And if you do, you will face the ultimate justice.
Not surprisingly, both Perry's response and the audience reaction have gotten considerable reaction from pundits. Steve Benen, for example, sees it as a sign of how Perry thinks more broadly and is not surprisingly repulsed, while Ta-Nehisi Coates isn't surprised at all. It's Rod Dreher coming from the right, however, that best captures my own reaction to the whole sordid episode:
I said  here last night that the California GOP audience cheering the announcement that Texas has executed 234 condemned murderers under Rick Perry was a vile, repulsive thing. Even when I was for capital punishment, I believed this. Justice may require execution, but we should never rejoice in taking the life of another human being.
In a later post, Dreher struggles to come up with a hypothetical example of something that could happen at a Democratic debate that would be equally as chilling as the sight of people cheering death:
In the comboxes, Cfountain72 has offered the perfect analogy from the Left: if a liberal audience had cheered at the mention of abortion rates going way up in a candidate's state. Even if one supported abortion rights, there would be something chilling and disgusting over an audience actually applauding the ending of unborn life.
The difference, of course, is that the public is far more divided on the question of abortion than it is on the death penalty. Polling continues to show that executions garner high public support, especially in the most egregious circumstances one can imagine. Moreover, while some on the pro-life side would disagree, there is a distinct difference between a vocal supporter of a woman's right to choose and being a vocal supporter of abortion. I don't think I've actually met a pro-choice person who thought abortion was something to be celebrated in the manner that you see people celebrating the execution of a murderer. And that blood lust is disturbing.
I've made my own position on capital punishment clear here before:
There was a time when I was a supporter, albeit a reluctant one, of capital punishment, but that time has come to an end. For one thing,  I've come to the general conclusion that the state should not have the power to take anyone's life, even when they've committed a violent and horrible crime. Additionally, ever since the advent of DNA evidence, we've seen far too many instances of innocent men imprisoned for crimes that they clearly did not commit to think that it hasn't happened in a capital punishment case.  Finally, my own professional interaction with the criminal justice system on a regular basis made it clear to me fairly early on that the system was far too imperfect to trust it with the power of life and death, and this is especially true when a defendant facing a death sentence is forced to accept court-appointed counsel that lacks both the experience and the resources that a private-hired attorney would. The question of whether you live or die shouldn't depend on whether or not you're rich enough to hire a good lawyer, but, far too often, it does.
It's a minority position, obviously, and I don't consider most of the people who support the death penalty to be evil or anything like that. I can relate to the desire for retribution that motivates that support largely because it's a position I used to agree with, and to some extent still do. For example, while I oppose the death penalty I don't lose any sleep over the fate of Timothy McVeigh. At the same time, though, I didn't cheer when he died and I don't really understand why anyone would. Killing McVeigh didn't bring back any of the people he killed, and some would argue that ending someone's life in their 30s is the easy way out compared to forcing them to spend the rest of their lives in a SuperMax prison under 24 hour surveillance.
Perry's response, and the crowd's reaction, was all the more disturbing given the documented problems with the Texas death penalty system. It's already been fairly well established that Cameron Todd Willingham, who was executed by Texas in 2004, was not guilty of setting the fire that killed his children. At the very least, the evidence that was uncovered after his death would be enough to warrant a new trial, but that's not possible because Willingham is dead. That's not the only problem case in Texas, though. Recently discovered forensic evidence suggests that Claude Jones, who was executed just before Perry became Governor for a 1989 murder during a liquor store robbery, may also have been innocent. Again, nothing can be done because Jones is dead. In both cases, the swift and limited appeals process in Texas made it difficult for defense attorneys to even discover the facts that argued in their clients favor in time to halt the execution. Between these cases, and the questionable processes that wrongfully kept Cory Maye on Mississippi's death row for a decade, there ought to be enough to cause any person to think twice before cheering for the death penalty.
It's unfortunate that neither moderator last night asked Perry about these cases, because as Governor he sits at the head of the process, and the process is clearly flawed. In reality, though, it's pretty clear that this is not going to hurt Perry politically:
The issue doesn't seem as if it will play a significant role during the primary campaign, and if it does, it's likely to be to Perry's advantage: Though all the Republican candidates favor the death penalty, none of them have a record on it. Perry's support for capital punishment will be yet another element of his executive experience to stress and another way of appealing to the base over Mitt Romney and Jon Huntsman — neither oversaw executions during his time in office, since Massachusetts has no death penalty and Utah didn't exercise the one on its books during Huntsman's tenure.

(…)
While he was Texas governor, Bush presided over 152 executions. Gearing up for the 2000 campaign, Bush sought to play down that record but drew attention for the case of Karla Faye Tucker, who became a born-again Christian while in prison for killing two people with a pickax. Despite calls for mercy from Pope John Paul II and Pat Robertson, Tucker became the first woman executed in Texas for 135 years after Bush turned down her request for a 30-day reprieve.

But bringing up the death penalty in the presidential election moved far fewer voters than expected, said Elaine Kamarck, an adviser to Al Gore's 2000 campaign who is now a professor at Harvard's Kennedy School of Government.

"We tried and tried to make it an issue," she said. "I think it probably was an issue with some people who were already uncomfortable with [Bush]. But I'm not sure that it was one of the issues that really moves large numbers of voters."
The Texas execution record is more likely to help Perry than hurt in, even in the General Election. It's just pretty sad that people think it's okay to cheer about it at the same time.