Chris Christie Reconsidering A Presidential Run?
Is Chris Christie reconsidering his previous statements about not running for President? More importantly, why are so many Republicans still dissatisfied with the field?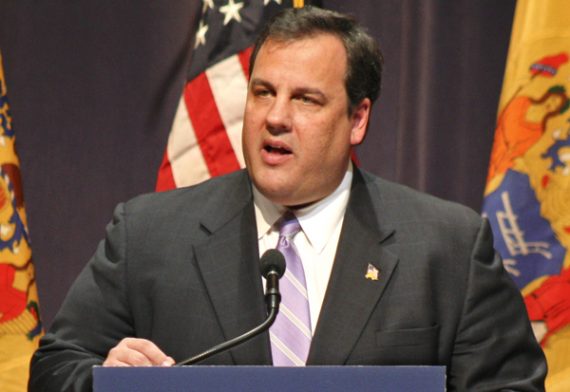 Bloomberg reporter and MSNBC analyst Jonathan Alter shared an eyebrow raising piece of news on Twitter this afternoon: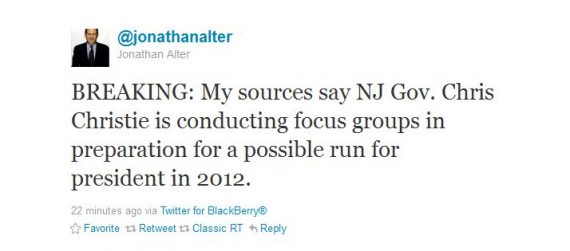 Assuming this is true, it could mean a few things. Christie could be testing the waters just to satisfy the continued calls he gets from various sectors of the GOP to run. He could be doing it to satisfy his own curiosity. Or, he could be seriously thinking about running for President and testing focus groups to see how a reversal of his previous emphatic denials, along with statements where he basically said he didn't think he was ready to be President, would be received by the public. It's all very confusing, and very interesting. I can honestly say that I cannot recall an election before this where so many potential candidates — Ryan, Palin, Christie, — were still openly flirting with the idea of running for President this late in the cycle.
As much as I like Christie, though, I cannot see what his path to victory would actually be. His national reputation is built largely on his outspokenness in public and his governing style, which most of the people who like him have only viewed from afar. In New Jersey, the public views of Chris Christie aren't quite so complimentary:
Christie's job performance numbers have come back a little bit from a June dip, with 47 percent approving of his job performance and 46 percent disapproving. But for all of Christie's talk of bipartisanship, he does not enjoy much bipartisan support himself among voters: 84 percent of Republicans approve of the job he is doing, compared with 17 percent of Democrats.

Voters mostly disapprove of the way Christie is handling education, his signature issue this year. With a heavily partisan split, 52 percent of voters disapprove of how he his handling education, while 44 percent approve.
More importantly, when you get down to the dirty business of actually running a state like New Jersey, there's plenty in Christie's public statements that Tea Party and social conservatives would have problems with. He's opposed efforts to open the ocean off New Jersey to offshore drilling. He's supporter a regional version of Cap & Trade. He backed the legalization of marijuana for medicinal purposes. He's pro-life, but not radically so. And, most recently, he stood up against the anti-Muslim nonsense that seems to resonate so well among certain quarters of the GOP. Does anyone really see him doing well in the South, or a state like Iowa, against candidates like Michelle Bachmann and Rick Perry? I certainly don't.
For what it's worth, The Washington Post's Jennifer Rubin reports on Twitter that her sources close to Christie deny the focus groups story. So, all of this may be for nothing. Nonetheless, I think its a sign of the still lingering dissatisfaction with the GOP field that we're even seeing stories like this. Even with Perry in the race, some Republicans are clearly deeply concerned that, even with the bad economy, they may not have the right field to take on Barack Obama in the fall of 2012.
Update: The Christie camp is denying the original report, and Alter seems to be backing off as well:
New Jersey Gov. Chris Christie's office is shooting down a report that he is rethinking his decision not to join the GOP presidential race in 2012.

Bloomberg columnist Jonathan Alter tweeted early Wednesday afternoon that Christie had been "conducting focus groups in preparation for a possible run for president in 2012."

Christie spokeswoman Maria Comella issued a flat denial, telling The Fix that the report is "absolutely not true."

Alter has also backed off his original report, tweeting that a different source that he trusts and is very reliable told him that there were no focus groups and that nothing has changed
So, there's that.