Christie Leads All Other Potential GOP Candidates In Match-Up Against Hillary Clinton
The one Republican currently polling anywhere close to Hillary Clinton is, unfortunately for the GOP base, Chris Christie.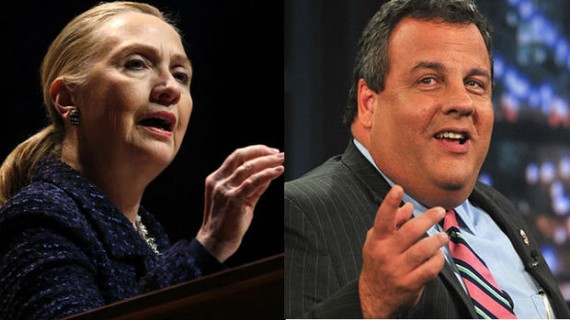 For the moment, New Jersey Governor Chris Christie outperforms all other potential Republican candidates for President in a head-to-head matchup against Hillary Clinton in 2016:
Voters in the battleground states of Virginia and New Hampshire say Gov. Chris Christie has the best chance among Republicans against former Secretary of State Hillary Clinton in a hypothetical race for the White House in 2016, according to two polls out today.

Clinton, a Democrat, and Christie, a Republican, are neck in neck (42 percent to 41 percent) in Virginia, a Quinnipiac Poll found. Voters also give Christie the highest marks for favorability versus unfavorability (55 percent to 19 percent), compared with Clinton (44 percent to 46 percent).

"Former Secretary of State Hillary Clinton is neck and neck with New Jersey Gov. Christopher Christie, but the governor comes out better when voters are asked to rate the two candidates on favorability," said Peter Brown, assistant director of the Quinnipiac University Polling Institute. "The reason is that he has an unusually low unfavorability rating for someone as well-known as he has become."

Public Policy Polling found a similar result in New Hampshire. In a matchup with Clinton, Christie trails by 4 percentage points (43 percent to 39 percent), but no other Republican poses as great a threat as the New Jersey governor does.

U.S Sen. Kelly Ayotte of New Hampshire, Former Florida Gov. Jeb Bush, U.S. Rep. Paul Ryan of Wisconsin, U.S. Sen. Rand Paul of Kentucky and U.S. Sen. Ted Cruz of Texas all trail Clinton by 8 to 12 percentage points.

Yet there is no clear frontrunner for the Republican nomination. Twenty percent of New Hampshire voters favor Paul and 19 percent prefer Christie, whose stock is on the rise. He garnered 14 percent of the vote in an April poll.
Obviously, these early polls don't necessarily mean much of anything. Just ask President Giuliani and President Hillary Clinton about that. Nonetheless, they are an important measure of where actual voters in two important states stand right now. If the GOP wants to win in 2016, Virginia is one of the states it will have to flip from blue to red (others include Florida and Ohio.) Even if they win all three of those states, though, the GOP candidate would still be 4 Electoral Votes short of the 270 needed to win the election. New Hampshire, of course, has 4 Electoral Votes. So, both of these states will obviously be battlegrounds three years from now.
Notwithstanding these positive numbers in two important states, Christie's biggest problem would be even getting to the point where he was his party's nominee and. Right now at least, there's a significant segment of the GOP base that opposes him because of his perceived "moderation" and the manner in which he worked with President Obama in the wake of Hurricane Sandy. Perhaps some of those perceptions will change after Christie's expected overwhelming victory in November. However, overcoming those perceptions might not be easy for him, especially in early battleground states like Iowa and South Carolina.  However, if Republicans actually want to win in November they ought to be paying attention to polls like this and asking themselves if ideological purity is worth losing yet another Presidential election.