Christine O'Donnell Hit By Sleazy Gawker Smear Job
The Delaware Senate race took a trip into the gutter yesterday.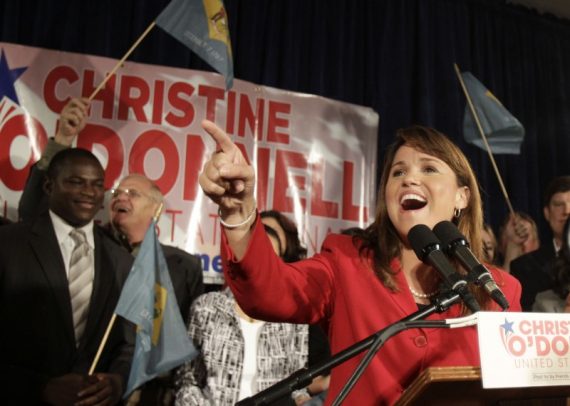 Yesterday saw what may well be one of the sleaziest pieces of so-called journalism of this entire election campaign:
Christine O'Donnell's campaign late Thursday night responded an anonymous Gawker post claiming a drunken encounter with Delaware's Republican Senate nominee, calling it "sexism and slander."

"This story is just another example of the sexism and slander that female candidates are forced to deal with. From Secretary Clinton, to Governor Palin, to soon-to-be Governor Haley, Christine's political opponents have been willing to engage in appalling and baseless attacks – all with the aim of distracting the press from covering the real issues in this race," O'Donnell communications director Doug Sachtleben wrote in a post on Facebook.

The gossip website Gawker on Thursday posted an anonymous account of a man who claimed to have had a one-night stand with O'Donnell three years ago on Halloween.

Gawker reportedly paid the man in the "low four figures" for the account and pictures of O'Donnell dressed up like a ladybug.

The site has been widely criticized by media outlets for posting the item and was denounced Thursday by the National Organization for Women.

"NOW repudiates Gawker's decision to run this piece," the organization said in a statement. "It operates as public sexual harassment. And like all sexual harassment, it targets not only O'Donnell, but all women contemplating stepping into the public sphere."
Not only that, but if you've read the Gawker article (which I'm not going to link to), you know that it was a pretty pathetic attempt by Gawker and the guy they paid off to garner page views and attention from what is really a pointless article.
The Smoking Gun has done what seems like a fairly good job of figuring out who it was who wrote the piece and, politics aside, one would hope that the person in question gets whatever social approbation is coming to them.As I've made fairly clear here over the past two months, I'm no O'Donnell fan. I find her flaky, I think her refusal to answer questions about past campaign spending is inexcusable, and her ignorance of the Constitution is rather inexcusable in a political candidate. Nonetheless, nobody should be subjected to this kind of (literal) exposure in the media regardless of how flaky they are. The guy who wrote the piece isn't much of a man in my opinion, and Gawker should be ashamed of themselves for publishing it.
At the same time, I think the O'Donnell campaign went way over the top when they tried to tie the actions of a gossip website known to have very few journalistic standards with her opponents' campaign:
"Even the National Organization for Women gets it, but Christine's opponent disturbingly does not," Sachtleben wrote. "Classless Coons goons have proven yet again to have no sense of common decency or common sense with their desperate attacks to get another rubber stamp for the Obama-Pelosi-Reid agenda. Such attacks are truly shameful, but they will not distract us from making our case to Delaware voters – and keeping the focus on Chris Coons' record of higher taxes, increased spending, and as he has done again here, breaking his promises to the voters."
If you've read the article I think it's pretty clear that it's publication had little to do with helping Chris Coons — especially since it really just tends to make people sympathetic toward O'Donnell — and everything to do with making quick buck. Blaming this on Chris Coons is its own form of a cheap shot.
Christine O'Donnell is still going to lose on Tuesday. Quite honestly, she deserves to. What she doesn't deserve is to be treated like this.