Citizens United, More Myth Than Legend
Citizens United really wasn't that big a deal.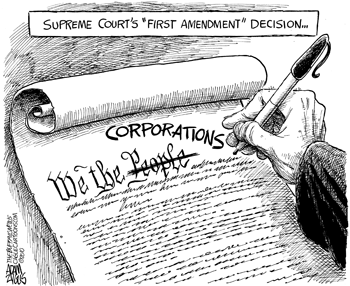 Bashing Citizens United for allegedly undamming a torrent of corporate money that is now flooding Republican campaign coffers is a popular sport amongst Democrats looking for something other than their own failures to blame for their impending electoral bloodbath. But, as is so often the case, the hyperbolic spin far outpaces the reality:
Why is Citizens United "the touchstone"? Mainly because news outlets such as the Times insist on portraying it that way, notwithstanding the evidence to the contrary:

"Interestingly, the legal changes directly wrought by the case have turned out to be quite subtle, according to campaign finance lawyers and political operatives. Instead, they said, the case has been more important for the psychological impact it had on the biggest donors."

… According to the new, revised "story line" (who is it that comes up with these story lines, anyway?), Citizens United was not that big a deal in legal terms, even though critics of the decision from President Obama on down portrayed it as the end of our democracy. The problem is that some donors—possibly including corporations as well as wealthy individuals—mistakenly thought it was a big deal and increased their giving based on that erroneous impression.

… "Nevertheless, Fred Malek, a longtime Republican operative who is helping to lead fund-raising for the Republican Governors Association and is chairman of a new nonprofit advocacy group, American Action Network, said the ruling had seldom come up in his conversations with donors.

"'I don't find anybody who is contributing based on that ruling,' he said. 'People are contributing because they have deep reservations about the policies and direction of this Congress and this administration. That's what's bringing them in.'"
The attempted walkback by the Grey Lady is interesting in itself since it's been a major contributor to the myth of Citizens United as the root of all evil this cycle. Having been forced to acknowledge that the decision didn't have nearly the legal effect they've helped create the impression that it did, they now retreat to a redoubt that can never be empirically challenged. Convenient.