City Paints Handicapped Spot Around Car, Tows It
A Tel Aviv woman found her car towed and a handicapped parking space painted around where she'd left it.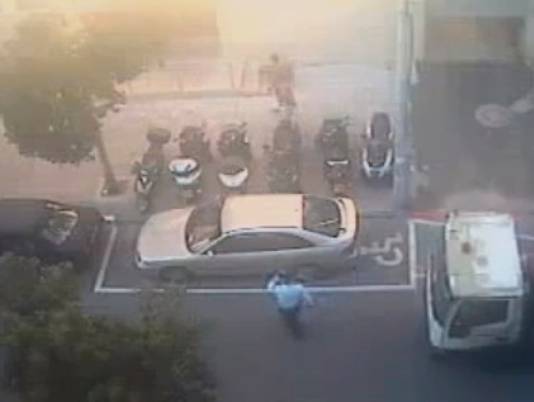 A Tel Aviv woman found her car towed and a handicapped parking space painted around where she'd left it.
Jerusalem Post ("TA marks space handicapped and tows car"):
 The Tel Aviv Municipality found itself in hot water on Tuesday, after a Facebook post by a woman whose car was towed after city workers painted a handicapped space around the vehicle went viral, becoming a mini-scandal and garnering coverage across Israeli media outlets.

Security camera footage from a store above the parking spot on Yehuda Halevi Street shows the car parked at a legal blue parking spot, before city workers arrive and paint a handicapped spot around the car, which is towed shortly thereafter.

The video was obtained by the owner of the car, Hila Ben-Baruch, from the surveillance camera of the store above the parking spot.

She complained to the Tel Aviv Municipality with the video in hand and the fine against her was rescinded.

Ben-Baruch titled her Facebook post, "To see and not believe," explaining that she had parked legally in a blueand- white-marked parking space on Sunday with the proper area registration in an area she had parked in regularly for the last year and a half.

When she left for work Sunday night, the car was no longer there, she added.

"The big surprise that awaited me broke all the records and I couldn't believe my eyes – my car was not in the space I parked it in and in its place was a parking space for the disabled."
I saw the video out of context last evening and presumed it was a municipal worker playing some sort of prank or seeking vengeance for some slight. Instead, it was bureaucracy at its finest:
"The contractor who arrived at the scene marked it as a handicapped spot, but, contrary to procedure did not notify the city inspection department."

The city also stipulated that three days before the incident a sign was posted at the site stating that from then on it had become a handicapped parking spot.
I would note that no such sign is obvious in the video.