Clinton Starting To Gain Ground In States Romney Won in 2012
In a sign of just how bad the trends are right now for Donald Trump, Hillary Clinton is gaining ground in states that Mitt Romney won four years ago.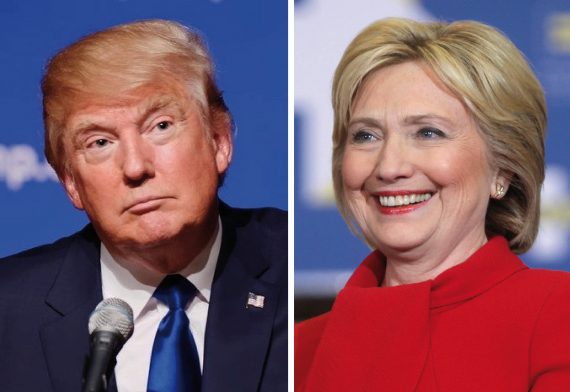 A new poll from the Atlanta Journal-Constitution shows Hillary Clinton leading Donald Trump in a state that has been something of a GOP stronghold in Presidential elections for some time now:
Democrat Hillary Clinton has built a slim lead over Donald Trump in Georgia after one of the worst weeks of the Republican's campaign, and the Libertarian presidential ticket cracked double-digits, according to a new Atlanta Journal-Constitution poll.

The poll released Friday shows Clinton at 44 percent and Trump at 40 percent in a head-to-head matchup, within the poll's margin of error. It is the latest showing a close race between the two candidates in Georgia, a state that has voted for the GOP nominee since 1996.

In a four-way race, Clinton led Trump 41-38, followed by Libertarian Gary Johnson with 11 percent and Green Party candidate Jill Stein with 2 percent. When including which candidates voters "lean" toward, Clinton led Trump 43-39, and Johnson netted 12 percent.

The findings come after both conventions ended and a particularly rough patch for Trump, who engaged in a war of words with the family of a slain Muslim U.S. soldier and infuriated many Republicans when he refused to endorse two of the party's top elected officials.

Friday's survey marks a change from the last AJC poll, commissioned in May, which gave Trump a 45-41 lead over Clinton. It also shows the former secretary of state besting Trump among independents, an influential Georgia voting bloc that typically votes Republican.

Both Trump and Clinton had the exact same unfavorability rating – 58 percent – among Georgia voters. And a majority of Trump's backers said they see their decision as a vote against Clinton rather than a vote for the New York businessman.

Johnson barely surpassed 1 percent of Georgia's vote in the 2012 campaign, when he was also the Libertarian nominee for president. But he could be poised to do far better this year by tailoring his pitch to voters disillusioned by both Trump and Clinton, and the poll has him netting about one-fifth of support from Georgia independents.

Georgia still isn't directly in Clinton's crosshairs, and her campaign has yet to declare Georgia a battleground state. But a common strain from the Democratic and Republican conventions was that Georgia has the chance to turn blue for the first time since Bill Clinton's 1992 win over President George H.W. Bush.
Georgia has gone for the Republican Presidential nominee in six of the last eight Presidential elections, with the two exceptions being former President Bill Clinton's elections in 1992 and 1996. In those two cases, it's likely that the state went for Clinton largely because of his southern roots and the presence of H. Ross Perot on the ballot in both of those elections. With those two exceptions, though, the Peach State has been reliably Republican in Presidential elections and in statewide elections for Governor and Senator. For some time now, though, political analysts have been predicting that Georgia poised to become a less reliably Republican state in the future due in part to the huge influx of people from other states into the Metropolitan Atlanta area over the past two decades and to the fact that a substantial part of this influx has consistent of Latinos who are more likely to vote Democratic than Republican. At the same time, most forecasts had the state staying in the GOP camp until at least 2020 or 2024. If this poll is accurate, then it would appear that the presence of Trump on the ballot as the GOP nominee may be hastening the day that Georgia follows the same trend that Virginia has followed, or at least becoming less reliably Republican at all levels.
While it may be tempting to jump to conclusions based on this one poll, though, this is yet another occasion where caution is warranted. Previous polling showed Trump holding on to a slim lead in Georgia so it's entire possible we're looking at an outlier here. That caution is further indicated by the fact that the RealClearPolitics head-to-head and four-way race matchups both show Trump with a slim lead based on past polling. What we will have to wait to find out is whether other polls in the state show Clinton making the state at least competitive. If it does then, the GOP may have a lot to worry about in November. Pretty much every realistically conceivable scenario for a Republican victory in November includes the assumption that Trump is able to hold on to the states that Mitt Romney won four years ago. If that's not true, then Donald Trump is not going to win the election. Even if Trump does end up holding on to state's like Georgia, though, the fact that Clinton may be able to expand the battle space into states that Romney won in 2012, thus requiring Trump and the GOP to expend resources in a state that they shouldn't really need to defend, makes it far less likely that they'll have the resources to compete in battleground states like Florida and Ohio.
In addition to Georgia, Clinton also appears to be threatening Trump in the polls in states such as North Carolina, Arizona, Missouri, and, oddly, even Utah. It's likely that most of these states will not be battlegrounds as we get closer to Election Day, but if current trends continue it's likely that at least one or two of them will be, and that's going to make things quite difficult for Republicans,