A Libertarian Moment?
Recent polls seem to indicate a shift in public opinion in a more libertarian direction.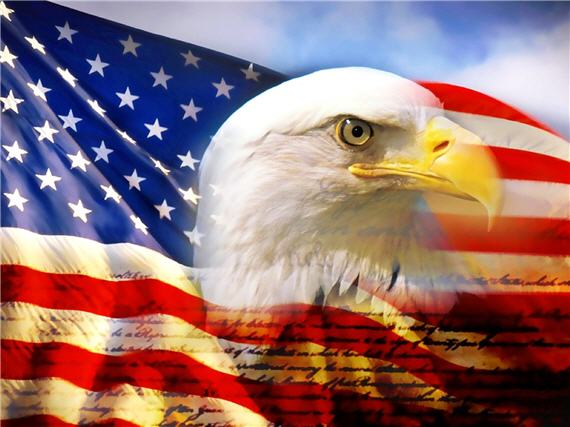 Nate Silver, the resident poll number-cruncher at The New York Times, takes a look at a recent CNN poll and senses a shift in public opinion toward a more libertarian point of view:
Libertarianism has been touted as the wave of America's political future for many years, generally with more enthusiasm than evidence. But there are some tangible signs that Americans' attitudes are in fact moving in that direction.

Since 1993, CNN has regularly asked a pair of questions that touch on libertarian views of the economy and society:

Some people think the government is trying to do too many things that should be left to individuals and businesses. Others think that government should do more to solve our country's problems. Which comes closer to your own view?

Some people think the government should promote traditional values in our society. Others think the government should not favor any particular set of values. Which comes closer to your own view?

A libertarian, someone who believes that the government is best when it governs least, would typically choose the first view in the first question and the second view in the second.

In the polls, the responses to both questions had been fairly steady for many years…..

But in CNN's latest version of the poll, conducted earlier this month, the libertarian response to both questions reached all-time highs. Some 63 percent of respondents said government was doing too much — up from 61 percent in 2010 and 52 percent in 2008 — while 50 percent said government should not favor any particular set of values, up from 44 percent in 2010 and 41 percent in 2008. (It was the first time that answer won a plurality in CNN's poll.)

Whether people are as libertarian-minded in practice as they might believe themselves to be when they answer survey questions is another matter. Still, there have been visible shifts in public opinion on a number of issues, ranging from increasing tolerance for same-sex marriage and marijuana legalization on the one hand, to the skepticism over stimulus packages and the health-care overhaul on the other hand, that can be interpreted as a move toward more libertarian views.
Siliver provides this chart showing the extent to which public opinion has, he believes, become more libertarian using historical data from the CNN poll and a similar poll that Gallup has regularly taken: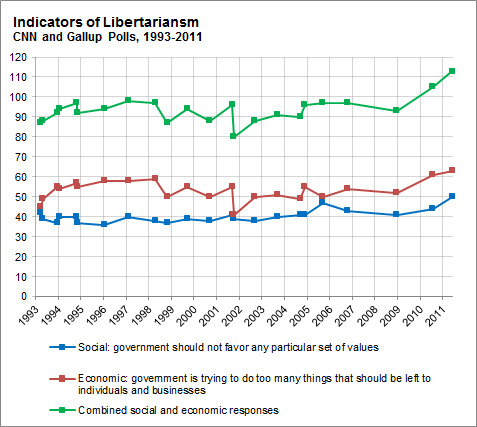 The shift toward a more libertarian view seems to be especially true when it comes to social issues. For example, recent polls by both Gallup and Pew Research have shown that public acceptance of not just same-sex marriage, but of homosexual relationships as a whole, is at an all-time high. To some degree this is a result of demographic changes and the fact  that, the younger a person is the more likely they are to be accepting of homosexuality itself. Additionally, though, the death of many of these social issues as political wedge issues suggests that there's been a shift in what Americans believe to be the proper role of government.
Additionally, as Silver notes, there is a libertarian element to the Tea Party movement at least in terms of its rhetoric:
The Tea Party movement also has some lineage in libertarian thinking. Although polls suggest that many people who participate in the Tea Party movement have quite socially conservative views, the movement spends little time emphasizing those positions, as compared with economic issues.
While this is true, it's also true that winning a Republican nomination would not be easy for a candidate who didn't at least pay some homage to the "correct" positions on social issues like abortion and same-sex marriage. This is why a Presidential run by Mitch Daniels would have been an interesting test case to determine just how libertarian the movement is. Alas, Daniels is not running and nearly all the candidates who are, including Ron Paul, are in lockstep on social issues. The one outlier, Gary Johnson, is barely mentioned in conversations about the race. Nonetheless, there does seem to be some evidence that the Tea Party Movement is more libertarian, or at least "socially tolerant," than one might expect, as Ilya Somin points out in a recent paper:
Although the majority of Tea Party supporters are self-described conservatives, the focus of the movement has so far been primarily on what may be seen as libertarian concerns. An April 2010 New York Times/CBS News poll found that seventy-eight percent of self-described Tea Party supporters believed that "economic issues" are the more important issues facing the country, compared to only fourteen percent who said "social issues" are more important.

Moreover, survey data suggests that many Tea Party supporters are more socially tolerant than expected. An exit poll conducted by Politico at a major April 2010 Tea Party rally in Washington, D.C. found that fifty-one percent of those surveyed believe that "Government should not promote any particular set of values," while forty-six percent endorsed the more socially
conservative view that "Government should promote traditional family values in our society…."

The New York Times/CBS News survey of Tea Party supporters found that forty percent believe that Supreme Court's decision protecting abortion rights in Roe v. Wade was a "good thing" and fifty-seven percent support either marriage rights (sixteen percent) or civil unions (forty-one percent) for gay couples.
Reason's Matt Welch attributes the shift in public opinion to both the economic downturn, and the backlash against increased government spending that followed from both Presidents Bush and Obama:
It's not hard to fathom the recent spike in both questions. On economic policy, Americans since the great NPSM of 2008 have been consistently more radical than their elected representatives, and oftentimes more radical than me. And yet that angry feedback, despite manifesting at just about every opportunity you could name, has yet to translate into anything like the course-correction Americans so clearly advocate. As for social policies, I have to imagine that those who sought social change through electing a better flavor of president are re-discovering the limitations of the top-down approach.
Jason Pye agrees:
Given the economic intervention pushed through by a Democratic Congress in the first two years of President Barack Obama's administration, it's not hard to understand why the public would view government skeptically; after a sluggish economy and high unemployment tend to have that affect. On social issues, I've been saying for years that this next generation – even conservatives – are becoming increasingly libertarian; perhaps not on all issues, but marijuana legalization and gay marriage (or getting the state out of marriage all together) are commonly held views today.
None of this means, of course, that Americans are suddenly going to start electing Libertarians to office. One can be a libertarian philosophically, or libertarian-oriented in one's political beliefs without supporting, or even caring about, the Libertarian Party. What we might see, though, is that more libertarian-oriented candidates in the GOP, and even possibly the Democratic Party, are able to win nominations and get elected to office. In some cases, that's what happened in 2010. Ron Paul used to be pretty much the only "libertarian" in the United States Congress, now that label can fairly be applied to Congressmen like Justin Amash and Tom McClintock, and Senators like Rand Paul. Additionally, many of the conservatives that were elected in 2010 are arguably more sympathetic to libertarian ideas in areas like foreign policy than their predecessors may have been. Those are marginal changes for sure, but change in American politics typically starts at the margins, the question becomes whether it can continue and become something more than a small caucus on Capitol Hill.
More practically, though, I would caution my fellow libertarians not to put their trust in any political party. Libertarian ideas are the flavor-of-the-year in the GOP, but that's because they can use those ideas to attack the President. Once they're back in power, the GOP is likely to slink back to its big-government conservatism roots unless the base holds their feet to the fire. Perhaps things will change on a more permanent level when social conservatives finally realize that their decades long war against homosexuals is lost, but until then the GOP will still be the party of Michele Bachmann more than it is the party of Rand Paul.