Colts Quarterback Andrew Luck Retires At 29
Indianapolis Colts Quarterback Andrew Luck surprised the sports world last night by announcing an early retirement.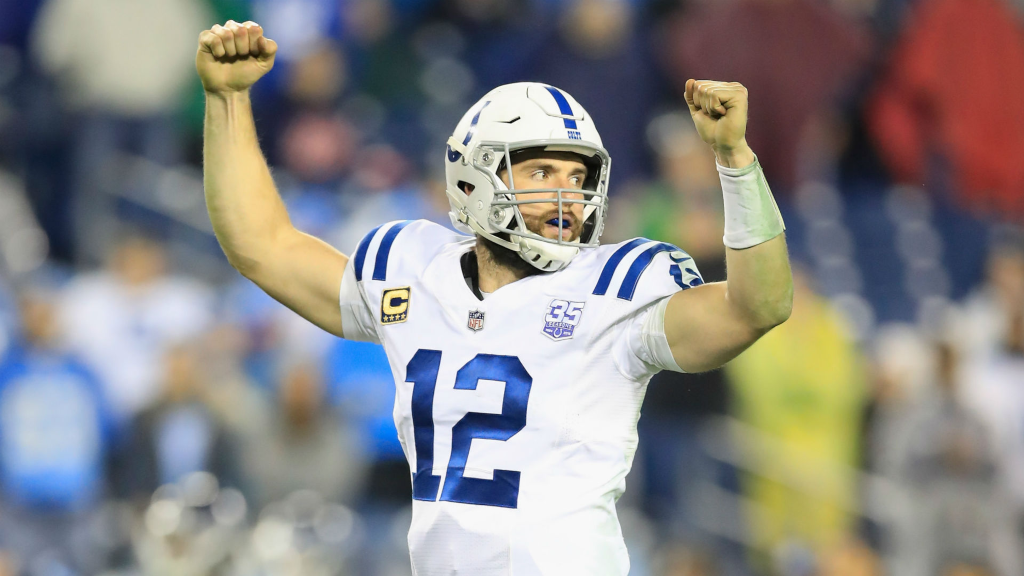 In a surprising move at the end of last night's final preseason game for the Indianapolis Colts, the team's starting Quarterback announced he was retiring from football at the incredibly young age of 29:
Andrew Luck, a Pro Bowl quarterback and the face of the Indianapolis Colts, has decided to retire at 29 after a career defined by wins and injuries.

Luck sustained severe injuries throughout his career. He missed nine games in 2015 and the entire 2017 season. He was working his way back from a persistent ankle injury and had not appeared in any of the team's preseason games, including one in progress on Saturday night when the news of his retirement first broke with reports by ESPN and the NFL Network.

Luck confirmed the reports at a postgame news conference. "I haven't been able to live the life I want to live," Luck said as he fought off tears. "It's taken the joy out of this game. The only way forward for me is to remove myself from football and this cycle I've been in."

Luck, the No. 1 overall pick in the 2012 draft, was an instant star for the Colts, helping offset the loss of Peyton Manning, another franchise icon, who was cut by the team after he had dealt with serious injuries of his own.

In just 86 career regular-season games, Luck produced a 53-33 record, and his 171 touchdown passes trailed only Dan Marino, Aaron Rodgers and Brett Favre for the most in the first 100 starts of a quarterback's career.

Luck led the Colts in his third season to the A.F.C. championship game, where they lost, 45-7, to Tom Brady and the New England Patriots. At the time it seemed like a matchup destined to be repeated for years, but Luck, thanks largely to injuries, never got his team that far again.

Luck, who was selected to play in the Pro Bowl four times, listed a host of injuries that he has battled, including a calf strain, a high ankle sprain and a shoulder injury that forced him to miss 26 games.

"I'm in pain, I'm still in pain, I've been in this cycle for four years," Luck said. "Shoulder, ankle, and this and this and this. I don't feel like I can live the life I want moving forward" by playing football.

Luck, who has three years remaining on his contract worth more than $64 million, said he decided to retire about a week and a half ago. He said there was no single moment, but rather a dawning reality that his injured ankle was not improving, and that he wanted to break the cycle of injuries and rehabilitation.

"The lack of progress just builds up and you turn the corner and run into another stumbling block," he said.

Luck said he understood that people may be shocked by his decision to suddenly leave the game. But he said he felt relief.

"It felt like a weight has lifted," he said. "Part of my journey going forward is to figure out how to get out of pain."
More from the Indianapolis Star:
INDIANAPOLIS — Colts quarterback Andrew Luck is retiring from the NFL.

"I'm going to retire, this is not an easy decision," Luck said after the Colts' preseason loss to the Bears on Saturday. "This is the hardest decision of my life. But it is the right decision for me."

Luck fought back tears as he explained his decision. "(The injuries have) taken my joy of this game away. I've been stuck in this process haven't been able to live the life I want to live. After 2016, I played in pain and was unable to practice, I said I wouldn't go through that again.

"It's sad but I also have a lot of clarity in this. Difficult process. My wife, family, friends, Chris Ballard, Mr. Irsay, Frank Reich have been incredibly supportive. Thankful for them."

"Part of our heart is broken," Colts owner Jim Irsay said following Luck's announcement.

Luck was at Saturday night's preseason game against the Bears, on the field in the pregame and talking to tight end Jack Doyle. He was booed as he walked off the Lucas Oil Stadium field for the final time.

"I'd be lying if I said I didn't hear the reaction. It hurt," he said.

Colts general manager Chris Ballard joined Irsay and Frank Reich after Luck's announcement and addressed the fans' reaction:

"For those people that booed tonight, it's an emotional time, I understand this," Ballard said. "But this young man has done a lot for the city of Indianapolis and the Indianapolis Colts. No one died and we'll keep moving forward. We'll make this city proud."
The Washington Post's Jerry Brewer, meanwhile, notes that a long history of injuries over the course of a short career had largely taken the joy of the game away and that his abrupt departure should be a warning for the N.F.L.:
We've seen legends leave too soon: Jim Brown, Barry Sanders. We've seen injuries and ailments cut brilliant careers short: Gale Sayers, Kenny Easley. Recently, we've seen a concerning cluster of great ones bow out shockingly: Luck joins linebacker Patrick Willis and receiver Calvin Johnson on a growing list. But despite advancements in brain research and the anecdotal evidence of football's many debilitating effects, there are still 100 NFL players who plan on playing "until the wheels fall off" for every one athlete who seriously worries about the game shortening his career. And if you're a quarterback — in a league that keeps adjusting the rules seemingly to keep quarterbacks healthy — you're far more likely to fantasize about Tom Brady-esque longevity than to anticipate a premature ending.

Does Luck's retirement represent a watershed moment for NFL players to be even more thoughtful about the dangers of the game? No, not necessarily. It will take about a dozen players on the level of Luck, Willis and Johnson to quit around the same time to spark a dramatic shift. Right now, we're inching toward a moment, and perhaps Luck's decision moves the conversation an entire foot. But currently there is no urgent desire from players to escape.

It's a slow process to change the mentality. Nevertheless, teams would be wise to consider the situation dire. The NFL should feel desperate to improve the way it trains and cares for athletes and how it manages their workload. It should also increase the resources to help the players recover mentally from injuries. In their reactions to Luck, current and former players transition quickly from shock to understanding the physical and mental toll of grinding out a football career.

In the middle of a tweet about Luck on Saturday night, Jacksonville running back Leonard Fournette said " … man y'all don't know much we put in for this sport."

They put in so much that one of the game's brightest young quarterbacks walked away from perhaps $250 million in future earnings when you factor in the remaining three years of his contract and at least one more mega-extension that likely would've been worth more than $40 million per season.

"I've been stuck in this process," Luck said. "I haven't been able to live the life I want to live. It's taken the joy out of this game. After 2016 when I played in pain and wasn't regularly able to practice, I made a vow I wouldn't go down that path again. The only way forward is to remove myself from this cycle. I came to the proverbial fork in the road and made a vow if I ever did again, I would choose me, in a sense."

That's not a selfish choice. After all Luck has been through, it's understandable. And wise.
Brewer is correct, of course. Given the near-constant cycle of injury and rehabilitation that Luck has seen in recent years, and the fact that each of those injuries has apparently left behind some chronic pain that Luck is likely to be dealing with for the rest of his life, it's entirely understandable that he decided to step off the field now rather than risk even further injury for the chance at a few more years. Yes, if he had stayed in the league he likely would have been able to renew his contract and get millions of dollars more. There's also a chance that, a better than even one, that he could have been injured even more severely than he already has been. That's why it was classless for those Colts fans to jeer him last night as he walked off the field for the last time. They either had no idea what he'd been through, or they didn't care as long as the team kept winning.
Luck's retirement is likely to expand the debate about the extent to which injuries and long-term medical problems are impacting players. As Brewer notes, the league has seen a spate of medical issues in recent years that it is consistently failing to address adequately. Perhaps those issues will be addressed as part of the next round of contract negotiations between the league and the player's union. They certainly should be. Yes, these players are paid a lot of money and they have advantages many of us will never have, but that doesn't mean they need to put their lives and their ability to enjoy those lives on the line in exchange for what for many is only a few short years in the limelight.
Don't worry about Andrew Luck. He'll be fine. He's already earned untold millions and will get at least some portion of the remainder of his contract along with a pretty generous pension. He'll probably also end up as an analyst on one of the networks that broadcast the games we all watch on Sundays in the fall. Or maybe he'll end up on a coaching staff somewhere. I'm sure he'll miss the limelight, and the cheers of the crowd, but he'll probably be glad to be rid of the pain that came with it. In the end, the saddest thing is the fact that the game that he obviously enjoyed ended up being the source of such pain and agony that he felt it necessary to end it so early.