Congressman Proposes Bill To Make Asserting Constitutional Rights A Fireable Offense?
One Congressman apparently thinks that asserting your Constitutional rights should be grounds for losing a government job.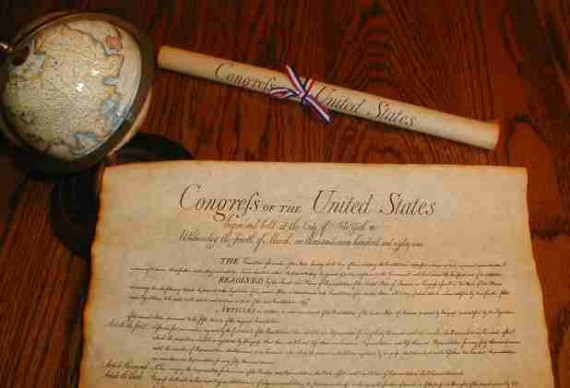 Last month you will recall, IRS employee Lois Lerner exercised her right to remain silent under the Fifth Amendment rather than answer questions regarding the ongoing IRS political targeting scandal from the House Government Oversight Committee. The usual controversies erupted when this happened, including the argument that she had actually waived her Fifth Amendment rights by making an opening statement, an argument that doesn't seem to have legal merit. Other commentators objected to the idea that a government employee could refuse to answer questions from Congress under any circumstances, an odd position that seems to suggest that one waives ones Constitutional rights by accepting government employment. Now, one Republican Member of Congress is proposing a bill to address this supposed problem:
Rep. Mo Brooks (R-Ala.) on Thursday proposed legislation that would require federal workers to be fired if they don't answer questions from Congress.

The bill is a reaction to Lois Lerner, the IRS official who refused to answer questions about the IRS's targeting of conservative groups during a congressional hearing last month. Lerner told the House Oversight and Government Reform Committee, "I have not done anything wrong," then invoked her Fifth Amendment right against self-incrimination on the advice of her lawyers.

Lerner was asked to leave the hearing, but she left Republicans fuming and prompted calls for her resignation and the resignation of any official who refuses to answer questions from Congress. She is now on paid administrative leave.

"This is a statement which should not be made by federally appointed officials before a congressional hearing if they are faithfully carrying out the duties of their office," Brooks told The Hill on Friday of Lerner's decision to plead the Fifth.

"That is why I am introducing H.R. 2458, which would terminate the employment of any federal employee who refuses to answer questions before a congressional hearing or lies before a congressional hearing," he said. "This legislation is constitutional and necessary to enable Congress to provide proper oversight for the American people."
The bill [PDF] contains several parts, but only two that address the Fifth Amendment issue. First, there's this:
Any Federal employee who refuses to answer questions in a congressional hearing after being granted immunity shall be terminated from employment.
On some level, this part of the legislation is almost completely useless. Anyone, Federal Government employee or not, who refuses to testify after being subpoenaed and being given a legally sufficient grant of testimony immunity would be in Contempt of Congress, and potentially subject to both immediate arrest for that Contempt and prosecution under Federal Law. While I can't say I'm aware what impact being in Contempt of Congress might be on the employment of someone under the Federal Civil Service system, but I can't imagine it would be very good. For that reason, I'd say that this part of the proposed legislation is relatively  innocuous.
The same seems to be true of Section Two of the bill:
Any Federal employee who, in a congressional hearing, refuses to answer questions specifically, directly, and narrowly relating to the official duties of such employee, without being required to waive immunity with respect to the use of answers or the fruits thereof in a criminal prosecution of such employee, shall be terminated from employment
As I read this section, it also posits a situation where a Federal employee is granted immunity by Congress. If that's the intent,  then the comments I made above would apply to this section as well. However, this particular section is phrased differently than the first for unknown reasons and could also conceivably be read to say that a Federal Employee could be compelled to testify regarding "questions specifically, directly, and narrowly relating to the official duties of such employee," a term that is far more open ended than it actually seems at first glance when you realize that it is in the context of a Congressional hearing where many of the people asking questions are not attorneys and there is no Judge to decide on the propriety of a given question. If that's the intent of this particular section, then the Constitutional provisions of the law would seem to be blindingly obvious. Essentially, such a law would be saying that one of the conditions of your employment as a Federal Employee is that you must waive your Constitutional rights. Quite honestly, I cannot imagine any Federal Court ever allowing such a law to stand.
Jazz Shaw is more sympathetic to Brooks' effort:
I know some of the usual list of suspects will claim that this is just another way to deprive somebody of their constitutional rights, but I can't see how this applies here. We're not talking about prosecuting somebody in court, but rather terminating their employment for failure to fulfill their duties. And as a reminder, Lerner is still sitting home collecting a full, fat paycheck on your dime
The question I would ask in response to a comment like this is, how far are you willing to take this principle? If it's acceptable for the Federal Government to terminate someone because they exercise their Constitutional rights under the Fifth Amendment, would it also be acceptable to fire a Federal Employee for exercising their rights under the First Amendment? How about the Second? Where does it stop?
As I've said before, there is very simply solution to whatever problem Congressional Republicans believe is created by the fact that Lois Lerner is exercising the rights that all of us are guaranteed by the Constitution. Grant her immunity and bring her back before the committee. Of course, that would deny Congressmen like Brooks the opportunity to score political points by proposing legislation that, depending on how it's read, is either completely pointless or incredibly dangerous.