Contemplating the "Four Years" Question
If we are going to assess the "Reagan Question" then methinks some data would be helpful.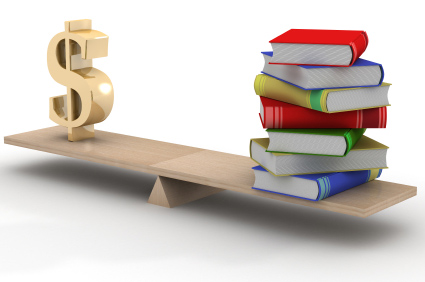 In many ways, I do not like the "Reagan Question" because it ascribes too much power to the office of the President (and, worse, to the person who occupies that office).  Still, it does have a certain short-hand political validity to it.  It certainly is a useful question for candidates to deploy.
However, one thing that is striking to me about this question in the current context is the degree to which there are some issues of data that seem not to be taken into account in the conversation (although, as was noted earlier today, this can be a subject, feelings-based question as much as anything else).
Now, I am not trying to make an argument here about policy outcomes, but rather am focused on the empirical.  One of the things that can drive me nuts is people talking about reality whilst ignoring it.  A recent example was  a meme I saw on Facebook touting the Bush economy and citing a pre-financial collapse unemployment figure for 2008 and then citing the unemployment numbers not long after Obama's inauguration.   This was a blatant mischaracterization about the facts, as the chart below indicates (via Google charts):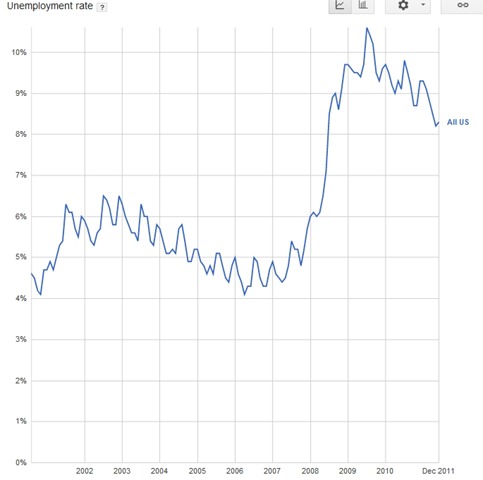 Look, one can think that Obama's policies were wrong and that other policies would have created more jobs, etc.  And if one thinks that, then one should do one's best to make that case.  (Indeed, one of my criticisms of the Romney campaign  is that they infer that something better could have been done without actually laying out an argument for what that might have looked like).  However, what one cannot do is assert that the job situation is worse now than it was at the end of the Bush administration.  Further, one cannot pretend (though many try anyway) that the trends were made worse by Obama policies.
Another metric that comes to mind is the Dow Jones Industrial Average (source:  Yahoo):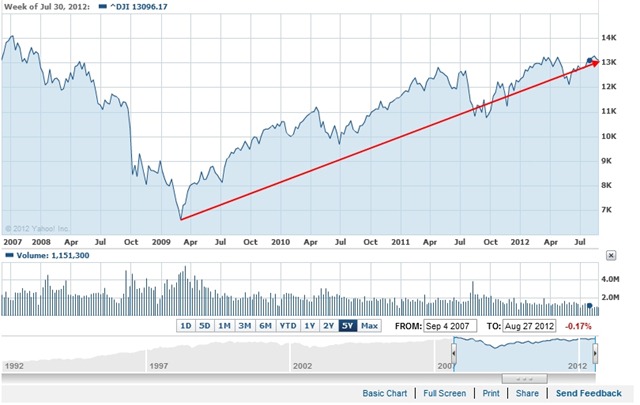 The red trend line is mine.  I should have also put one from early 2007 to the trough in early 2009.  Again:  one can argue whatever one likes about what might have been, or what might be, but what one cannot argue is that the stock market was better off at the end of Bush's term versus now.  Likewise one cannot argue, as a commenter did in a thread over the weekend, that one under the current administration business aren't allowed to make money.
Indeed, on that count, corporate profits are doing quite well (also better than at the end of the Bush admin):
Of course, this also shows one way in which we are not better off:  compensation (Source: Taegan Goddard's WonkWire).
By the way:  I am not trying to take a comprehensive approach to this question.  And, further, there are certainly areas that have gotten worse (inequality, for example).    However, we seem to have a short memory as to how bad certain key indicators were not that long ago.