Cory Booker Will Be A Senator, But Many On The Left Don't Seem Thrilled About That
Surprisingly, many pundits on the left don't seem too thrilled about the idea of a Senator Cory Booker.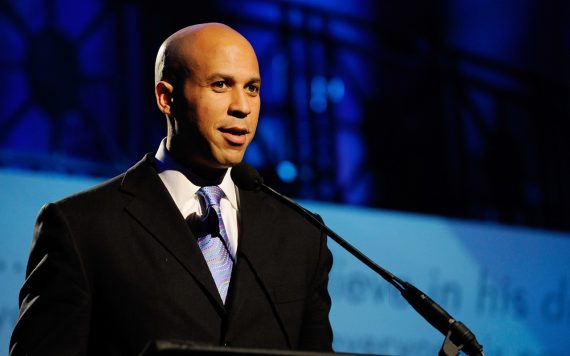 Absent some the kind of electoral surprise that we usually don't see in American politics, Cory Booker will win today's Democratic Senate Primary in New Jersey quite handily. The most recent polls continued to show him with a massive lead over his three opponents, which just happen to be two sitting Congressmen and the Speaker of the New Jersey General Assembly, and he doesn't seem to have been harmed at all by last minute revelations regarding his interest in a Silicon Valley start-up company. It's also expected that he will go on to win the Special Election set for October given that polling shows him with a similarly large lead over expected Republican opponent Steve Lonegan. Barring a surprise, then, Cory Booker will soon be the second African-American to have a seat in the Senate at this time, the ninth African-American Senator overall, and only the fourth African-American to actually be elected to the Senate. At 44, he will also be one of the youngest members of the Senate and someone who is arguably just beginning a national political career that could take him just about anywhere.
Given all of that, you would expect that Progressives would be excited by Booker's candidacy and his eventual rise to the Senate. In reality, though, the opposite seems to be the case, at least among many of the more vocal voices on the left. Instead of rallying around Booker, many of these people have taken up the banner of Congressman Frank Pallone or Congressman Rush Holt, both of whom have spent the majority of their rather unproductive campaigns going after Booker's ties to Wall Street and the Newark business community and seeking to draw him out on issues like NSA surveillance and the War On Terror. One excellent example of the Progressive dissatisfaction with Cory Booker can be seen in a piece today by Alex Pareene in which he asserts that Booker will be an awful Senator:
He represents the interests of both Wall Street and Silicon Valley, two very prosperous industries full of incredibly arrogant rich men who believe that the world's problems would be solved if arrogant rich men exactly like themselves were given free rein to make as much money as possible by any means necessary. They see, in Booker, a peer — a smart man with the right qualifications and the correct worldview. Booker and his crowd believe that the charity of the benevolent elite — people who know they are rich because of their innate skill, their brilliance, their work ethic, everything besides fundamentally inequitable distribution of resources and opportunities for economic advancement — is the only acceptable and effective means of addressing the needs of the lower orders.

(…)

In many ways, Booker is perfectly suited for the United States Senate. He won't be expected to accomplish anything. He will have so many more opportunities to spend time with even more rich people with elite backgrounds and worldviews similar to his. He will have much more access to television studios and Sunday shows and cable news cameras.

He will, in short, be the worst kind of senator. The kind that has no power and no real desire to exercise power on behalf of the people the senator ostensibly represents, but the kind that always expresses opinions on television about whatever national issues people on television care about that day. He will be on Morning Joe and Meet the Press constantly. He has even already said that he might consider Rand Paul and Ted Cruz as models for how a freshman senator might make "big marks." Not "big marks" in the sense of any sort of lasting legislative legacy, because Ted Cruz does not care about legislation or policy, but "big marks" in terms of media attention and stunts designed to appeal to a core of supporters who prefer their senators brash and loud. Another one of those senators will not help anything.
I've seen Pareene's sentiments echoed by other pundits on the left, but what's interesting is that their sentiments don't seem to be shared by the voters. Pallone and Holt have both emphasized Booker's ties to Wall Street during the campaign, but it's made no real impact on his numbers or theirs. In fact, the polling in the final weeks before today's election seems to be little changed from what it was when Booker first entered the race in the wake of Frank Lautenberg's death in June. To no small degree, of course, this is due in large part to the aura of celebrity that has enveloped Booker over the past few years, an aura that he has clearly helped to cultivate. At the same time, I would suggest that it also means that there's something of a disconnect between these Progressive pundits and the voting public. Much like pundits on the right have their ideal candidates, writers such as Pareene do as well, and Booker quite obviously doesn't fit into that definition. Perhaps it's because he hasn't said the magic words on NSA surveillance or some other issue. Perhaps it's because they just feel that he's become too full of himself. Perhaps it's just because there was never really any suspense in this election and they needed something right about. Whatever the reason, the animus toward Booker on the left has been more than a little surprising especially considering that he is going to be a reliable Democratic vote for as long as he's in the Senate. Given that it's New Jersey and Booker is relatively young, could be quite a long time.