Could The GOP Nominate A Candidate Who Supports Same-Sex Marriage In 2016?
It seems improbable, but the national landscape on same-sex marriage is changing so quickly that even the Republican Party may find itself changing faster than some might think.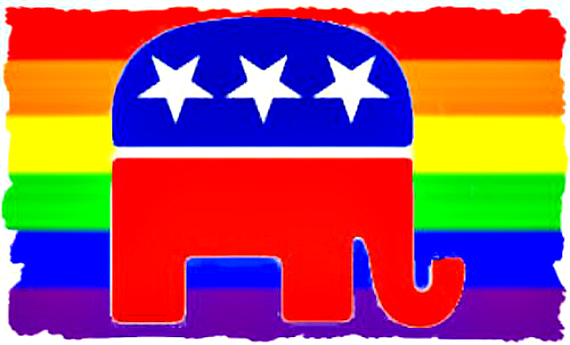 Even today, the idea of a Republican Presidential nominee who supported same-sex marriage seems like sheer fantasy. While the American public as a whole has gotten to the point where a majority now supports the idea of equal marriage rights for gays and lesbians, those same polls still continue to show that Republicans in general, and conservatives in particular, are the one demographic group outside of voters over the age of 65 (who also tend to vote Republican) that oppose marriage equality. This tends to become less true when you look at younger voters, of course, but those voters don't tend to vote Republican to begin with and their influence over the GOP electorate as a whole is really quite minimal. Ever since it became an issue, the GOP platform has included a plank favoring so-called "traditional marriage," as well as at least passing support for the idea of a Federal Marriage Amendment that would either ban same-sex marriage nationwide or, in its less extreme form, allow the states to decide the issue for themselves notwithstanding the provisions of the 14th Amendment. Given all of that, and the fact that whoever wins the GOP nomination in 2016 will need to appeal to a base that remains strongly opposed to same-sex marriage, one would think that it would be next to impossible for someone who held the opposing view to make it through the primaries with a win.
The Washington Post's Aaron Blake argues, though, that a Republican nominee who favors same-sex marriage is more possible than you might think:
So few Republican elected officials support gay marriage that the bigger question is whether any 2016 hopefuls will support gay marriage at all, much less have a chance to win. But for Portman and anybody else who wants to give it a shot, they first need to see a path to victory.

And that path, however narrow, does exist.

Yes, supporting gay marriage will turn off a whole bunch of would-be supporters when it comes to the 2016 primaries, and in politics, you want to alienate as few people as possible.

But only half of conservative Republicans say they "strongly" oppose gay marriage and would be less likely to vote for a candidate who backs gay marriage. Meanwhile, a clear majority of Republicans doesn't see the issue as a disqualifier.

(…)

[L]ooked at another way — if you include those who say it makes "no difference" to them — you've got 59 percent of Republicans who say either that gay marriage support makes them more likely to vote for a candidate or that it doesn't really matter.

Even among conservative Republicans, the percentage who say it would make them less likely to vote for someone is just 51 percent — lower, we would wager, than most people think.

But just because someone opposes gay marriage doesn't mean its a major issue for them. Indeed, just 51 percent of conservative Republicans and 42 percent of all Republicans say they oppose gay marriage "strongly."

The other 53 percent of Republicans either support gay marriage or don't oppose it strongly.
These numbers notwithstanding, of course, it wouldn't be hard to see how a prominent Republican Presidential candidate who openly supports same-sex marriage would be attacked by not only his or her opponents, but also the outside groups that are most invested in this issue. While their stance on this issue likely would not hurt them much in states like New Hampshire, or in states with open primaries, it would make pulling off victories in early primary/caucus states such as Iowa and South Carolina exceedingly difficult, and that could blunt any momentum that such a candidate would have heading into the broader primary season in states like California, Florida, and New York where, presumably, their position on same-sex marriage would not be nearly as big of an issue. In that sense, then, the national poll numbers that Blake cites, while interesting, aren't necessarily a good indication of how a pro-SSM Republican candidate for President would fare in 2016.
Surprisingly, though, there is one fact that Blake's piece does not address, and it's a fact that will likely completely change the debate over same-sex marriage in the United States. I am speaking, of course, of the legal developments regarding this issue that have happened over the past year, and which are likely to unfold to an even greater degree over the coming two years. Since Windsor was handed down, we've seen an unbroken string of judicial opinions striking down same-sex marriage laws at the state level in whole or in part. One of those laws was recently invalidated by a Federal Circuit Court of Appeals for the first time, and that case will now be appealed to the Supreme Court. In all likelihood, before the summer is over we will also get decisions from other Courts of Appeal that have heard arguments in a same-sex marriage case. As I stated the other day, it seems as though we are at the point where the Supreme Court will have no choice but to select one or more of these cases for appeal and issue a final ruling on whether or not gays and lesbians have the same right to marry that it recognized to exist for interracial couples in Loving v. Virginia. That decision could be handed down by June of next year.
Let's assume for the sake of argument that the Court hands down a ruling that finds that state law bans on same-sex marriage are unconstitutional, because quite honestly that seems to be the direction that the Court is heading. At that point, the entire political calculus for the Republican Party is going to change significantly as far as this issue is concerned. At that point, there will likely still be some hardcore social conservatives who will think that they can fight back by backing a Federal Marriage Amendment, and conservative grifters will use the decision to fundraise off of the phony charge of "judicial activism," of course. For many in the Republican Party, though, I strongly suspect that there will be a deep, even if silent, sigh of relief that the albatross of this issue has been lifted from their shoulders.
A Republican primary race in a world where same-sex marriage has been legalized will still touch on the issue to some extent, of course. There will be the usual pledges to only appoint "strict constructionist" judges, for example. There will also likely be a rather lively debate, motivated in no small part by the Supreme Court's Hobby Lobby decision about the issue of laws banning discrimination based on sexual orientation and whether or not there should be religious exemptions to such laws. The radicals will claim that legal same-sex marriage means that people will now start trying to force the Catholic Church to perform religious marriages for gays and lesbians against its beliefs, something that I would vehemently oppose notwithstanding my support for marriage equality, and other such horror stories. In the end, though, I suspect that, unlike abortion, a Supreme Court decision legalizing same-sex marriage will essentially end the political debate rather than reigniting it, especially given the clear direction of public opinion on the matter.
Obviously, things would be different if the Court ruled that states do have the authority to ban same-sex marriage, but I'm not sure they would be all that different. In addition to the legal victories over the past year that I noted above, there have also been a string of political victories on this issue that demonstrate the clear direction of public opinion. The last state where a ban on same-sex marriage passed was the North Carolina referendum passed was North Carolina's April 2012 ballot question, which perhaps not coincidentally occurred around the same time that President Obama first publicly supported marriage equality. Since then, we've seen marriage equality legalized via either referendum or legislative action in 12 states. Presently, there are efforts pending to accomplish the same in states such as Colorado and Oregon, with other efforts to put the matter on the ballot in the works in numerous other states. Even if the movement for same-sex marriage suffers a legal setback, these popular efforts will continue. In all likelihood, they would be energized by a Supreme Court defeat. Whether it happens via the Supreme Court or via popular action, same-sex marriage will be recognized nationwide eventually, and the GOP will be behind the times if it tries to stop it. Given that, the idea of a Republican candidate for President who supports marriage equality may not be quite as improbable as it seems.