Crist Leads Scott In Florida Governor's Poll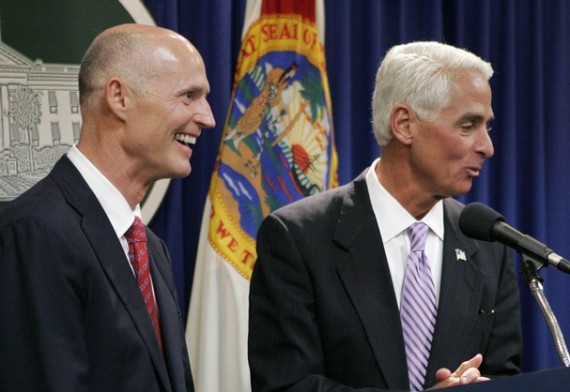 Former Governor, and Republican turned Democrat, Charlie Crist, has a strong lead over Republican Governor Rick Scott in a new poll:
Former Florida Gov. Charlie Crist is leading incumbent Gov. Rick Scott in his campaign to retake the governor's mansion as a Democrat.

Crist tops Scott 46 percent to 38 percent in a Quinnipiac poll released Thursday. The Republican-turned-Democratic candidate also leads on all individual issues Quinnipiac polled on, including the economy and jobs, which voters rated as the most important.

The former governor holds a strong lead among independent, women, black and Hispanic voters, while Scott leads among white voters and Republicans.

(PHOTOS: Governors' offices up for grabs in 2014)

Crist also outpaces Scott on job approval. Voters disapprove of the job Scott is doing as governor 49 percent to 41 percent, and 54 percent say he does not deserve to be reelected.

Voters' approval of the job done by the former governor stands at 53 percent to 36 percent.
Before Crist can face Scott in the General Election, of course, he has to win the Democratic nomination. Currently, his only opposition in that race is former state Senator Nan Rich. While the Quinnipiac poll doesn't ask about the Democratic primary, it does show that in a head-to-head race against Rich instead of Crist, Scott leads 41% to 37%. At the very least, though, polls like this continue to demonstrate that Scott remains among the most vulnerable of the GOP Governors up for re-election this year, others in that camp include Maine's Paul LePage, Michigan's Rick Snyder, and Pennsylvania's Tom Corbett. Of all of those, though, a loss by Scott would likely be seen as the most significant in terms of national politics given Florida's importance in Presidential elections.