Are Billionaires Replacing Political Parties?
Rich guys are backing organizations that are taking over traditional party functions. Is that a problem?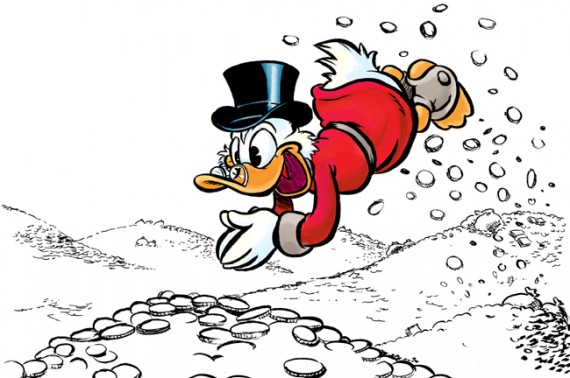 Jim Rutenberg, chief political correspondent for NYT magazine, purports to explain "How Billionaire Oligarchs Are Becoming Their Own Political Parties." He takes the standard arguments against Citizens United and big money in politics to a new level.
His lead-in anecdote follows on the Florida governor's race, which is a rerun of the last one, pitting now-incumbent Republican Rick Scott against former governor and erstwhile Republican Charlie Crist.
In the spring, when Crist was riding a double-digit lead, Florida looked like a safe bet, but then Scott unleashed an $18 million ad campaign against Crist, painting him as a hack careerist who loves Obamacare and lays off teachers. Not only had Crist's lead vanished, now he was losing in the key swing district of Tampa, winning by too little in Democrat-friendly West Palm and losing by too much in Republican-leaning Fort Myers. And as Baldick's numbers showed, neither the state Democratic Party nor Crist could match the barrage.
You can guess what comes next:
[Tom Steyer]  made his money as the founder of a successful hedge fund called Farallon Capital Management and so had spent most of his adult life wading through prospectuses and annual reports. He seemed enthralled and energized by his new course of study in domestic politics, with its incongruent mix of idealism and cynicism. This was democracy in action, real people making real change, not just mysterious figures behind closed doors. Tall, with grayish blond hair and shaggy sideburns, Steyer was in constant motion: his arms waving, his hands slicing the air, his tie — always the same stiff, scotch plaid — swaying to and fro as he spoke. In talking about the political offshoots of his money, he sometimes had the air of a new father.

Steyer's long-term goal was to build an organization called NextGen Climate Action, which could mirror and oppose the rival private interests who devoted their own fortunes to blocking any action on climate change. Chief among those rivals were Charles and David Koch, the brothers who run Koch Industries. Steyer was especially interested in enacting a cap-and-trade system, which would allow companies to buy or sell emission rights under a strict state or federal limit. The Koch brothers, meanwhile, have worked hard to prevent, among many other government interventions, the adoption of a cap-and-trade system, which they view as the ultimate in reckless government intervention.

If Steyer didn't step in as a counterweight, he reasoned, no one else would; after all, no one else had so far. Steyer pledged to spend at least $50 million of his own fortune this election season by way of NextGen on behalf of Democrats or, perhaps more accurate, against Republicans, in Florida and six other states: Colorado, Iowa, Maine, Michigan, New Hampshire and Pennsylvania. Most of the races were for the Senate, which Republicans are in a position to retake this fall. But the race that was closest to Steyer's heart was here, in the state "most vulnerable to climate change," as he put it; a crucial swing state where the Koch brothers had already spent millions to establish a political presence. Charlie Crist himself journeyed to NextGen's San Francisco headquarters in June, to tell Steyer and many of these same strategists about sea-level rise in Miami, its troubling effects on drinking water and flood insurance and about the many ways in which he differed from Rick Scott. ("There couldn't be a clearer choice," Crist told me later. "I'm, like, the opposite of this guy.")
So, a bit of a twist to the familiar story: this time, the rich guy is coming in to save the Democrat. So, what's the problem?  Rutenberg doesn't really say. He seems vaguely annoyed that Steyer is sitting in a strategy session and presuming to offer his advice as to how to run the campaign, what sorts of ads to run, and so forth. But why that's problematic is unclear.
Rutenberg then delivers a brief history of campaign finance reform efforts, especially the 2002 McCain-Feingold act, which he presents, correctly in my view, as a sore loser reaction by the bill's Republican namesake, John McCain, who didn't like ads that ran against him in his unsuccessful bid for the 2000 Republican nomination which were financed by "soft money." When a series of court decisions ruled most of that law unconstitutional, Rutenberg argues, all hell broke loose.
In 2000, outside groups spent $52 million on campaigns, according to the Center for Responsive Politics. By 2012, that number had increased to $1 billion.

The result was a massive power shift, from the party bosses to the rich individuals who ran the super PACs (as most of these new organizations came to be called). Almost overnight, traditional party functions — running TV commercials, setting up field operations, maintaining voter databases, even recruiting candidates — were being supplanted by outside groups. And the shift was partly because of one element of McCain-Feingold that remains: the ban on giving unlimited soft money to parties. In the party universe, rich players like the Wylys, Tom Steyer or the Kochs were but single planets among many. The party bosses had to balance their interests against those who brought just as much to the table in the form of money or votes. A party platform has to account for both the interests of the oil industry and those of the ethanol industry; those of the casino industry and those of the anti-gambling religious right; those of Wall Street and those of labor.

With the advent of Citizens United, any players with the wherewithal, and there are surprisingly many of them, can start what are in essence their own political parties, built around pet causes or industries and backing politicians uniquely answerable to them. No longer do they have to buy into the system. Instead, they buy their own pieces of it outright, to use as they see fit. "Suddenly, we privatized politics," says Trevor Potter, an election lawyer who helped draft the McCain-Feingold law.
But, again, it's not clear why that's a bad thing. Further, it's a second order effect of a law trying to regulate money in politics despite decades of evidence that politics is so important that money will always find a way in.
The next paragraph comports with my longstanding view of the issue:
Now we have Michael Bloomberg, who has committed to spending $50 million to support gun-control legislation; his Independence USA PAC, meanwhile, is spending $25 million this fall to elect "centrists." We have the TD Ameritrade founder Joe Ricketts and his group Ending Spending, which has spent roughly $10 million so far this year to elect fiscal conservatives to Congress, an effort that has drawn support from the billionaire hedge-fund executive Paul E. Singer, who has also devoted tens of millions to Republican candidates who share his views on Israel. We have Mark Zuckerberg and his FWD.us, with a budget of about $50 million to push an immigration overhaul. In 2014, as of early October, when the campaigns had yet to do their big final pushes, overall spending was already more than $444 million, according to the Center for Responsive Politics.
On the one hand, it's doubtless true that billionaires have a hell of a lot more of a voice in American politics than I do. But that's always been the case. It's simply unavoidable that the individual rich man will have more influence than the individual poor man. Even aside from television advertising, they have the wherewithal to start newspapers and magazines of their own. Or to finance their own political campaigns, as Bloomberg and others have done.
What would worry me much more is if "the rich" were a defacto political party, especially one with such disparate advantage in resources as to drown out other voices. But from Rutenberg's own description, the billionaires aren't a monolith. Ricketts and the Koch brothers are funneling their money to Republicans. Seyer, Zuckerberg and others are funding Democrats. Bloomberg is trying to spark a centrist "third way." Aside from the annoyance of being flooded with robo calls and television ads, it's not obvious what harm is being done here. The big money is divided among the various existing factions, ensuring that all of them have the ability to get their message out.
Rutenberg makes a persuasive case that these individuals and groups are supplanting traditional party functions, notably various get-out-the-vote (GOTV) efforts. But this sort of thing has been on the rise for decades, long before the big money surge of the last couple cycles. Since candidates are selected in primaries rather than the "smoke filled rooms" of yesteryear, the Democrats and Republicans have become more brands rather than traditional political parties. They have very little hand in selecting candidates and very little ability to enforce ideological discipline aside from withholding money. Now, of course, they have less ability to do even that.
Indeed, Charlie Crist is a poster boy for this phenomenon. Four years ago, he was a moderate Republican who was losing his bid to be the Republican nominee for a U.S. Senate seat so dropped the "Republican" label and continued his run as an independent. For quite some time, it looked like he'd win but, ultimately, Marco Rubio beat him in the general. So, Crist promptly dropped the "Independent" label and decided to cast himself as a "Democrat." Aside from some issues of emphasis, he's still the same guy.
As to the impact of money on his latest race, I'm finding little in Rutenberg's description to lament:
Given their negatives, neither Scott nor Crist was going to win by sweeping new converts off their feet. Big spending on television was certainly threatening to make a difference for Scott. But if Crist could catch up on TV, with Steyer's help, the election was going to be decided by which side did a better job of identifying new sympathetic voters and then prodding them out to the polls. It required the hard work of knocking on doors, which can be especially brutal under the hot Florida sun.

The movement is independent of the party, which is the way Phillips wants it. When Rick Scott said he would support an expansion of Medicaid under Obamacare, Americans for Prosperity let him know about its displeasure through a deluge of phone calls and letters and even a protest at the State Capitol. Scott ultimately made no effort to push it through the Legislature, many of whose Republican members have been supported by the group as well. "I think he started hearing from some other voices, A.F.P. and some of the other organizations," Chris Hudson, the group's Florida director, had said, "and I think they sort of superseded what was going on in his own staff."

Phillips said the group's volunteers would have it no other way. "They have to feel like the organization is genuinely a principled outfit," he said. "If they think you're just an appendage of the party, they can go to the party. Why do they need you?"
While there's something to be said about the harmonizing effects of catch-all parties vice the polarizing effects of "genuinely principled outfits," this all strikes me as benign at worst and positive at best. At the end of the day, the rich guy is making it possible for regular guys to feel like their efforts in deciding who the next governor will be actually matter.
Toward the end of the feature, there's a longish discussion of the politics of climate change in the Sunshine State. Steyer's money is going to the side of the environmentalists while the Koch money is going to the side of the pro-business, anti-regulationists. But there's no indication that the money is corrupting the process. That is, Rick Scott seems to genuinely think the benefits of economic growth are worth the risks associated with climate change—which he judges to be relatively small, anyway—while Crist seems to genuinely think the balance needs to be struck closer to the side of controlling pollution.  Given that this was his position while he was still wearing the Republican label and before Steyer started funding his efforts, this all seems perfectly above board.
In terms of the race itself, the RealClearPolitics poll of polls shows Crist with a slight lead. So, maybe Steyer's cash has been helpful here. If so, it's simply returned things to where they were before Scott's massive advertising surge. Given that the ads aren't the only variables in the race, it's impossible to say that this means that big money is just canceling out big money. But we can be pretty sure that both sides are well funded and that the loser won't be the guy who simply lacked the resources to get out his message or muster a solid GOTV effort. And that seems like a very good thing, indeed.