Cruz Needs to Work on his Analogies (and His Analysis)
Nazi comparisons are only helpful when discussing actual Nazis.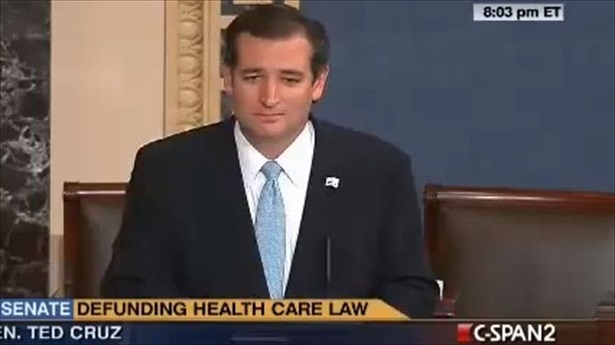 In his filibuster against Obamacare, Senator Cruz deployed one of the most clichéd of analogies:  that the fight against Obamacare was a fight against the appeasement of Chamberlain and, by existence, the onslaught of Nazi Germany:
"If you go to the 1940s, Nazi Germany," Cruz said. "Look, we saw in Britain, Neville Chamberlain, who told the British people, 'Accept the Nazis. Yes, they'll dominate the continent of Europe but that's not our problem. Let's appease them. Why? Because it can't be done. We can't possibly stand against them.'"

"And in America there were voices that listened to that," he continued. "I suspect those same pundits who say it can't be done, if it had been in the 1940s we would have been listening to them. Then they would have made television. They would have gotten beyond carrier pigeons and beyond letters and they would have been on tv and they would have been saying, 'You cannot defeat the Germans.'"
Not only is any reference to Chamberlain's appeasement about as tired as one can get in terms of political analogies, comparing a program that aims to expand health care coverage for US citizens to the Nazi onslaught in Europe is cartoonishly absurd.  (Transcription from TPM, with video at the site).  The notion that Cruz is Churchill, fighting against the appeasers in his party and the media so as to forestall the conquering ways of legislation passed by the Congress (including a super-majority in the Senate) is plainly ridiculous.
Cruz was given a national spotlight to make a case against the program, and while I will admit to not being privy to the entire 21+ hour presentation, I have not yet seen anything approaching a cogent argument for why he opposes the PPACA, save that is it is bad and that Cruz asserts that it kills jobs.  And on that point, I understand the basic argument in terms of part time jobs. However, if the goal is to change minds (and not the grandstand) then one ought to beyond just making a handful of assertions.  Even if the speech was quixotic, if he has a really good case to make, then make it.  If in his fantasy he plays the role of Churchill, then play that role and make a strong case for his position while everyone is watching.
Of course, Cruz isn't trying to change minds, or to lay the groundwork for actual policy.  Instead, he engaged in some performance art that was designed only to make his supporters feel better (yes!  fight those Nazis!) while ignoring the actual hard work of governing.  It is an example of the anemic politics of the day and is emblematic of how the Tea Party faction of the the Republican Party, in particular, approaches governance.
I can understand opposition to the PPACA.  Like James Joyner, I think that the better system would be some type of single payer.  That, however, is a preference that is obviously not on the table at the moment, and may never be.  Still, the GOP opposition to he PPACA is baffling on many levels,* not the least of which being is that is only deepens the pre-Obamacare system of private insurance.  It is not a massive new system, as they are making it out to be.  It certainly isn't radical.  However, governing requires dealing with reality and working within its parameters.  The simple fact of reality is that the PPACA is law and that with a Democratic president and Senate, there is going to be no repeal.  Since there is going to be no repeal, trying to hold everything else the government does hostage to repeal it is the very definition of a waste of time.
*Although, of course, I understand the visceral opposition to anything the other party does, and especially the political hay to be made in opposing the president specifically.