The Stupidity of Government Non-Shutdown Shutdowns
It remains to be seen whether Congressional Republicans will force a government shutdown. What's already clear is how counterproductive it would be.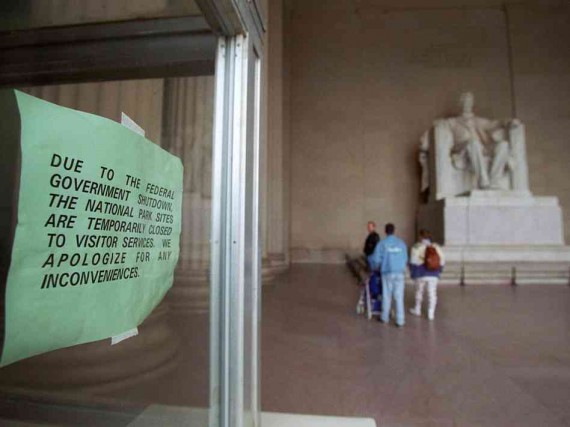 It remains to be seen whether Congressional Republicans will force a government shutdown in a quixotic quest to defund ObamaCare. What's already clear is how stupid it would be to do so.
Two bits of housekeeping:
First, while I am once again a government employee, I would almost certainly not be impacted by a shutdown. Military schools have always been considered an essential service in the past and will surely be considered that again. It would be beyond idiotic to have hundreds of field grade officers sitting around Quantico getting paid for going to school while furloughing their civilian professors. (For that matter, the DoD schools for their children will be funded, too, although summer school would not if the shutdown somehow extended that long.) At worst, there would be some delay in my actually getting paid, a contingency for which I am well prepared.
Second, I agree with neither the president nor Congressional Republicans on ObamaCare. That is, I think the program is mostly a step in the wrong direction but think the right direction is a baseline single payer system augmented with Cadillac private options. That's a position to the left of the public position of most Congressional Democrats, although I suspect pretty close to Obama's private view.
That out of the way, while I at least understand why Republicans are fighting so hard on this issue—if they give up, they'll legitimate the program and never be able to achieve rollback—this tiresome game of chicken in which they trigger a crisis at every opportunity is no way to achieve their goal. Aside from the fact that the president, as chief of the Executive branch of government, has the tools at his disposal to maximize the pain caused by the shutdown and that the public will likely blame the Republican for said pain, it's just a counterproductive ploy.
First, like myself, most federal workers are considered "essential" and therefore required to report for duty regardless of whether Congress has funded their paychecks—and guaranteed by law of being paid eventually for said work. USA Today:
An estimated 59% of non-defense federal employees would be exempt from the shutdown and would go to work as usual, according to a USA TODAY analysis of 119 shutdown contingency plans filed with the Office of Management and Budget.

Among them: political appointees, law enforcement, most overseas foreign service officers and anyone else deemed necessary for health or safety of people or property.

That last category can account for a broad cross-section of federal employees, because positions that support a key function — such as information technology, security or even legal help — are also protected. Even a receptionist responsible for picking up sensitive mail deliveries could be considered essential and exempted from furlough.

Agencies that don't operate on an annual appropriation from Congress also will continue to operate normally. That would include the Postal Service, the Patent and Trademark Office and the Federal Highway Administration. A Census Bureau statistician working on a project in Bangladesh is paid outside of the annual budget and could continue to work.

Meteorologists at the National Weather Service would continue to issue weather forecasts because they're necessary for aviation safety. But ocean and atmospheric scientists who don't produce daily forecasts would also continue to work in order to maintain "crucial long-term historical climate records," according to the Department of Commerce's plan.

At the Consumer Product Safety Commission, the commissioners would continue to work because they're appointed by the president. But the commission's contingency plan also calls for some of the agency's lawyers to go to work, so they can provide "timely and accurate legal advice" to the commissioners about what they can and can't do during a shutdown.

About 65% of Washington-based State Department employees — and 10% of overseas-based employees — would be furloughed. Passport offices would be closed, but any State Department official deemed necessary for the president to carry out his treaty-making responsibilities under the Constitution would come to work. And foreign nationals employed by the State Department may be subject to their country's labor laws, which may not allow an unpaid furlough.
Conveniently for the president, the least essential employees are often the most visible to the general public.
Need to get away? Well, you can't. At least not to national parks. Or to national zoos. Or to national museums. They'd all be closed. That's 368 National Park Service sites closed, millions of visitors turned away.

Were you thinking more along the lines of a trip to France? If you don't already have a passport, you could bid that adieu. It's unlikely you'd get your blue book in time. The last time the government threw a hissy fit, 200,000 applications for passports went unprocessed. Tourism and airline revenues reeled.

[…]

A shutdown would affect the Bureau of Alcohol, Tobacco, Firearms and Explosives. Translation: That gun permit you wanted processed wouldn't happen anytime soon.

[…]

Well, if you own a small business and needed a loan from the government, you'd have to wait. If you were planning to buy a house and needed a federal loan, you'd have to wait. If you're a veteran, you might have to make a few trips to the mailbox before that check arrived.

If you're on Social Security, however, don't worry — probably. Social Security payments were sent during the last shutdown. President Obama's expected to keep workers on the payroll to process checks. But would there be enough employees to process new benefits for the newly retired?
People will get up in arms quite quickly if they are unable to renew their passports when they have travel plans hinging on them. Or have long-planned vacations to national parks or the nation's capitol ruined. And we won't put up for long with our retirees—much less our troops in harm's way around the globe—not getting paid on time.
Oh, and even if there's no shutdown, we're going to waste a lot of money preparing for it:
Federal agencies have to use up time, energy and resources to plan for one. Shutting down and then reopening the government also costs money.

According to the Congressional Research Service, the two previous shutdowns — in late 1995 and early 1996 — cost the country $1.4 billion.
And, traditionally, Congress has wound up paying workers who were forced to stay home. They've done it every single time there's been a shutdown. But maybe not this time.
While there is no law requiring that nonessential employees be compensated if they are ordered off the job, Congress has in the past voted to reimburse their losses once shutdowns ended.

But this go-round could be different. The bitterly divided Congress includes many lawmakers who are unsympathetic to the plight of federal workers and could be loath to help them recoup their money.

"It's a very different time and a very different Congress," said Colleen Kelley, president of the National Treasury Employees Union, which represents 150,000 federal workers. "I'm concerned when employees who were here remember that last time employees were paid and think it will happen again, because it's not a given at all."

After the past two shutdowns in the 1990s — when federal workers were furloughed for five days in November 1995 and 21 days from December of that year into January — Congress passed a bill awarding them back pay.
Interestingly, it's illegal for federal employees to conduct any work while they're furloughed. They can get into serious trouble for so much as responding to work-related emails.