Cuba To Be Removed From List Of Terrorist States
Another step forward for U.S.-Cuban relations.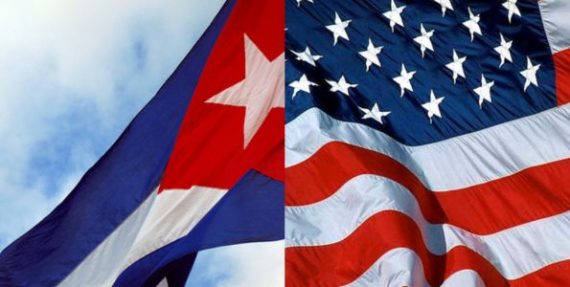 Yesterday, President Obama informed Congress that he intends to remove Cuba from the list of state sponsors of terrorism, after a review indicated that the nation had not engaged in such activity in some time:
The White House announced on Tuesday that President Obama intends to remove Cuba from the American government's list of nations that sponsor terrorism, eliminating a major obstacle to the restoration of diplomatic relations after decades of hostilities.

The decision to remove Cuba from the list is a crucial step in Mr. Obama's effort to turn the page on a Cold War-era dispute.

It followed a much-anticipated meeting between Mr. Obama and President Raúl Castro of Cuba on the sidelines of the Summit of the Americas meeting in Panama over the weekend, the first such formal session between the leaders of the two countries in more than a half-century.

For more than 30 years, Cuba has been on the State Department's list of state sponsors of terrorism, a designation shared only by Iran, Sudan and Syria.

Cuba's place on the list has long snarled its access to financial markets and, more recently, emerged as a sticking point in negotiations to reopen embassies that have officially been closed for five decades.

Mr. Obama ordered a review of Cuba's status in December, when he and Mr. Castro announced that their two nations had agreed to move toward normal relations.

White House officials said Tuesday that Mr. Obama had approved a recommendation by Secretary of State John Kerry to take Cuba off the terrorism list after what officials called a "rigorous" review of Cuba's record and assurances from Havana that it would not support terrorism in the future.

Cuba will not come off the list until after a 45-day review period, during which a joint resolution to block its removal could be considered in the House and the Senate.

"We will continue to have differences with the Cuban government, but our concerns over a wide range of Cuba's policies and actions fall outside the criteria that is relevant to whether to rescind Cuba's designation as a state sponsor of terrorism," Josh Earnest, the White House press secretary, said in a statement.

Mr. Earnest said the president would continue to "support our interests and values through engagement with the Cuban government and people."

The State Department determined that Cuba had not engaged in terrorist activity in the past six months — a criterion for designating a country a state sponsor of terrorism — and therefore no longer belonged on the list.

Officials declined to elaborate on the assurances they had received from Cuba, but said that in recent years Raúl and Fidel Castro denounced terrorism, most recently in January, when Raúl Castro called the terrorist attack on the French satirical newspaper Charlie Hebdo "atrocious."

In a statement on Tuesday, the Cuban government called Mr. Obama's act a "just decision" and said Cuba should never have been on the list in the first place. "Cuba rejects and condemns all acts of terrorism in all their forms and manifestations," the statement said.
Not surprisingly, Republicans who have been generally critical of the opening to Cuba are being critical of this latest announcement, including Jeb Bush, Marco Rubio, and most of the Republican Cuban-American members of Congress from the Miami area. In the end, though, there is very little that the GOP will be able to counter this latest move by the President. Even if a bill passed Congress to attempt to place Cuba back on the list, it would obviously be subject to a Presidential veto and would not have sufficient support in either the House or the Senate to override that veto. So, much like the opening itself this is clearly something that the President will be able to move forward to relatively unimpeded by opposition, and that the American opening to Cuba will be likely be largely a fait accompli by the time President Obama leaves office regardless of who his successor happens to be. At the same time, though, we can expect this latest development to be yet another item that the Republican candidates for President will criticize and promise to reverse if they are elected in 2016. Whether they'd actually be able to accomplish that as a practical matter is, of course, an entirely different question.
Last week, Cato's Christopher Preble laid out some very simple reasons for why Cuba should be removed from the list:
[T]he embargo hasn't merely failed. It denies Americans their basic rights to trade with and travel to the country. It also functions as a convenient excuse for the Castros and their cronies when they are pressed to explain why Cubans lag well behind others in the Western Hemisphere in terms of economic development and basic living standards. It says a lot about the magnanimity of the Cuban people, who have been lied to for so long about U.S. intentions, and who have been told that America is to blame for their misery, that they still retain a measure of affection for their neighbor to the north. If removing Cuba from the list hastens the process toward normalization, that might be reason enough to do so.

But the best reason for removing Cuba from the state sponsor of terrorism list may be because Cuba does not appear to be a state sponsor of terrorism. As a story in today'sWashington Post notes, "In many ways, the U.S. designation, first imposed in 1982, is a Cold War relic. Although the United States strongly objects to Cuba's domestic policies, it has offered no evidence for decades that Cuba is actively involved in terrorism abroad."
President Obama's decision in December to move toward reopening diplomatic relations with Cuba and ending the embargo after more than fifty years of isolation was, despite the criticism from the right, one of the better foreign policy moves he's made during his Presidency. To the extent it ever existed, the logic behind the diplomatic and isolation of a nation just ninety miles off of our shores ended right around the time the cold war came to an end in the early 1990s. In several important ways, the Cuba that exists today is different from the one that existed during the height of the Cold War, a fact that the rest of the world recognized long ago as nations from Europe, as well as our neighbors in Canada, have had diplomatic and economic relationships with Havana for years now. As to the specific issue of the President's decision here, as Preble states above, there quite simply isn't any evidence that Havana has engaged in any support for terrorism or foreign insurgency for years, so the justification for keeping them on the list was thin, and largely motivated by the general vindictiveness that has come to characterize American policy toward Cuba over the decades.
As President Obama has said several times since the first steps to thaw relations were taken in December, there is still much about Cuba that is worthy of criticism, and it's going to take some work on those issues before full trade relations can be restored. That being said, our Cuba policy has been stuck in the past for decades and was doing nothing more than causing harm to the Cuban people and to the economic interests of the United States. This is another step forward to a more rational relationship with Havana and that's a good thing.