Cutting Federal Workforce Costs Money?
The most likely cuts in federal spending are likely to actually increase the deficit over time.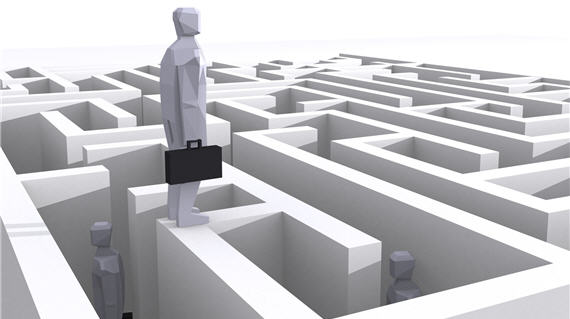 In a piece titled "More Bureaucrats, Please," Washington Monthly editor John Gravois proclaims, "Washington's budget hawks want to decimate the federal workforce to shrink the deficit. It will have the opposite effect."
His argument is pretty straightforward:
The problem is that, as employers go, the federal government is in fact pretty exceptional. A corporation can shed workers and then revise its overall business strategy accordingly. A strapped city government can lay off a few street sweepers and then elect to sweep the streets less often. But federal agencies are governed by statutory requirements. Unless Congress changes those statutes, federal agencies' mandates—their work assignments—stay the same, regardless of how many people are on hand to carry them out. Medicare checks still have to go out within thirty days of a claim, offshore oil wells still need to be inspected, soldiers in Afghanistan still need to be provisioned, Social Security databases still need to be maintained, and on and on. "It raises the hairs on my neck when I hear people say we've got to do more with less," says John Palguta, a vice president for policy at the Partnership for Public Service, a nonprofit focused on the government workforce. "The logical conclusion is we're going to do more with nothing."

In practice, cutting civil servants often means either adding private contractors or—in areas where the government plays a regulatory function—resorting to the belief that industries have a deep capacity to police themselves. (This idea, of course, has taken some dings in recent years.) And though contractors can be enormously useful, they too have to be, well, governed. "You can cut and cut and cut and try to streamline the government workforce, but at some point you lose the ability to oversee the money that you're spending, and that puts everything at greater risk," says Don Kettl, dean of the University of Maryland's School of Public Policy. "The opportunities for program failure and waste of public dollars grow exponentially."
This rings true to me. After retiring from the Army, my dad became a Department of the Army civilian. He lived through a couple rounds of reductions in force and other belt-tightening measures. The consequence was a combination of fewer people doing the same amount–if not more–work and passive aggressive work slowdowns. As in the private sector, management can take on a "you're lucky you still have a job" attitude during lean periods.
Additionally, I worked for a short time as a DoD contractor and was shocked at how reliant the bureaucracy I worked for was on their contract staff. In many cases, the civil service supervisors simply had no way to actually supervise the contractors in their charge because they lacked the technical expertise to do so.
It's also worth noting that contractors are, essentially by definition, more expensive than their civil service counterparts. But contractors work on something close to an at-will basis whereas civil servants quickly attain career status and the right to employment. So, the theory goes, contractors are cheaper in the long run because their contracts can go away when the job's done. That's all well and good: If the contract isn't essentially permanent.
The obvious retort to Gravois' argument, then, is that Congress–the institution that would enact the personnel cutbacks–should simultaneously cut back on the statutory requirements by eliminating or curtailing government programs and services. But, he argues, even that is problematic. Indeed, he argues, "Strange as it may sound, to get a grip on costs, we should in many cases be hiring many more bureaucrats—and paying more to get better ones—not cutting their numbers and freezing their pay. Because in many parts of government, the bureaucracy has already crossed that dangerous threshold beyond which further cuts can only mean greater risk of a breakdown."
He harkens back to the Clinton-Gore National Partnership for Reinventing Government, which he believes was the impetus for crossing the aforementioned threshold. His focus is on drastic cuts to the acquisitions workforce in the DoD and elsewhere.
It turned out to be a case of modernization gone horribly awry. At roughly the same time as the Defense contract management workforce was being hollowed out, the military was reorganizing itself around a vastly increased dependence on outside contractors. The balance of "acquisitions" was shifting from the relatively straightforward purchase of goods (Gore's ashtray) to the more sophisticated enlistment of services (the rapid construction of a field power station). And the weapons systems that the Pentagon was buying were only becoming more technologically complex. If anything, the workforce needed beefed-up expertise. "A lot of people in acquisition and procurement were people with a high school education," says John Kamensky, a senior fellow at the IBM Center for the Business of Government who was among the leaders of Reinventing Government. "What we needed was people with degrees who knew how to manage contracts." But instead the workforce simply eroded.
Again, this comports with my own limited experience as a DoD contractor. While the people in the GS-15 and Senior Executive Service positions tended to be highly qualified, those in the middle management ranks were often spinning their wheels, having skill sets too narrow for the jobs they had been moved into.
(Having briefly tried to get in on the civil service side of the house, however, I can attest that the hiring process didn't help much, either. In the private sector, a one-page resume and a one-page cover letter tends to be the entirety of the application. In the government sector, the application can be dozens of pages. Furthermore, the process, by design, privileges those already in the system, preferring people who have done a related job one rung down the latter to outsiders with vastly more education and suitability.)
Regardless, Gravois argues, the upshot of all this is too few people doing the necessary screening, leading not only to interminable delays in acquisitions–he cites the FBI's infamous, never-ending search for a modern web-based case management system–but abuses as contractors essentially audited their own contracts.
And, while not obviously acquisitions related, he points to cutbacks in Minerals Management Service inspectors right as offshore drilling was taking off as a viable strategy and cutbacks at the Security and Exchange Commission while the financial sector was booming. He offers zero evidence that the BP oil spill or the global financial crisis would have been averted absent these cutbacks but it's hard to argue from hindsight that we didn't need better oversight over these industries. And, certainly, the costs of dealing with these crises far exceeded whatever short-term savings were realized from cutbacks.
So . . . this means we can never cut back Federal spending? Well, not exactly.
On the one hand, Gravois believes that we do need a bigger federal workforce:
The average voter may imagine federal bureaucracies as overstaffed, full of people leaning on their rakes and sharpening their pencils. But the truth is, most agencies are, if anything, understaffed. The government has grown tremendously in its spending and scope since the 1960s, and the population of the nation has grown by a margin of 100 million people, but the size of the federal workforce has remained remarkably static at about 2 million. Since coming into office two years ago, the Obama administration has bumped up staff levels by about 100,000, in part through "in-sourcing"—bringing back into the civil service inherently governmental work that had been farmed out to contractors. If this leads to better management, it could well mean a stanching of some of the cost overruns and regulatory failures that have been causing the government to bleed red ink. Today's mindless demands for austerity, however, could reverse this trend.
On the other:
This is not to say that there aren't big bureaucratic reforms that need to be made that could lead to people losing their jobs. Many agencies, for instance, exhibit excessive layering in their management ranks (think job titles that start with "deputy-" or "under-"). And if Congress and the administration could agree to lift some of the outdated procedural requirements and redundant reporting demands that are the bane of the average civil servant's life, it might be possible for agencies to fulfill their mission as well or better with fewer people.

But reforms like this almost never happen. Instead, what you usually get are demands like what we're now seeing in Congress for across-the-board cuts in the workforce. This is often accomplished through attrition and incentives for early retirement. But the people most likely to walk away in those cases are the ones most confident of their ability to land a job in the private sector—in other words, often the best employees. Another method is to leave decisions about cutting up to the leaders of the agencies themselves. But as some veterans of Reinventing Government learned, that can have the effect of simply consolidating inertia in the managerial ranks. "Headquarters isn't ever gonna cut itself," says John Kamensky. "Headquarters cuts field."
That's certainly true. Then again, cutting out a few senior managers isn't exactly going to lead to significant cost savings. (That's not to say it's not worth doing on efficiency grounds; just that it's not going to solve the problem.) And, while I'm all for cutting red tape–who isn't?–I'm skeptical there's enough of it to substantially lower the cost of government.
He argues that we should hire more, better people in key revenue-producing or cost oversight agencies:
A wise first move would be to double the size of the OMB. More and better staff at revenue-producing agencies like the IRS would also make sense. The SEC will need a big boost in personnel in order to fulfill the new demands of last year's financial reform legislation, which wisely calls for the agency to oversee derivatives trading and other potentially destabilizing aspects of the financial world. And our best hope for controlling the burgeoning costs of Medicare and Medicaid—the biggest drivers of long-term federal deficits—lies in new, yet-to-be staffed bureaucracies whose founding is authorized in last year's health care reform law.
A more aggressive IRS is unlikely to be politically popular but a larger OMB (and GAO, for that matter) likely make sense. But, again, I'm skeptical that these changes would significantly reduce the budget.
The only way to really save money is to demand less from government. Obviously, a much smaller Defense budget–to realign ourselves to the reality of a world with no peer competitors–would be a significant place to start but, alas, military spending is enormously popular with both the voters and the Members of Congress in whose districts all that money gets spent. Radically controlling health care costs is the other big ticket item. But, aside from a single-payer system–something for which there is not exactly a lot of demand at the moment–costs are likely to continue skyrocketing.
The bottom line, then, is that politically popular cuts are likely to have little impact–if not actually increasing the budget over time. And the cuts that could actually have major impact are politically unpopular and thus unlikely to happen. It's a classic Mexican standoff.